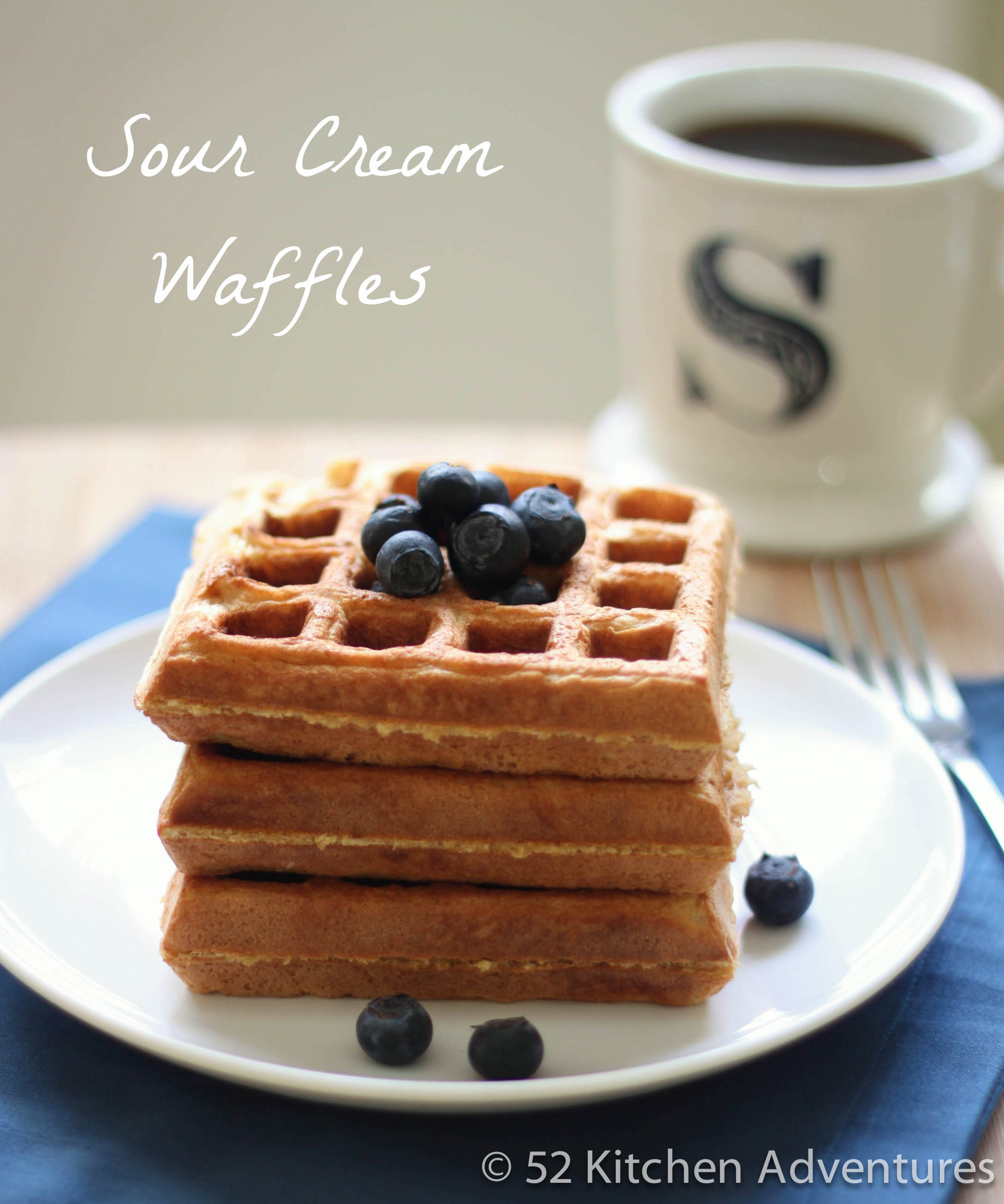 Father's Day is coming up this weekend, and who's to say that dad doesn't want breakfast in bed? I think that's more associated with Mother's Day (at least in my mind), but everyone loves to be pampered and have a nice meal prepared for them – especially in bed! I have the perfect fluffy waffle recipe for you, whether or not you want to make it for a special dad. I even snuck in some whole grains to make this a bit healthier without compromising taste.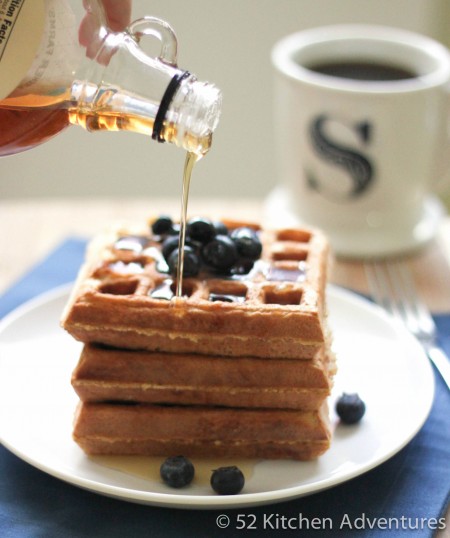 Recently I had a craving for homemade waffles on a lazy Sunday morning, but discovered we were out of milk. I'd been wanting to use my new waffle maker
 that I got at Eat, Write, Retreat, for over a month, so I wasn't willing to give up that easily. I did some Googling and found a sour cream waffle recipe with no milk required! I replaced the regular all purpose flour with white whole wheat flour, which is my go-to trick to make baked goods a tiny bit healthier without making them taste healthy. (I've done this with doughnuts, muffins and pizza dough successfully too.)
Next time you find yourself out of milk on a Sunday morning, I hope you'll have some sour cream and yogurt on hand. You'll be able to make these lovely waffles without getting out of your PJ's to go to the store.
Recipe:
Sour Cream Waffles
Adapted from Allrecipes
Yields: 4 servings
1 cup water
1/2 cup sour cream
1/2 cup plain yogurt
1/4 teaspoon white vinegar
2 cups white whole wheat flour
2 teaspoons baking powder
1 teaspoon baking soda
1/2 teaspoon salt
2 eggs, beaten
1. In a large bowl, whisk together the water, sour cream, yogurt and vinegar. Set aside to sit for a few minutes.
2. In a separate large bowl, combine flour with baking powder, baking soda and salt.
3. Add eggs to sour cream mixture and whisk to combine.
4. Add sour cream mixture to flour mixture. Stir until smooth.
5. Cook on a lightly greased waffle maker until golden brown. Enjoy immediately.