My head is spinning. Over 70 entries into Cupcake Project & Scoopalicious' Ice Cream Cupcake Contest?! You may not know this about me, but I'm not terribly good at making decisions. Especially between SEVENTY amazing looking ice cream cupcakes!
As judges, we were told to pick our top 3 entries based on perceived deliciousness, creativity, and presentation (in that order). I read through all 72 entries and drooled over most of them. I narrowed it down further and further, until I finally, painfully, chose just 3 ice cream cupcakes. I was really impressed with way more than 3 of the entries, and I just have to say that everyone did an excellent job!
Without further ado, here are my top 3 in no particular order: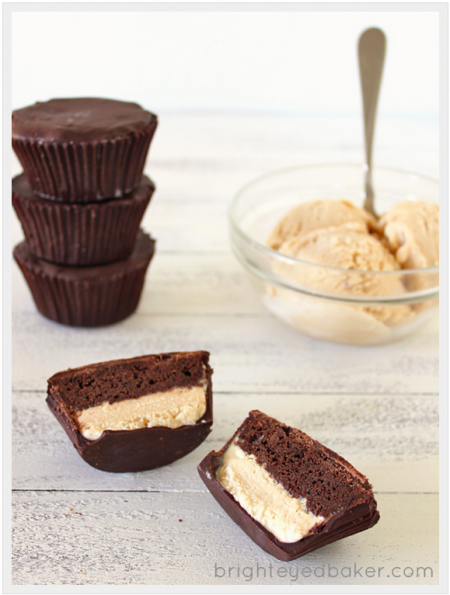 Ice Cream Cupcake Peanut Butter Cups by Bright Eyed Baker
Creamy Peanut Butter Ice Cream + Chocolate Cupcake + Edible Chocolate Cups
Can these be any more delicious sounding?! I love how she turned the ice cream cupcake into a peanut butter cup by coating it in chocolate. That is such a creative twist on the ice cream cupcake. I can imagine myself popping one after another of these in my mouth. They sound like a dangerously good indulgence.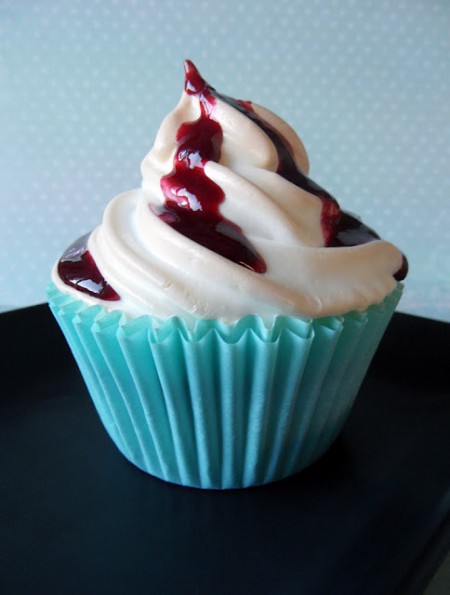 Baked Alaska Cupcake by The Chocolate Box
Cashew cupcake with a blackberry purée swirl + dark chocolate ice cream with cashew praline + meringue topping with more blackberry purée.
I love the idea of a baked alaska cupcake, and this is such a creative combination of flavors. I've never had a cashew cupcake, but that sounds excellent, especially with a blackberry swirl. I always love meringue, and it would add such a nice texture to the cupcake and ice cream. I also can't forget to mention the ice cream, which is homemade and sounds to die for!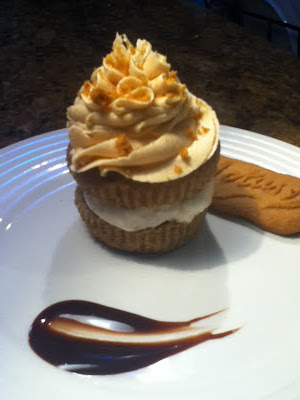 Blissful Biscoff Ice Cream Cupcakes by Brianna's Sophisticated Gourmet
Espresso cupcake + Spiced Caramel Biscuit Ice Cream + Biscoff Buttercream
Biscoff are buttery, brown sugar and spice-flavored cookies (seen here behind the cupcake). If you've ever flown Delta, they often serve them as snacks. I kept reading about them and their spread version (it's like a peanut butter but made out of cookies!) all over food blogs. I finally got to try them when I flew to D.C. for Eat, Write, Retreat and they lived up to the hype. A Biscoff buttercream plus that amazing sounding Häagen-Dazs and an espresso cupcake sounds like a wonderful combination and I really enjoyed the presentation.
Honorable Mentions:
There were 2 more cupcakes that really caught my eye and I couldn't help but mention them too.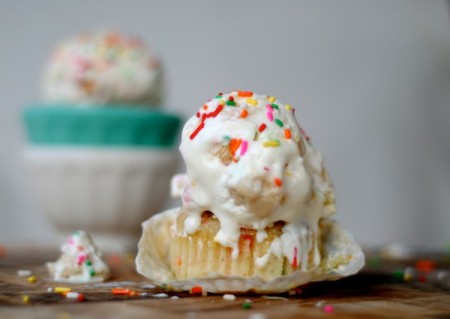 Extreme Funfetti Ice Cream Cupcake, for 2 by Fat Girl Trapped in a Skinny Body
Funfetti + cookie dough ice cream + frozen buttercream truffles in the cupcake. All I can say is: yum (I'm the kind of person who can eat frosting with a spoon).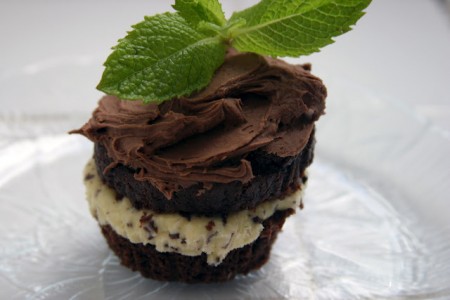 100% Homemade Mint Chip Ice Cream Cupcakes by Fueled by New
Mint chocolate is my favorite flavor combination and I love that this completely made from scratch.