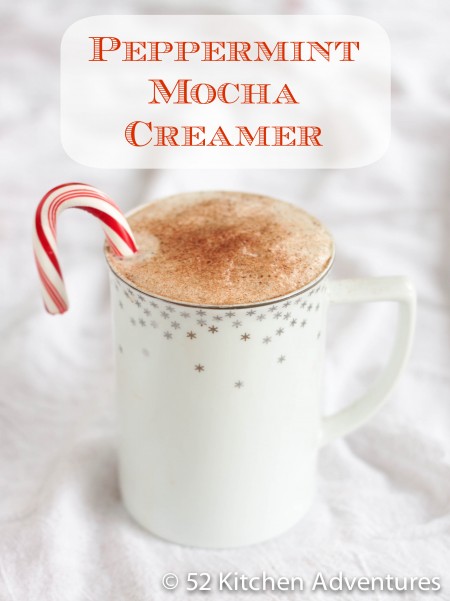 I'm so happy it's peppermint season again. Peppermint and chocolate just GO together, don't they? Like peanut butter and jelly. Or cookies and milk. I can't get enough of the combo and I am dreaming up ways to enjoy it in some delicious baked goods that will be great for the holidays. 
In October, I went on a pumpkin recipe spree, which included a homemade pumpkin pie creamer. It was fun to make my own creamer and I like being able to control how much sugar and what ingredients go into my morning coffee. I knew I had to try making creamer with my favorite flavor combo, and somehow managed to wait until December 1st (which seems like the unofficial start of peppermint chocolate season to me).
I used my homemade chocolate syrup to flavor the creamer, which I highly recommend you try. It's surprisingly easy to make your own chocolate syrup (basically you just cook cocoa powder and sugar on the stovetop for a few minutes), and it is so much better than store bought syrup! I've had dozens and dozens of rave reviews on that recipe. Everyone loves it!
Besides the chocolate syrup, I just added a touch of peppermint extract to half and half to make the creamer. It couldn't get much simpler than that. It isn't super sweet however, so if you like very sweet coffee, I recommend adding a little sugar. Also, taste it as you go and add more or less peppermint extract based on how much peppermint you want in there (start with 1/4 teaspoon and work your way up).
DIY Peppermint Mocha Creamer
Ingredients
2 cups half and half
1/3 cup homemade chocolate syrup
1/4-1/2 teaspoon peppermint extract (depending on how peppermint-y you like it)
Instructions
In a medium saucepan over medium heat, whisk all the ingredients together.
Heat until the mixture begins to steam, stirring occasionally, then remove from heat.
Let it cool, then store in an air-tight container in the fridge.
Shake before using, then enjoy in your coffee.
https://www.52kitchenadventures.com/2012/12/04/diy-peppermint-mocha-creamer/
More recipes you'll love: