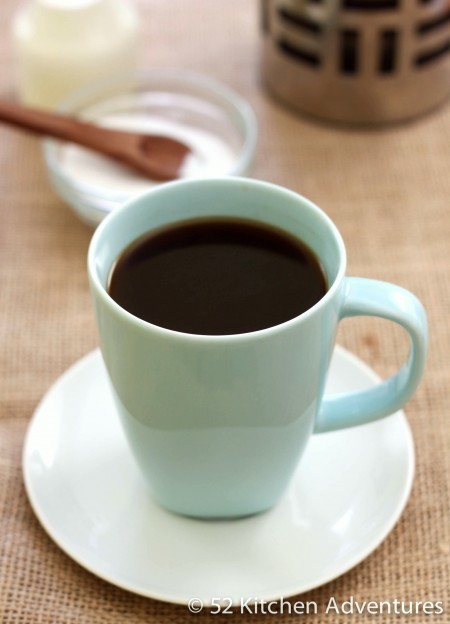 I've been eyeing those monthly coffee subscriptions for the last couple of years. Morning coffee is a daily ritual at our house, and Russ is a bit of a coffee snob. Each time his birthday or Christmas rolls around, I think about investing in a service that will deliver high quality beans to our door. And each time, I hesitate. What if we don't like the coffee? What if it's not enough and I still have to buy more at the store? I can never quite commit to a 3 or 6 month long subscription.
Enter: Tonx Coffee. They will send you a FREE trial so you can try out their service before committing to anything. Now THAT I couldn't pass up!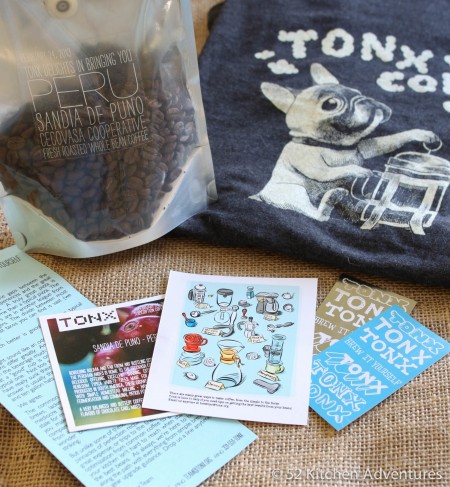 And check out the adorable package they sent me! I got a bag of Sandia de Puno beans from Peru, a letter from Tonx about what they do and why they do it, a cute illustration of all the different coffee makers (with brewing tips on the back), Tonx stickers, and an awesome shirt!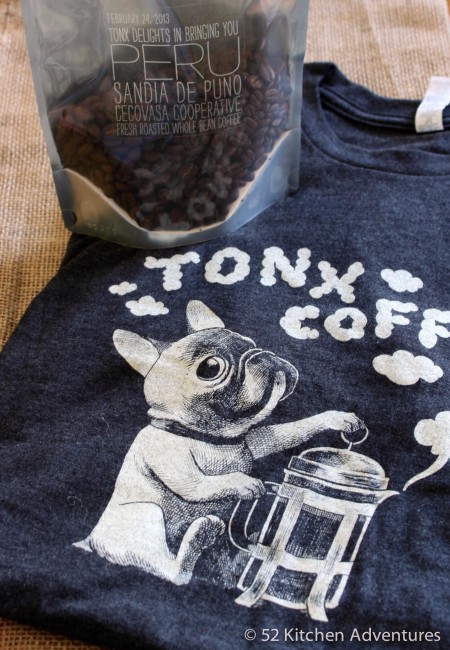 Seriously, check out this shirt. It's a tiny dog (I think it's a French bulldog – am I right?) brewing coffee in a French press. Can it be any more adorable?! All the extras were such a nice unexpected bonus. I was looking forward to free coffee, but I had no idea I'd be getting the world's cutest shirt.
The coffee itself was really good. According to the description, it's balanced and buttery, with flavors of chocolate cake, mixed berries, and plum. I'm not good at differentiating subtle flavors like that, but I can tell you that it was a very smooth and balanced brew.
Tonx roasts their own beans and then ships you fresh ones every other week, which is one of the coolest things about their service (besides the cute dog shirt). If you think about how long the beans on the grocery store shelf have been sitting, from the field to production to transportation to the store…that could be months! Having freshly roasted beans is quite a treat and Tonx makes it even easier than going to the store to buy your own.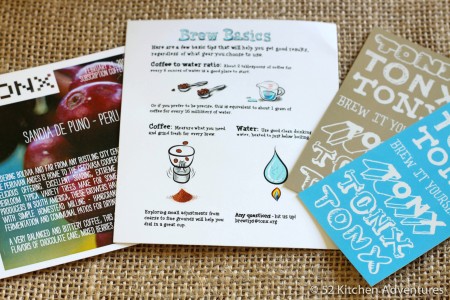 Everyone can sign-up for a free trial at Tonx Coffee, so go give it a try!
Full disclaimer: Tonx will ask for credit card and automatically subscribe users to the lowest monthly subscription unless they cancel. They provide very clear messaging and reminders via email before moving users to a paid subscription. They believe that once you try their fresh coffee, you'll want more!
More About Tonx:
The Tonx team is made up of experts with years of experience from seed to cup. They know that home-brewed coffee can be just as good as your favorite cafe. It's not as hard as baristas make it out to be – but it all starts with fresh beans, which you can't get if you buy bags of beans from grocery stores. Pre-ground coffee is even worse. Great coffee actually has very little to do with fancy gadgets and expensive gizmos.
The best part? Your Tonx Coffee subscription is very easy to manage, and they have great customer service because we appreciate every customer. They will always be transparent with how your subscription is being managed, and it's very easy to pause, cancel, or adjust your quantity for your needs. If you ever need tips or advice on how to get the most out of your coffee, they are always available to chat.
This is a sponsored post written by me on behalf of Tonx Coffee. The opinions, as always, are my own.