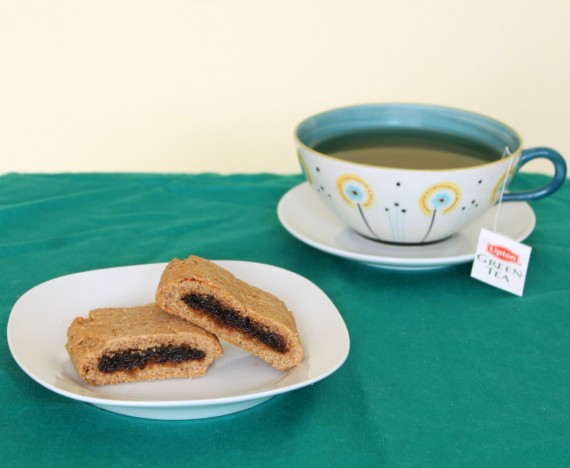 I've been wanting to make homemade Fig Newtons for a while, ever since I discovered this fig butter at Trader Joe's: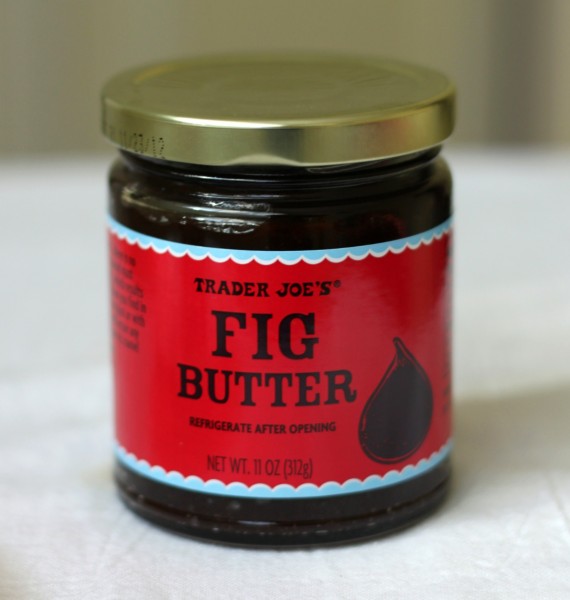 It tastes just like the filling of a Fig Newton!
When Lipton asked "how do you enjoy your tea?" and sent me their new Green Tea Superfruit flavors to try, I thought of making a simple cookie or scone. I consulted one of my favorite cooking books, the Flavor Bible, and looked up the superfruit flavors. Under raspberry, I found fig and a lightbulb went on – perfect time to try making fig bars!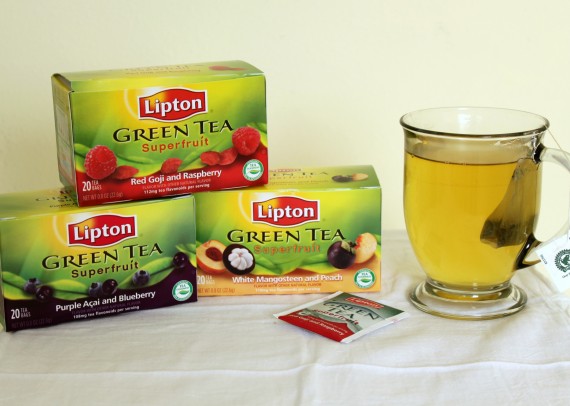 I tried making the first batch of fig bars with half whole wheat and half all purpose flour. It was great – moist, chewy dough filled with the sweet fig butter. I tried the recipe again using all whole wheat flour, and the cookie part was much drier. A friend suggested I try whole wheat pastry dough for baking, so that's on my shopping list for next time. For now, unless you're really concerned about using regular flour, I recommend doing half and half.
Use the widget below to share how you enjoy tea. The first 3 commenters will receive a box of Lipton Green Tea Superfruits to try for themselves!
RECIPE:
Whole Wheat Fig Bars
Adapted from Eat, Live, Run
Makes around 40 cookies
6 T butter, softened
1/2 cup + 2 T brown sugar, packed
1 T heavy cream
2 eggs
1 1/4 cup all purpose flour
1 1/4 cup whole wheat flour
1 t baking powder
1/2 t baking soda
1/2 t cinnamon
1/2 t salt
2/3 cup fig butter (if you can't find fig butter, you can find a filling recipe here)
In a large bowl, beat together the brown sugar and butter. Add in the cream and continue to beat until the mixture is light and fluffy. Add one egg and mix until combined. Add the second egg and mix again until combined.
In a separate bowl, combine both types of flour with baking powder, baking soda, cinnamon and salt. Add dry ingredients to butter and sugar mixture and mix just until a soft dough forms.
Roll dough into a ball and cover with saran wrap. Place in fridge for 2-4 hours (or overnight).
Preheat the oven to 350°F. Remove dough from fridge and divide in half. Place the half you're not using in the fridge. Roll the other half into a rectangle of 1/4″ thickness, around 12″ long and 4″ wide.
Place the dough onto a baking sheet covered with a silpat or parchment paper. Spread 1/3 cup of fig butter onto the dough, leaving some room around the edges.
Fold in the long sides until they meet in the middle, then fold in top and bottom, pinching the dough together.  Carefully flip dough over onto baking sheet.
Repeat with other half of dough. Bake for 20 minutes, until it turns golden brown. Let cool before slicing.
Now that I have shared what I would pair with these refreshing Lipton Green Tea Superfruits, I want to know, how do you enjoy your tea?
Share your tea time must haves for a chance to win a year's supply of Lipton Tea, a tea kettle, a tea box, a mug/saucer set, a travel tumbler and a $50 gift card to Amazon.com!
This is a sponsored conversation written by me on behalf of Lipton Green Tea Superfruit. The opinions and text are all mine. Official Sweepstakes Rules.
More recipes you'll love: