About the Baker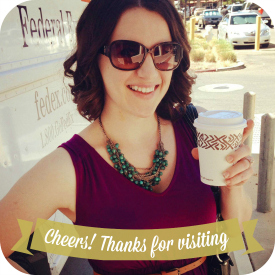 In the kitchen since before she could reach the counters, Stephanie (Nuccitelli) Saunders is a self-taught baker who loves anything to do with butter, eggs, and sugar. The blogger lives in Sacramento, CA and works at a digital marketing agency by day. By night, she bakes and tries to find people to eat all of her homemade desserts.
Stephanie is passionate about baking from scratch, anything mint-chocolate, traveling, bad puns, and trying new foods. You can connect with her on Facebook, Twitter, Pinterest, Instagram, and Google+. She also writes about food and develops recipes for various magazines and websites. She's available for freelance work as a writer, recipe developer, and photographer. Please contact her for more information.
About the Blog
52 Kitchen Adventures began in January 2010 as a challenge for Stephanie to cook more and try an unusual ingredient once a week for a year (one kitchen adventure a week – get the name?). After the year was over, the food blog became a creative outlet for the sweet-toothed author to fill with desserts and simplify baking from scratch for the home cook. Recipes range from almost healthy desserts to decadent creations, plus "homemade junk food" (copycat recipes of store-bought favorites), and easy slow cooker dishes.