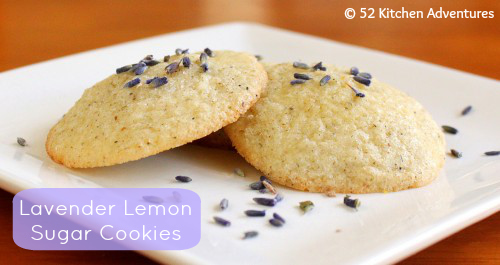 My lovely best friend Hannah gifted me some local organic lavender sugar. It is incredibly aromatic – as soon as the jar opens, you are overcome with the fresh scent of lavender. However, it has a surprisingly subtle flavor when eaten.
I made soft sugar cookies, replacing some of the sugar in the dough with lavender sugar, but found that wasn't enough to impart the flavor of lavender. I ended up also rolling the dough in lavender sugar before baking, which gave the cookies a delicate lavender flavor and also tiny flecks of lavender on top. There is also lemon zest in the dough, which is a nice compliment to the lavender without overpowering it.
If you don't have lavender sugar, you can replace it with regular sugar and add 1 T crushed lavender flowers in the dough instead. You can also try making homemade lavender sugar.
Also, if you don't want to use so much lavender sugar, you could probably use regular sugar in the dough and simply roll the dough in the lavender sugar.
Lavender Lemon Sugar Cookies
1/2 C butter, at room temperature
1/2 C sugar
1/4 C lavender sugar
1 T lemon zest
2 large eggs
1/2 t vanilla extract
1 1/4 C flour
1 t baking powder
1/2 t salt
5 T lavender sugar
Preheat oven to 375°F. Line cookie sheets with parchment paper or Silpat mats.
In a large bowl, cream together room temperature butter, sugar, lavender sugar and lemon zest until light and fluffy. Beat in eggs, one at a time, until thoroughly combined. Mix in vanilla.
In a separate bowl, whisk together flour, baking powder and salt. Slowly add the flour mixture to the wet ingredients, beating at a low speed until everything is just combined.
Place remaining lavender sugar in a small bowl. Shape dough into 1 inch balls and roll in lavender sugar, evenly coating the dough. Place a few inches apart on prepared cookie sheets and bake 6-9 minutes, until edges are slightly firm and cookies are very lightly browned on bottom.
More recipes you'll love: