I will happily give Russ full credit for this week's unusual ingredient. When he told me he was bringing pig feet home, I shuddered. Pig's feet? Really? We'll call them "trotters" here because that sounds a bit more classy and less like what they really are, but they really are pig feet. I tried out a couple of other names (ham hooves anyone?) but let's just settle on trotters.
I feel that this post needs very little introduction or explanation. This is an unusual ingredient only in that people don't often cook with it, not that it's so strange you won't have heard of it. You know what this is, so no history lesson or nutritional break-down this week. Let's just get on with it and get this over with. Here's what came out of the shopping bag: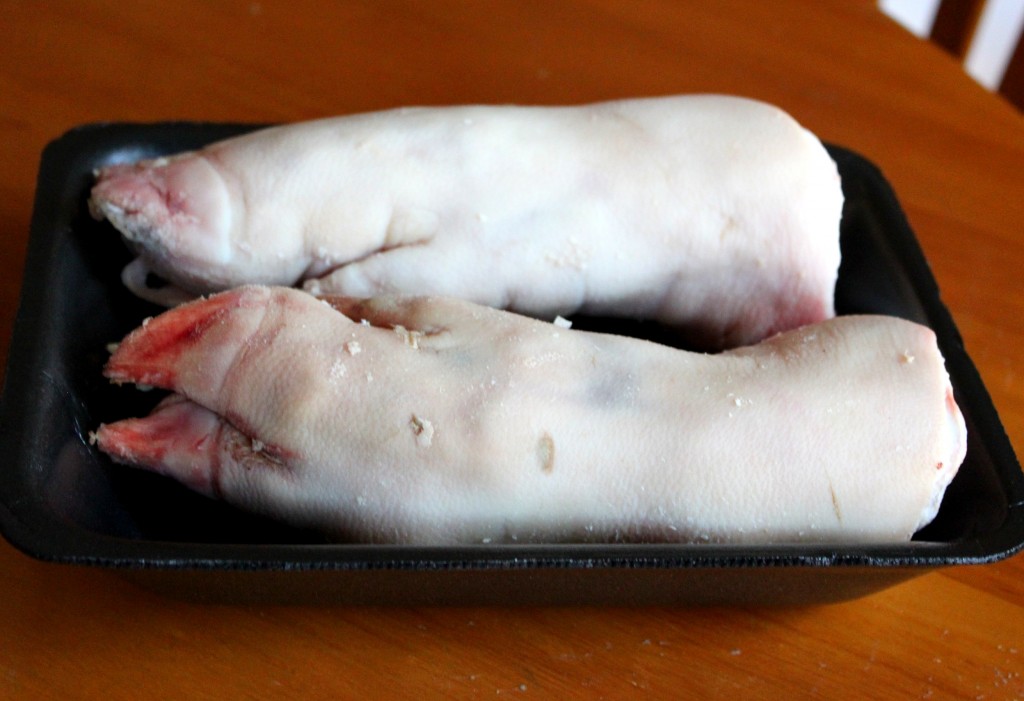 Yeah. I gotta admit that it wasn't easy to photograph these. They aren't the prettiest or most appetizing looking thing, even among other ugly raw meats.
After boiling for several hours and removing a good chunk of skin, we were left with only about 1/3 pound of meat. Luckily, this is an unpopular and therefore cheap cut of meat, but it ended up producing so little meat that the original recipe in mind had to be adapted into an appetizer. If you want bigger portions (or want to avoid the trotters), we recommend using ham hock instead.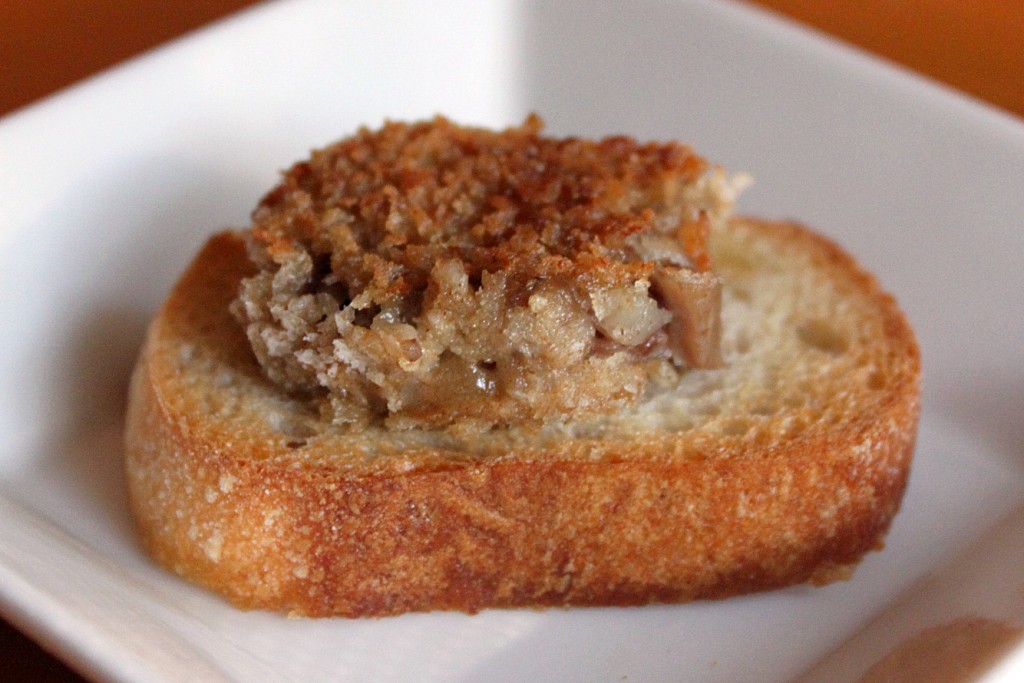 Look how pretty they turned out! Can you believe that's pig trotters? They actually tasted good too, just make sure you eat them right away, otherwise they can get a little gelatinous (ew).
Trotter Medallions
4 pig trotters
15 garlic cloves, unpeeled
2 bay leaves
1 oregano sprig
10 peppercorns
1/8 C shallots, finely diced
4 T stone ground mustard, divided
3 T olive oil
1/4 C panko bread crumbs
1 baguette, thinly sliced
Fill a large stockpot with heavily salted water. Add pig trotters, garlic, bay leaves, oregano and peppercorns and bring to a boil. Cover pot and continue to boil for 3 hours.
While that is boiling, sautee shallots with salt and pepper until tender. Set aside.
Remove the stock pot from heat and allow to cool. Once meat is cool enough to handle, remove from pot and place on cutting board. Discard the broth. Pick out meat and place in a large bowl, discarding fat, tendons, cartilage and bone, but reserving the skin. Weigh remaining meat and then add half as much finely diced skin to it (we had 1/3 pound of meat, so added 1/6 pound of skin).
Add shallots, 1 T mustard and salt and pepper to meat and skin mixture, mixing well. Form into a log shape and cover with aluminum foil. Refrigerate overnight or up to 4 days.
When ready to cook, heat 2 T olive oil in a skillet over high heat. Slice the meat into 1/4 inch thick slices, coat the outside with mustard and roll in panko bread crumbs. Pan fry in skillet for 10-15 seconds per side (if you cook for too long, the meat will fall apart). Brush remaining olive oil onto baguette slices and lightly toast. Place fried trotter slices onto baguette slices and serve immediately.
More recipes you'll love: