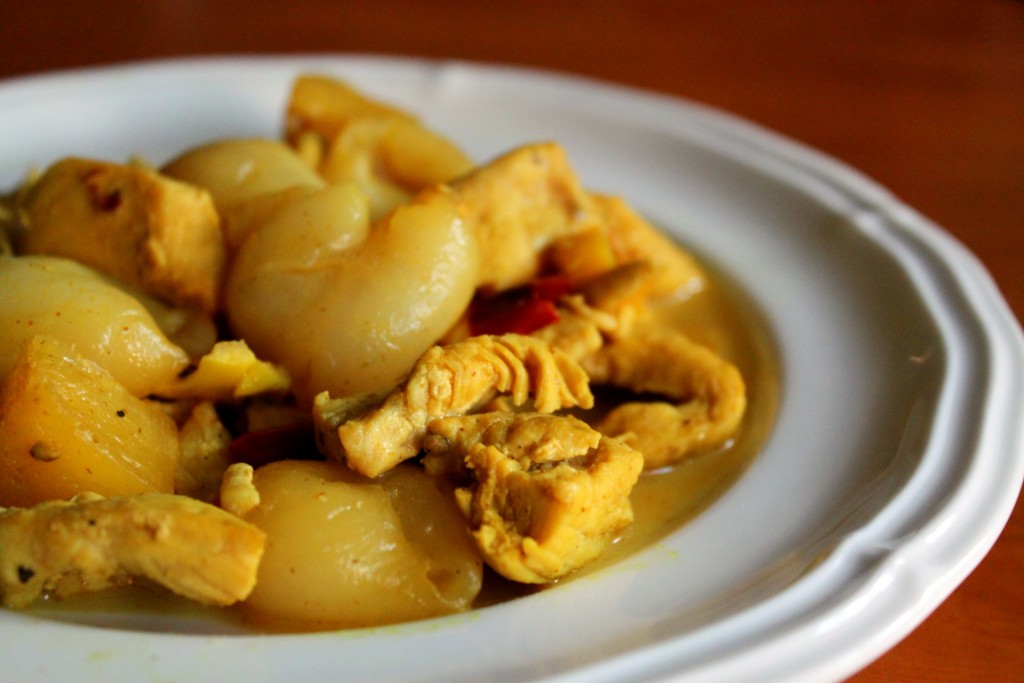 Rambutan (pronounced ram-BYU-tn) is a funny looking red and hairy little fruit. I was only able to find it canned, so it came without it's hairy shell, but you can see it in the can that is in the background of the picture below. Inside the shell, you will find small translucent white fruits, which are very similar to a close relative, lychee, in texture and appearance.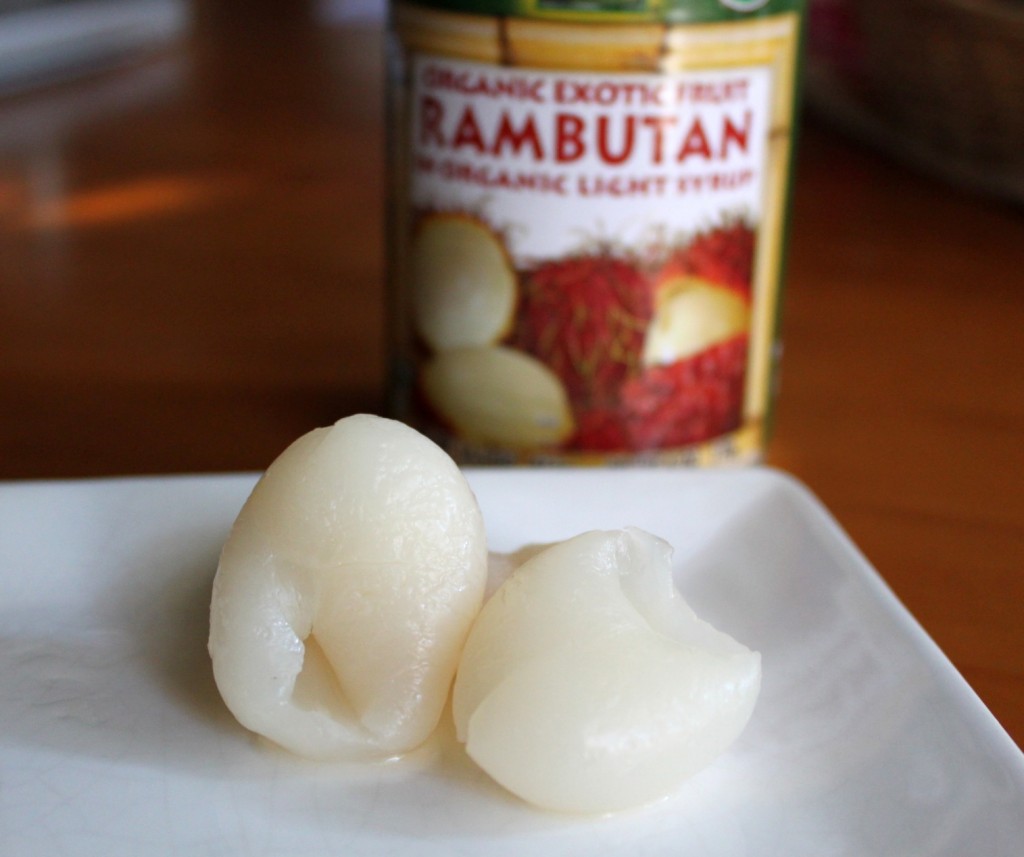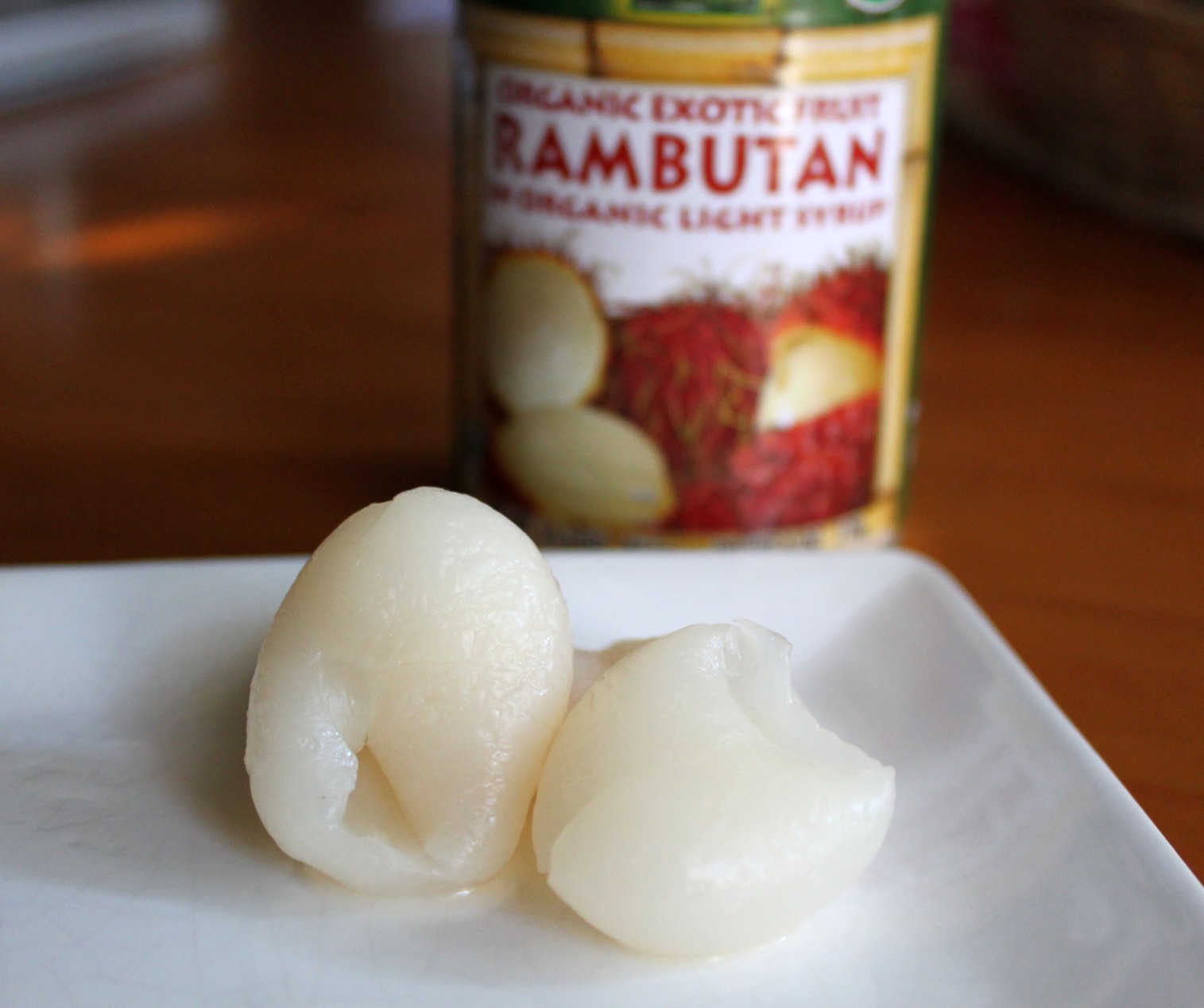 Rambutan have a very subtle, lightly sweet flavor with more acidity than lychees. They are a good source of vitamin C and calcium, and also contain iron, niacin, fiber and protein. They are grown in tropical areas, including southeast Asia, Africa and the Caribbean islands. In recent years, rambutan production in Australia and Hawaii has also increased quite a bit.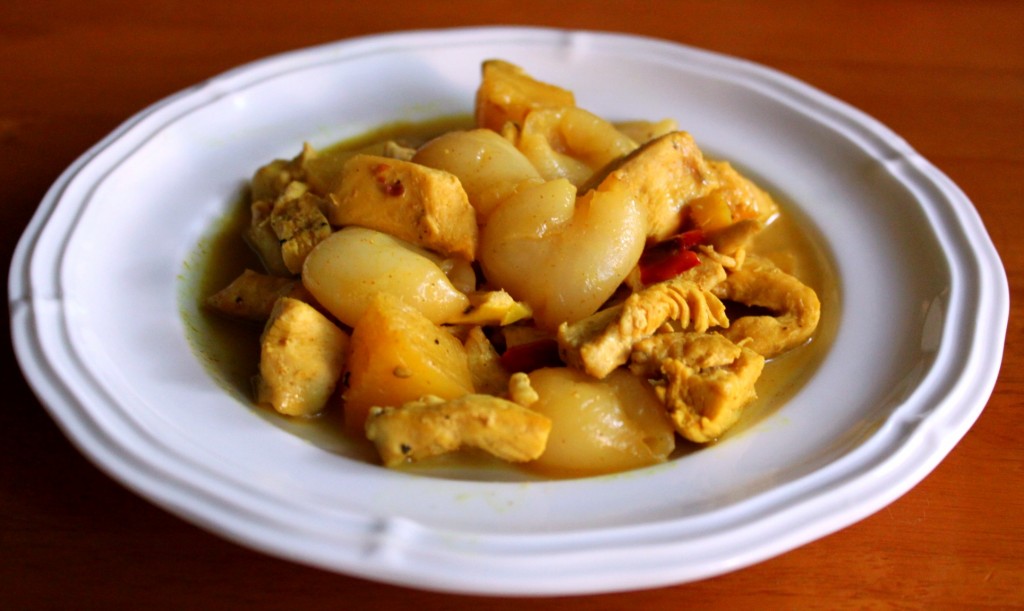 Along with the rambutan, I added another tropical fruit, pineapple, and made a chicken curry. The rambutans and pineapple add a nice sweetness to balance the spicy and savory flavors in the dish. If you can't find rambutans, I think the curry would still be excellent with pineapple alone.
Rambutan and Pineapple Curry
1 lb. boneless, skinless chicken breast, cubed
4-6 T peanut oil, divided
2 inches of ginger, peeled and roughly chopped
2 dried red Thai chilies, chopped (remove seeds if you want a mild curry)
2 cardamom pods
3 cloves garlic, crushed
2 t curry powder
2 t ground coriander
2 t ground cumin
1/2 t tumeric
1/2 t ground nutmeg
1 t salt
1/2 C pineapple
1/2 C rambutan
1 C pineapple juice
1 C light coconut milk
Rice for serving
Season chicken with salt and pepper. In a large saucepan, cook chicken in peanut oil until cooked through and set aside.
In the same saucepan, add more peanut oil and saute ginger, chilies, cardamom pods and garlic for about 3 minutes. Add curry powder, ground coriander, ground cumin, tumeric and ground nutmeg and cook for another minute. Mix in salt, pineapple, rambutan, pineapple juice, and cooked chicken. Bring to a simmer for 10 minutes, then add in coconut milk. Serve over rice.
More recipes you'll love: