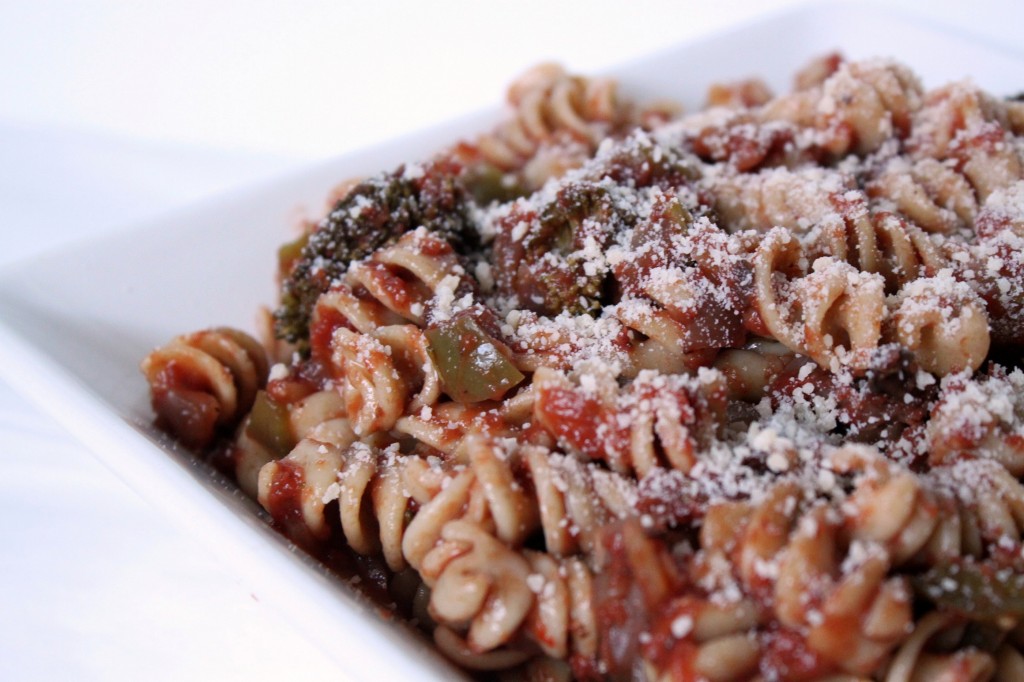 This week's Crock Pot recipe is a great way to use up any vegetables that have been lingering in your fridge all week. Broccoli, mushrooms, bell peppers, zucchini, onion, squash, etc…toss it all in! I listed the veggies I used, but change it to use whatever is in your kitchen. Add some tomato sauce, whole wheat pasta and shredded Parmesan and you have a tasty, healthy and filling dinner in a flash.
Recipe:
Slow Cooker Vegetable Pasta
2 T extra virgin olive oil
1 red onion, chopped
3 cloves garlic, minced
1 red bell pepper, chopped
1 green bell pepper, chopped
1/2 C crimini mushrooms, sliced
28 oz. tomato sauce
1 t Italian seasoning
Salt and pepper to taste
16 oz. whole wheat rotini noodles
Shredded Parmesan cheese, for serving
In a large skillet, heat olive oil over medium-high heat. Cook onions until soft, then add garlic and cook for a minute until fragrant. Transfer cooked onions and garlic to slow cooker along with the remaining vegetables, tomatoes, Italian seasoning, salt and pepper. Cook on high for 2 hours or low for 4 hours.
When the sauce is almost ready, bring a large stockpot of salted water to a boil. Cook noodles according to package directions, then combine with sauce from slow cooker. Serve with shredded Parmesan cheese.