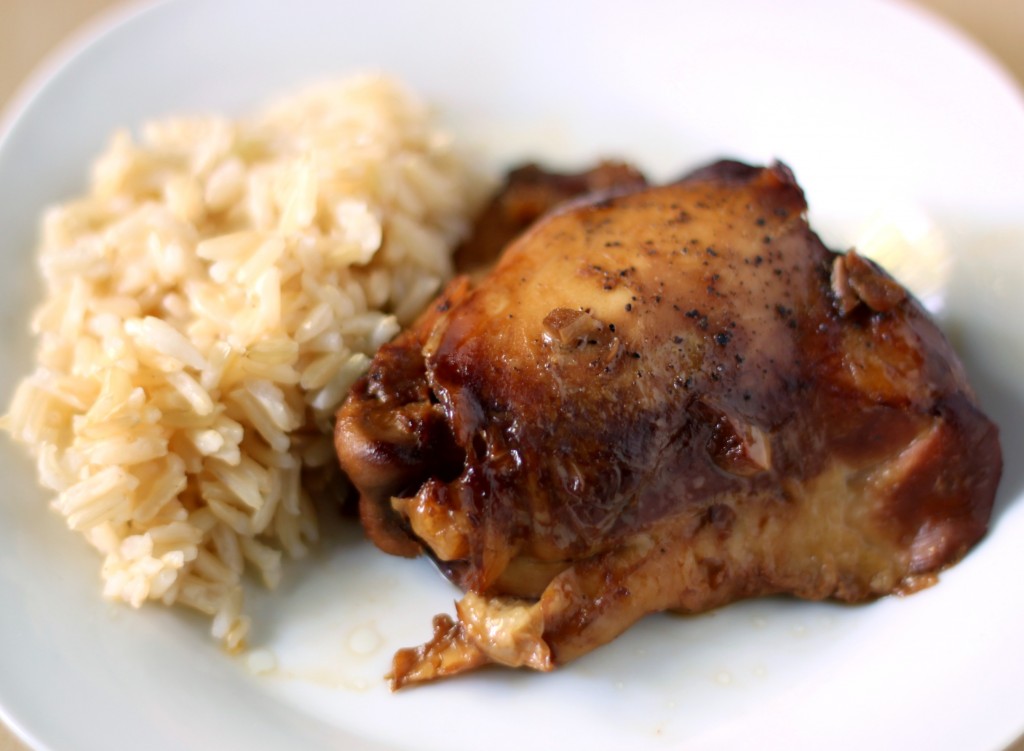 When I posted a plea for savory recipes after my kitchen was filled with a few too many desserts, Carolyn from All I Dream About is Food suggested her chicken adobo. It's one of her favorite chicken recipes, plus it's easy with fairly minimal effort involved. After reading her post, I thought it sounded like something that could be made in a Crock Pot. This was quickly confirmed by a Google search that found lots and lots of slow cooker adobo recipes.
Adobo is a popular Filipino dish, involving marinating and cooking meat in a mixture that typically includes vinegar, soy sauce, garlic, bay leaves and black pepper. There are lots of variations on the recipe all over the Internet but I used Carolyn's recipe as my inspiration. The chicken came out extremely moist and flavorful, with meat that fell right off the bone. If you have some extra time, you can take the juices from the slow cooker and reduce them on the stove for serving. I served a the meat with rice and a few spoonfuls of the cooking juices straight out of the slow cooker and it was a wonderful dinner on a busy day.    
Recipe:
Slow Cooker Chicken Adobo
1 lb. chicken thighs, skin removed
1 lb. chicken wings, skin removed
1/2 C reduced sodium soy sauce
1/2 C apple cider vinegar
4 cloves garlic, chopped
Salt and pepper to taste
Season chicken with salt and pepper and place in slow cooker. Mix together the soy sauce and vinegar, then pour over chicken. Sprinkle garlic over everything. Cook on low for 6-8 hours or high 4-5 hours (until meat is cooked through). Serve with rice.