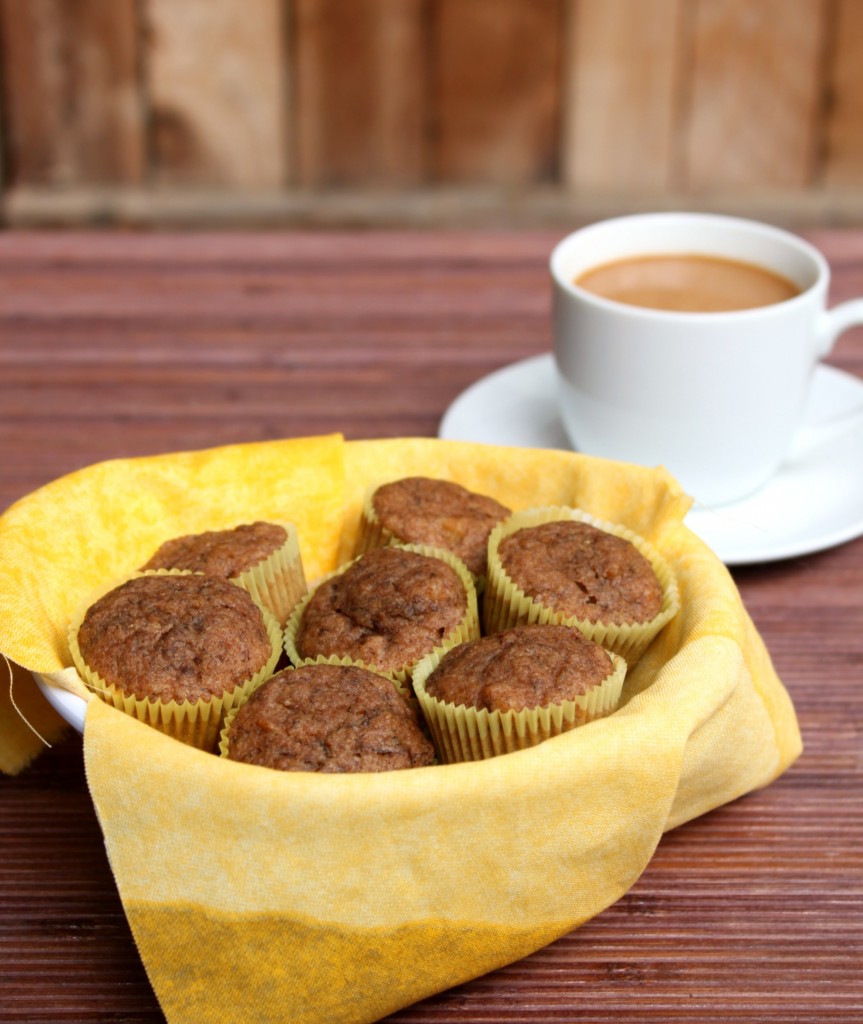 Target is packed. With people, with notebooks and pencils, lunch boxes and backpacks. This can only mean one thing: back to school time. I know that for most of you this probably happened already, possibly weeks ago, but I live in a college town where school starts at the end of September. I'm just now heading back to my teaching job on campus and in need of healthy and delicious snacks to get me through the day.
On our first day back we had an entire day of CPR and first aid training, which required lots of coffee and some good treats. My coworkers brought some German candy (Bueno and Happy Hippo – Robin I found them on Amazon for when your stash runs out!) and Aussie bites and I brought some banana walnut muffins. I made an effort to find a relatively healthy muffin recipe and made them mini sized – perfect for a snack, quick breakfast or to pack in a lunch for a healthy dessert.
Recipe:
Whole Wheat Banana Walnut Mini Muffins
Adapted from Oprah.com
Makes 24 mini muffins
1 cup whole wheat flour
1/2 tsp. baking soda
1/2 tsp. ground cardamom
1/2 tsp. ground cinnamon
1/2 tsp. ground nutmeg
1/4 tsp. salt
1/2 cup light brown sugar
1/4 cup butter, at room temperature
1 cup (2 to 3 whole) very ripe mashed bananas
1/4 cup unsweetened applesauce
1/2 tsp. vanilla extract
1 egg
1/4 cup coarsely chopped walnuts
Preheat oven to 350°F. Line a mini muffin tin with paper liners or grease well.
Combine flour, baking soda, cardamom, cinnamon, nutmeg, and salt into a large bowl and set aside.
Put sugar and butter into a second large bowl and beat until well combined. Add bananas, applesauce, zest, vanilla, and egg to the sugar-butter mixture, and mix again until combined. Add flour mixture to banana mixture in three parts, stirring well after each addition, then fold in walnuts.
Spoon batter into prepared muffin tin, filling each 3/4 full. Bake until a toothpick inserted in the center of a muffin comes out clean, about 25 minutes.
More recipes you'll love: