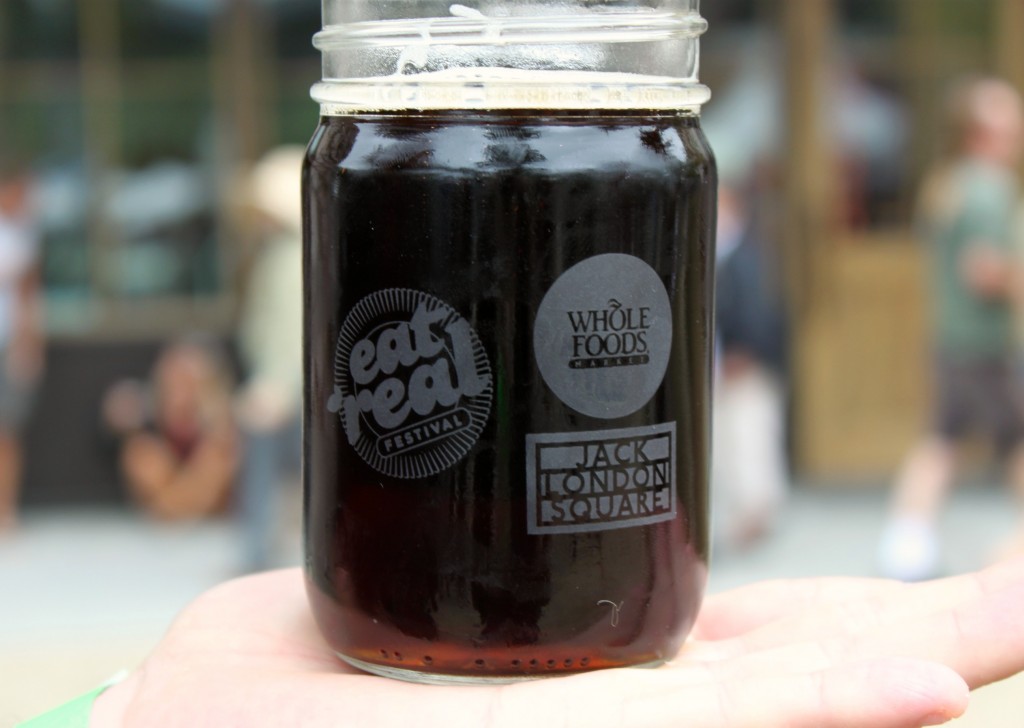 Last Saturday I visited the annual Eat Real Fest in Oakland, CA. The festival is full of local food trucks, demos, DIY food fun, butchery contests, and more. The focus is on high quality ("real") foods plus how to make and grow your own food. The whole thing was a lot of fun, with some freebies, tons of different foods to try, live music and always some kind of demo or contest to watch. It was pretty amazing to be surrounded by seemingly countless food trucks all serving up high quality food, most of it made with humanely/sustainably raised meat.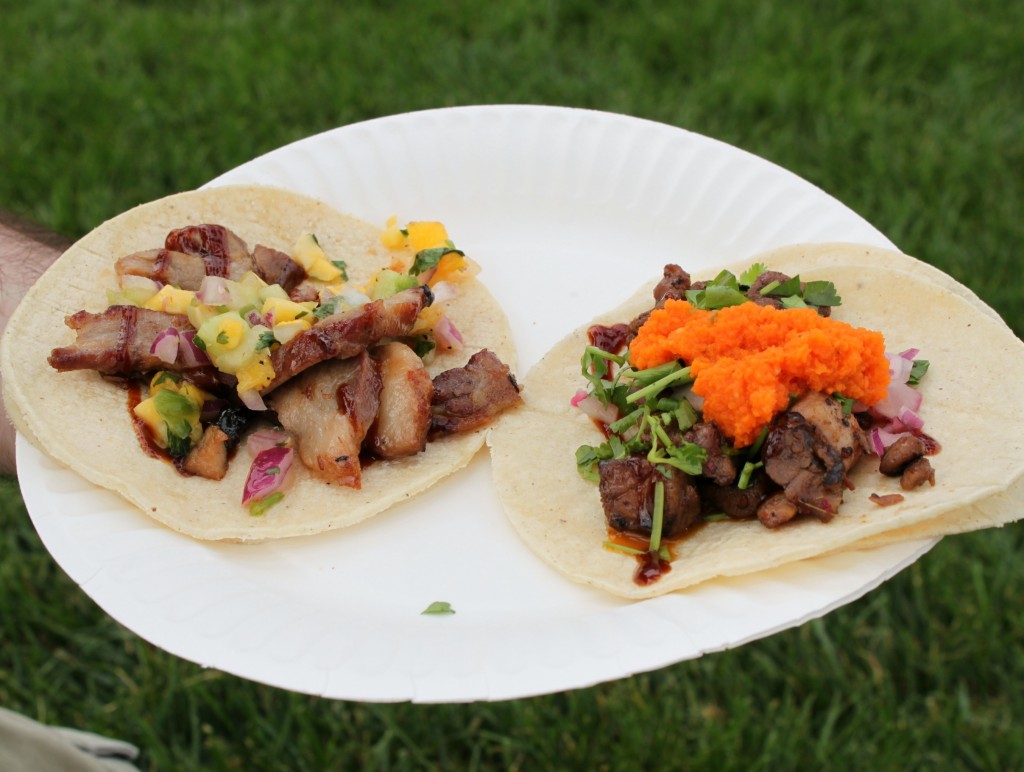 The first food truck I tried was Kung Fu Tacos, which is no ordinary taco truck. Their soft flour tortillas are filled with Chinese inspired fillings, homemade sauces and salsas. The two pictured above are Nun Chuk Chicken (marinated chicken) and Wu Su Char Sui (BBQ pork). They were juicy, fresh, and gone in about 2 minutes flat.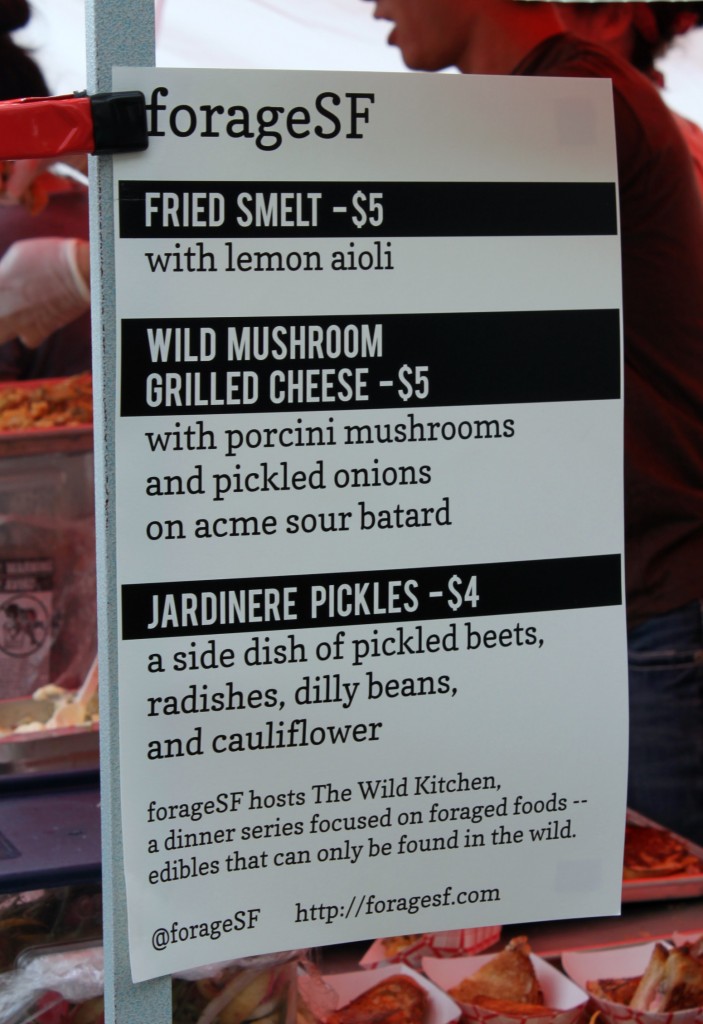 Next up was forageSF, a wild foods community striving to connect bay area folks to the wild food that surrounds them. They offer mushroom and fishing classes, wild food walks and host an Underground Market for vendors and foragers who can't get into farmer's markets.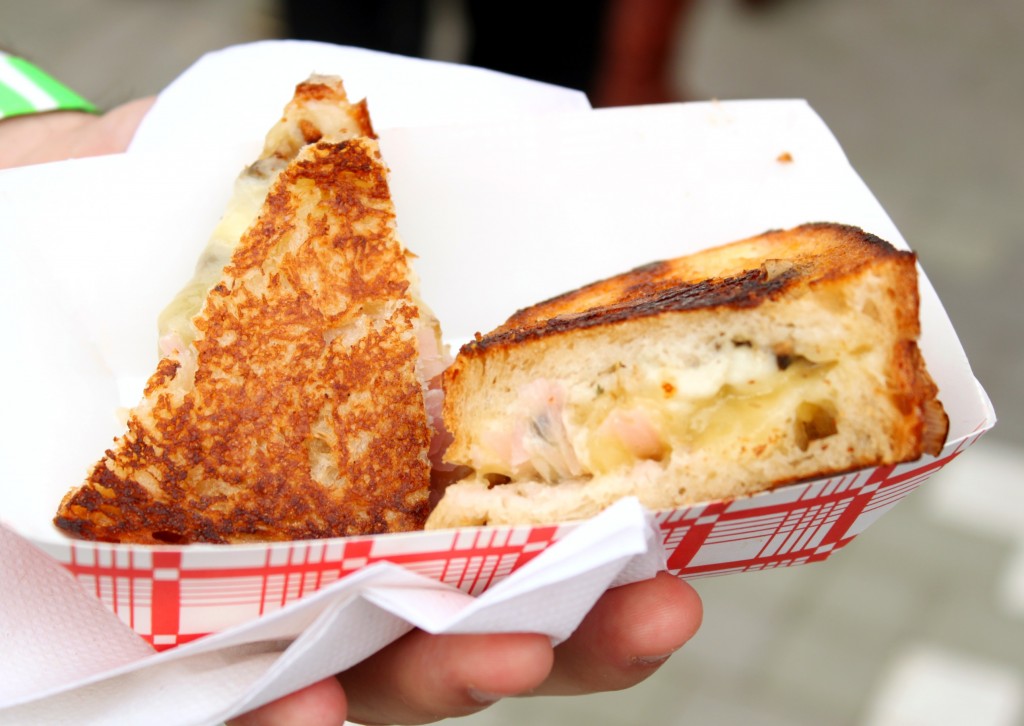 This is the wild mushroom grilled cheese. It had all the good points of a grilled cheese -perfectly toasted bread with lots of melty cheesy goodness- plus the unique additions of porcini mushrooms and pickled onions.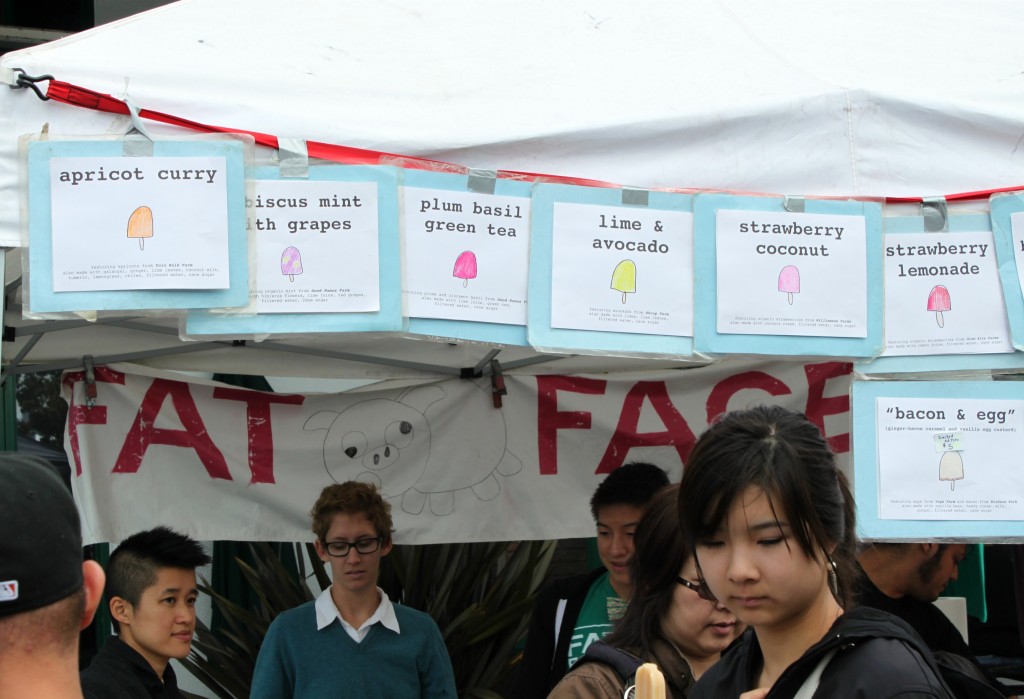 I was really excited to see someone from my hometown. Fat Face makes creatively flavored popsicles with mostly local ingredients, as well as some awesome sammiches. You can find them at the Davis Farmer's Market and Bows and Arrows in Sacramento. I was planning on skipping them since I can get a popsicle from them anytime I'd like, but they had a limited edition flavor that caught my eye: "bacon & egg" (ginger bacon caramel with vanilla egg custard).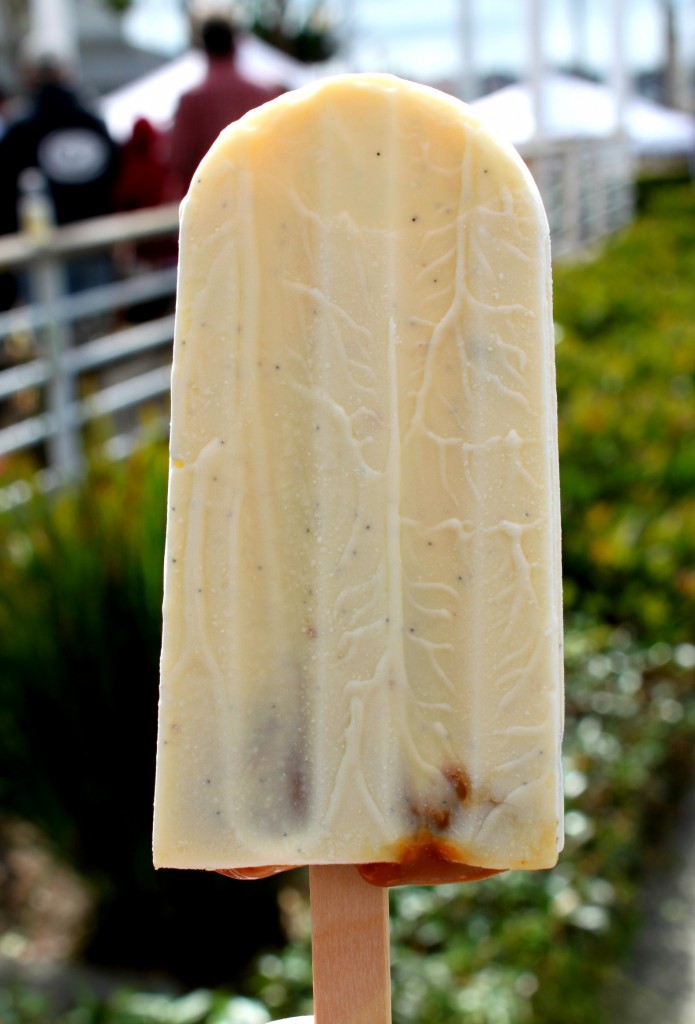 Most of the pop was vanilla custard and down at the bottom you can see the caramel. I enjoyed the creamy custard part, but the caramel was really smoky and savory – a bit too much for my sweet tooth (although my friend, who has less of a sweet tooth than me, really liked it). Next time I'll stick with my favorite lime & avocado pop.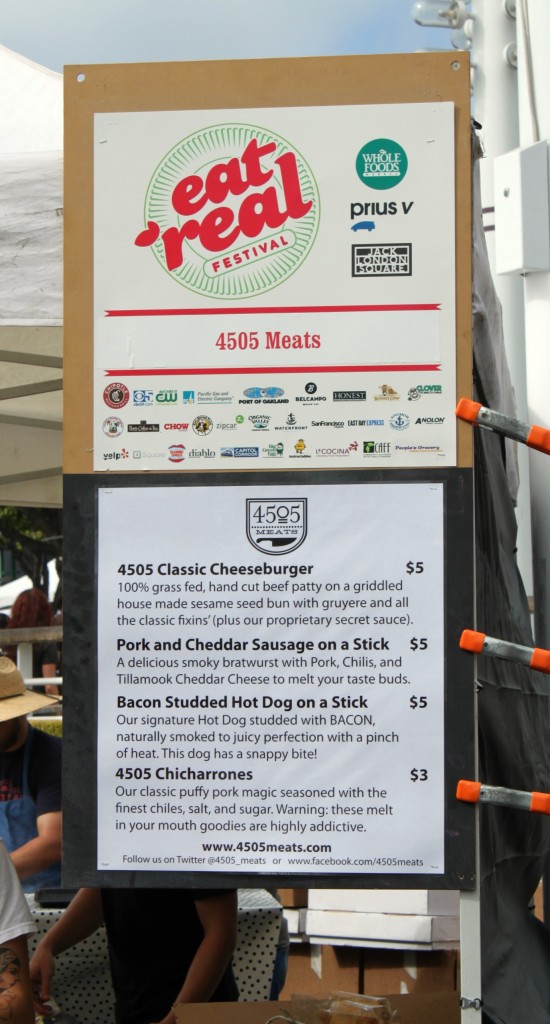 4505 Meats was my next stop. They keep it local with high quality, all natural sausages, burgers and uncured hot dogs.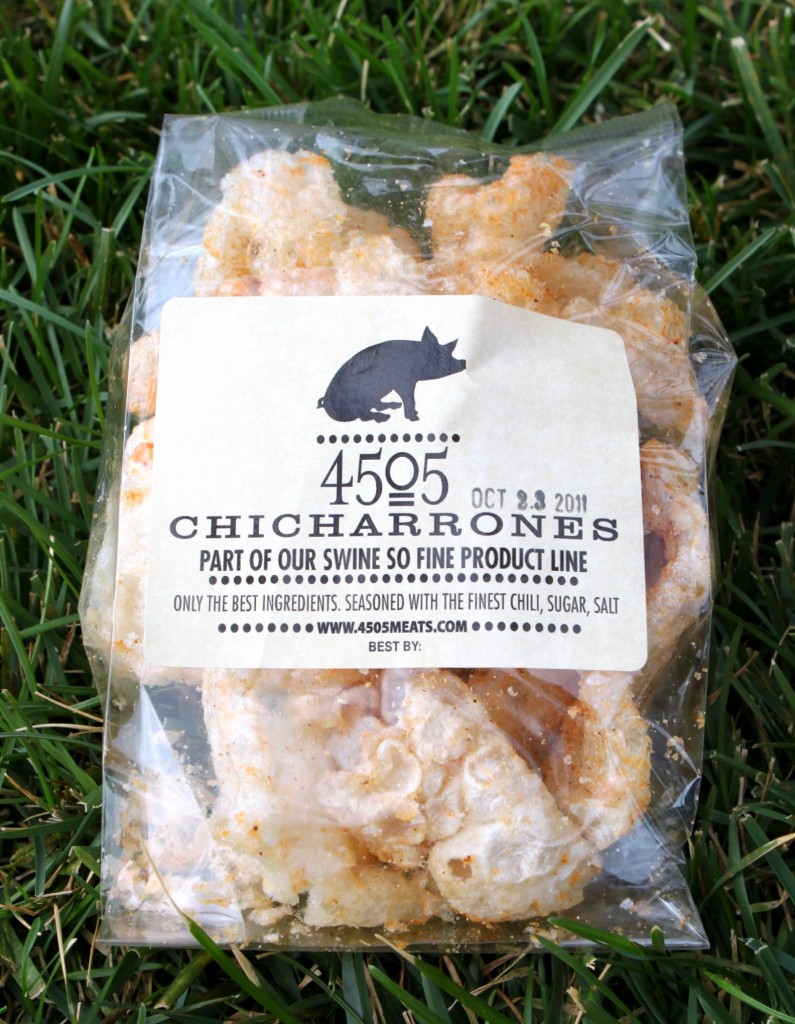 Their chicharrones were pretty much like any other, except they are seasoned wonderfully with a mix of chili, sugar and salt. The mix is really well balanced and there isn't an overwhelming spicy, sweet or salty flavor – just a perfect blend of all three.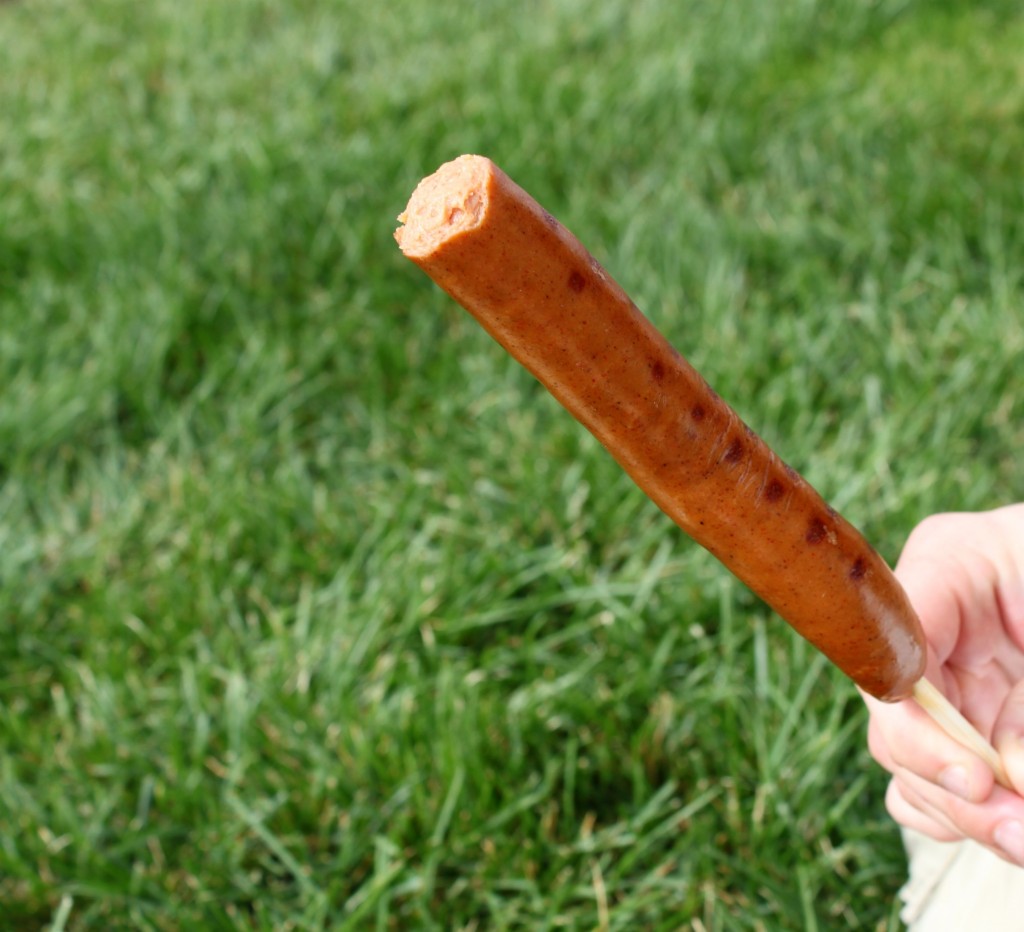 This bacon studded hot dog on a stick was one of my favorite food items of the day. First of all, it was easy to eat (you gotta love food on a stick), flavorful and wasn't just a bite or two. There aren't big chunks of bacon inside, but the flavor is there in this juicy and satisfying dog.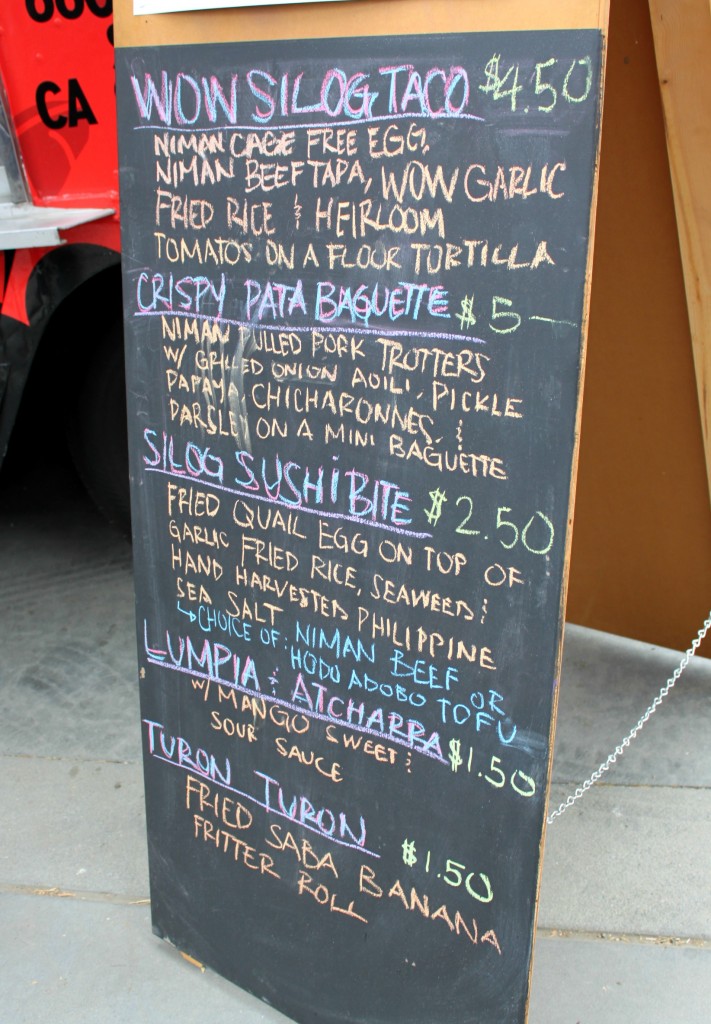 My final food truck of the day was The WOW Silog Truck. This filipino food truck served up a great variety of foods.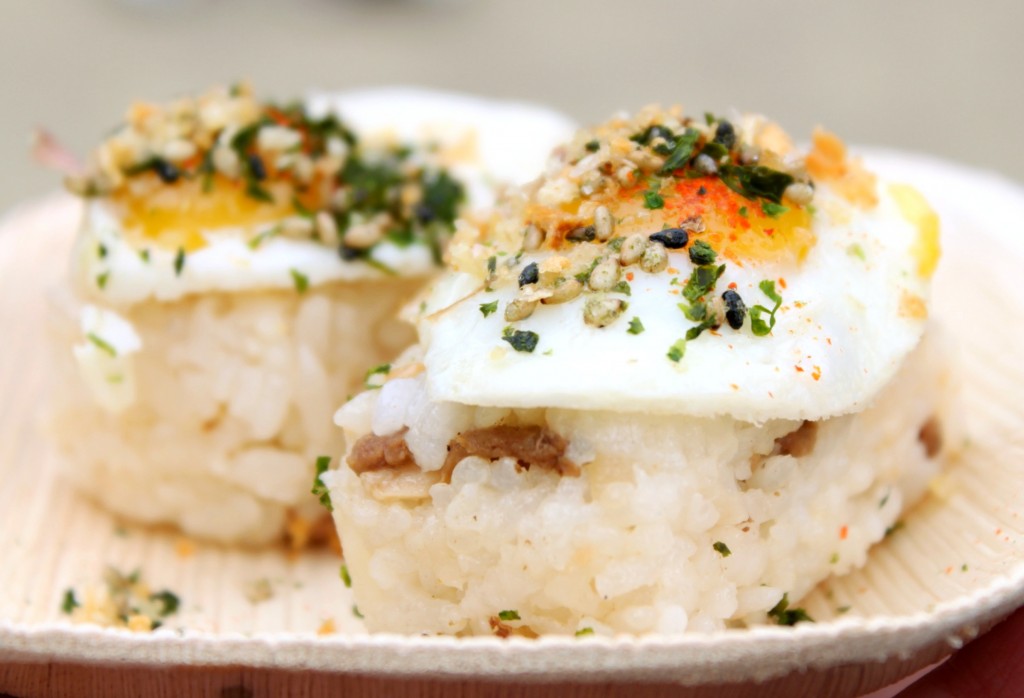 The silog sushi bite, with garlic fried rice, seaweed, sea salt and Niman beef topped with fried quail egg, was my other favorite food of the day. It was gone too quickly, but it was beautifully seasoned and full of fantastic flavor.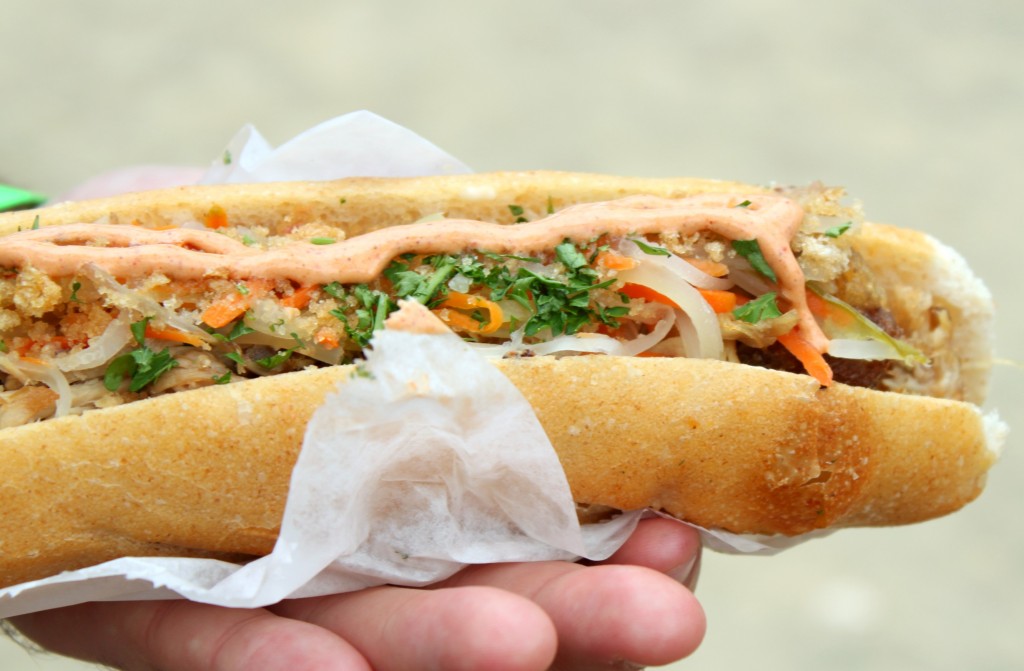 This is the crispy pata baguette, with Niman pulled pork trotters, grilled onion aioli, chicharrones, picked papaya and parsley. It was crunchy, fresh tasting and very rich.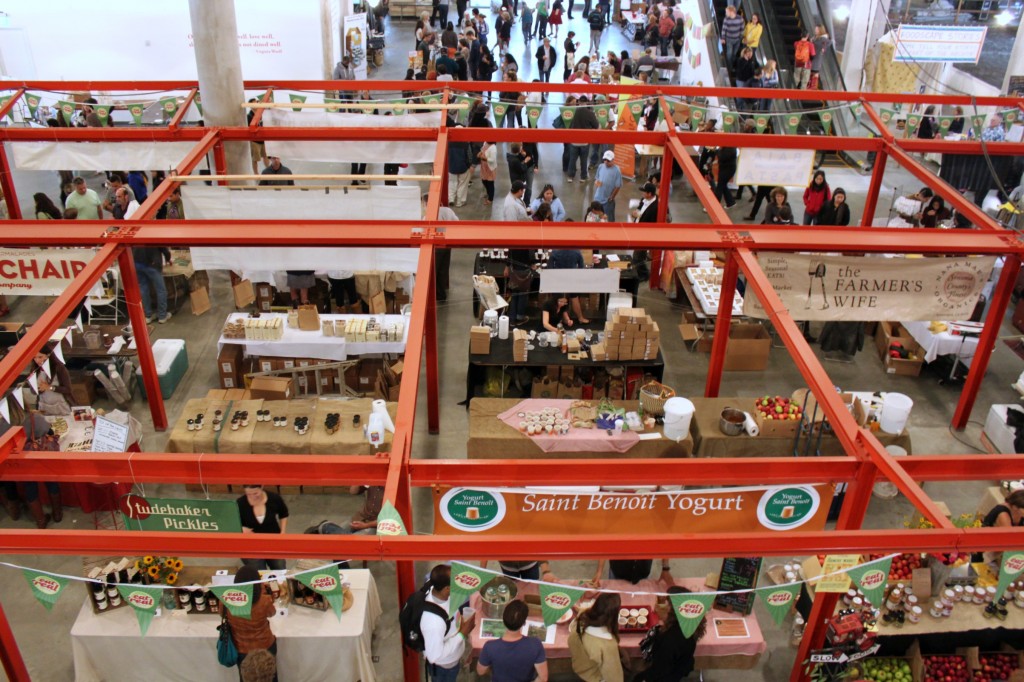 Inside there was the Craft Food Marketplace. Artisan beef jerky, olive oil, jam, sauerkraut, chocolate, etc.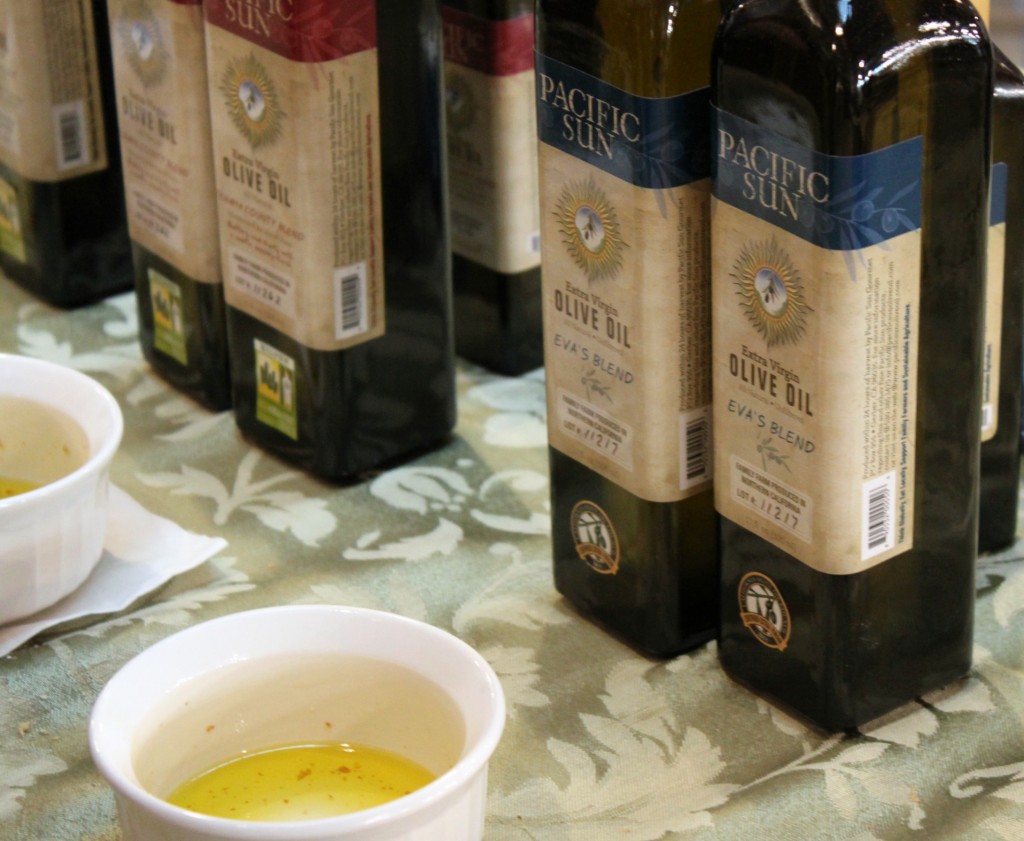 Pacific Sun Eva's Blend extra virgin olive oil was excellent, but even better was their balsamic vinegar and blueberry balsamic vinger (it was like a tangy version of blueberry pancake syrup).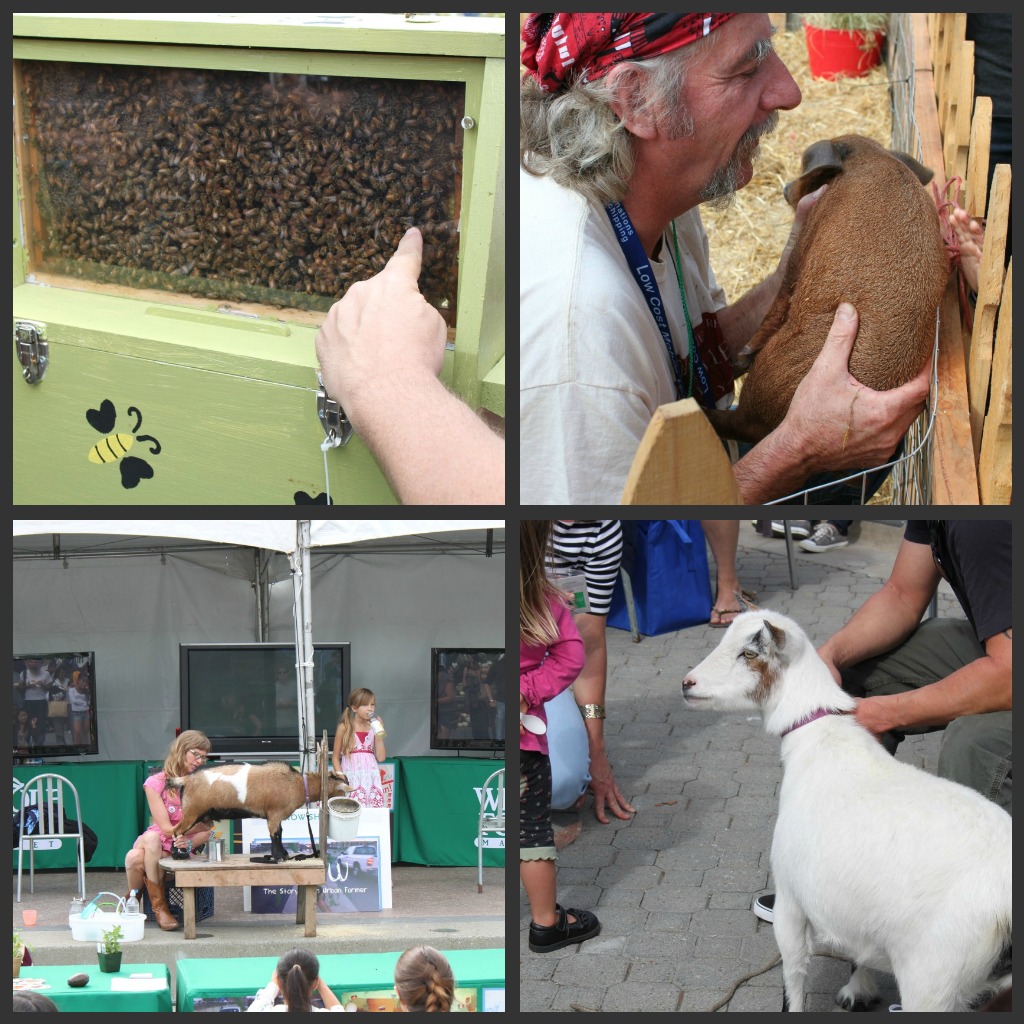 There were also lots of live animals and informations on backyard farming. There were the honeybees, baby pigs, goats pictured above, and also rabbits, turkeys and chickens.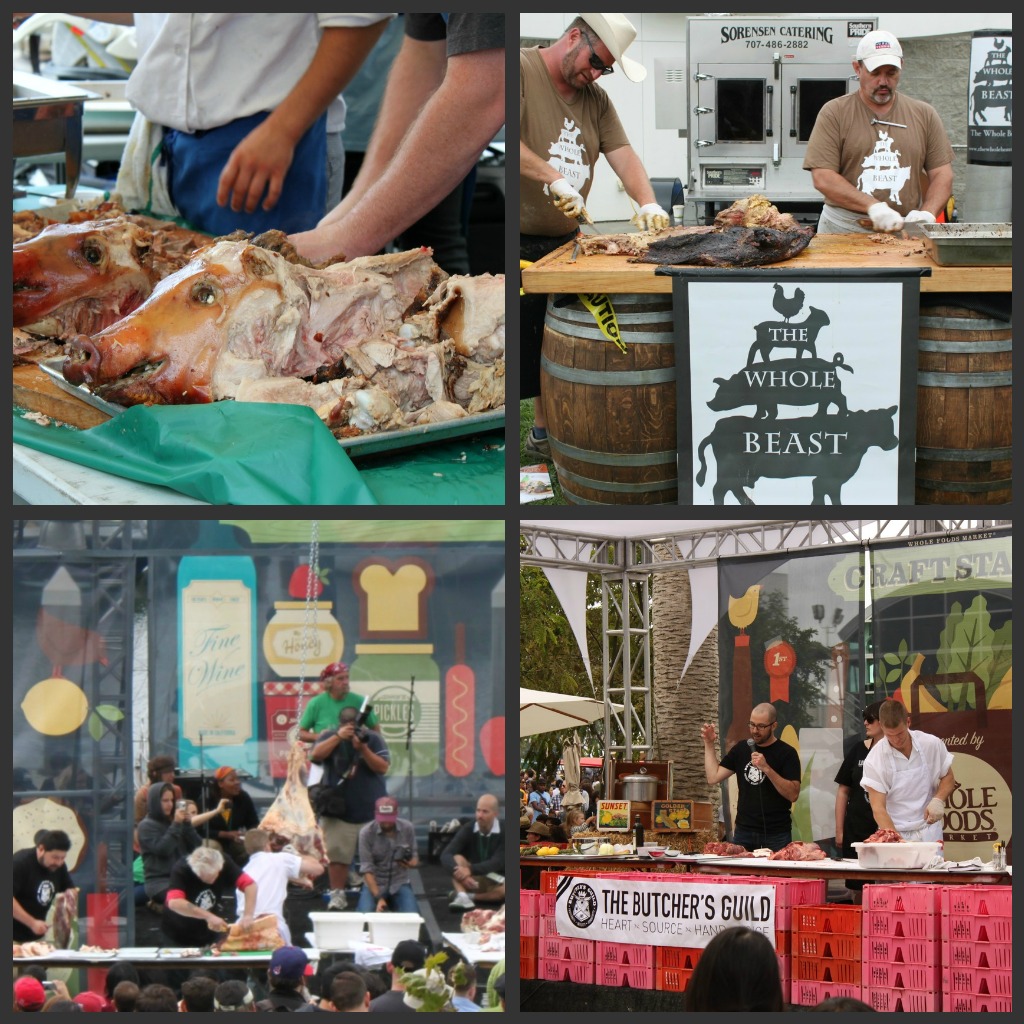 There were also dead animals, and not just in the form of hot dogs and taco meat. Clockwise from the upper-left: a whole pig being butchered, The Whole Beast staff preparing lamb, the Flying Knives Steer Butchery Competition and the Butcher's Guild presenting on chuck.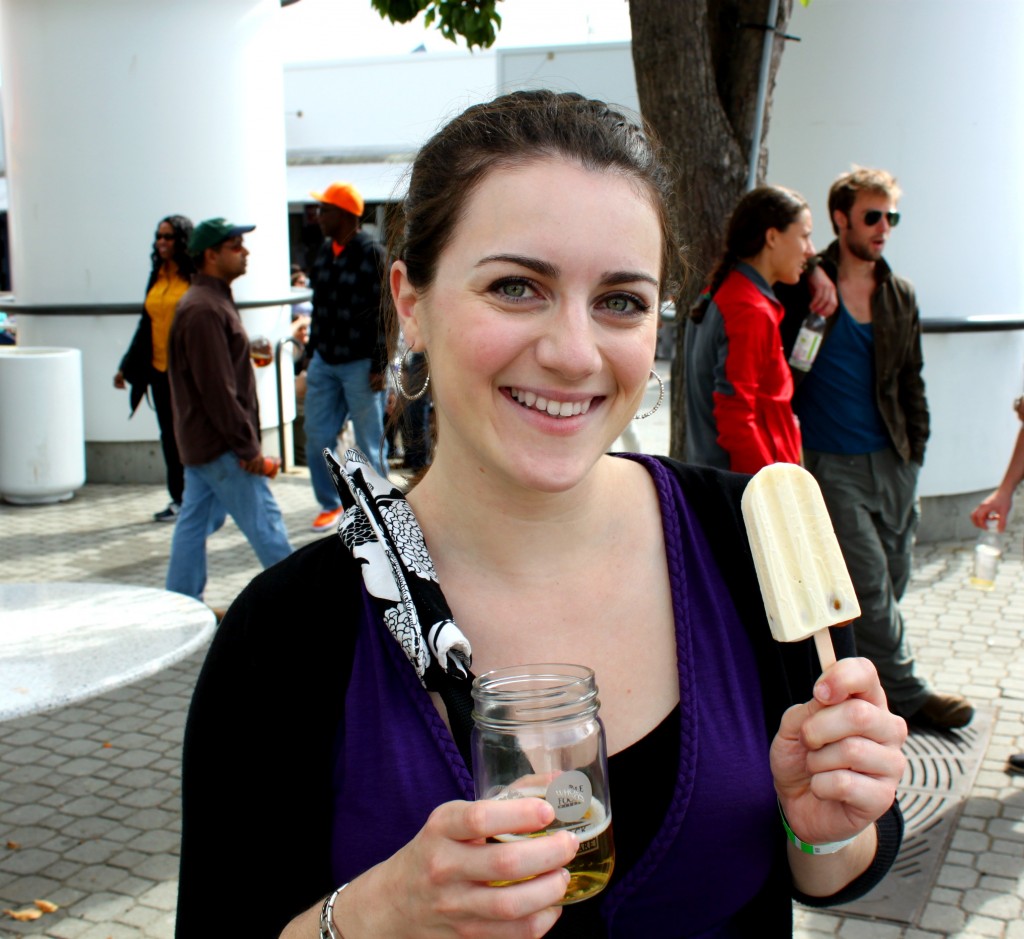 One more thing – the drinks! They had a surprisingly big selection of beer and wine. I'm drinking Two Rivers apple cider above, which is from Sacramento. It's fresh, crisp and dry (if you like beer and not sweet ciders, try this one). I also sampled my friend's Devil's Canyon scotch ale and really liked it's malted, sweet flavor.
My tips for next year:
Bring a couple of friends so you can try bites of lots of different foods (and divide and conquer some of the longer lines).
Everything is around $5 but it does add up quickly, so check out the map and hit the places you definitely want to try before you run out of cash.
Do bring cash, not many places take credit cards.
Check out the schedule online ahead of time too so you can see any demos that interest you.
There's a bathroom upstairs in the building where the marketplace was held. There were plenty of porta potties, and they weren't actually that gross, but the portable sinks ran out of water by late afternoon.
Bring a mason jar or reusable water bottle. Don't pay for water – look for a water station and refill your container. If you forget one, you can get an Eat Real Festival mason jar for $3 and they will refill it if you want more beer, wine, lemonade or water.
Wear comfortable shoes and layers (75 degrees in the bay area does not equal 75 degrees in Sacramento!).
Have fun!
More recipes you'll love: