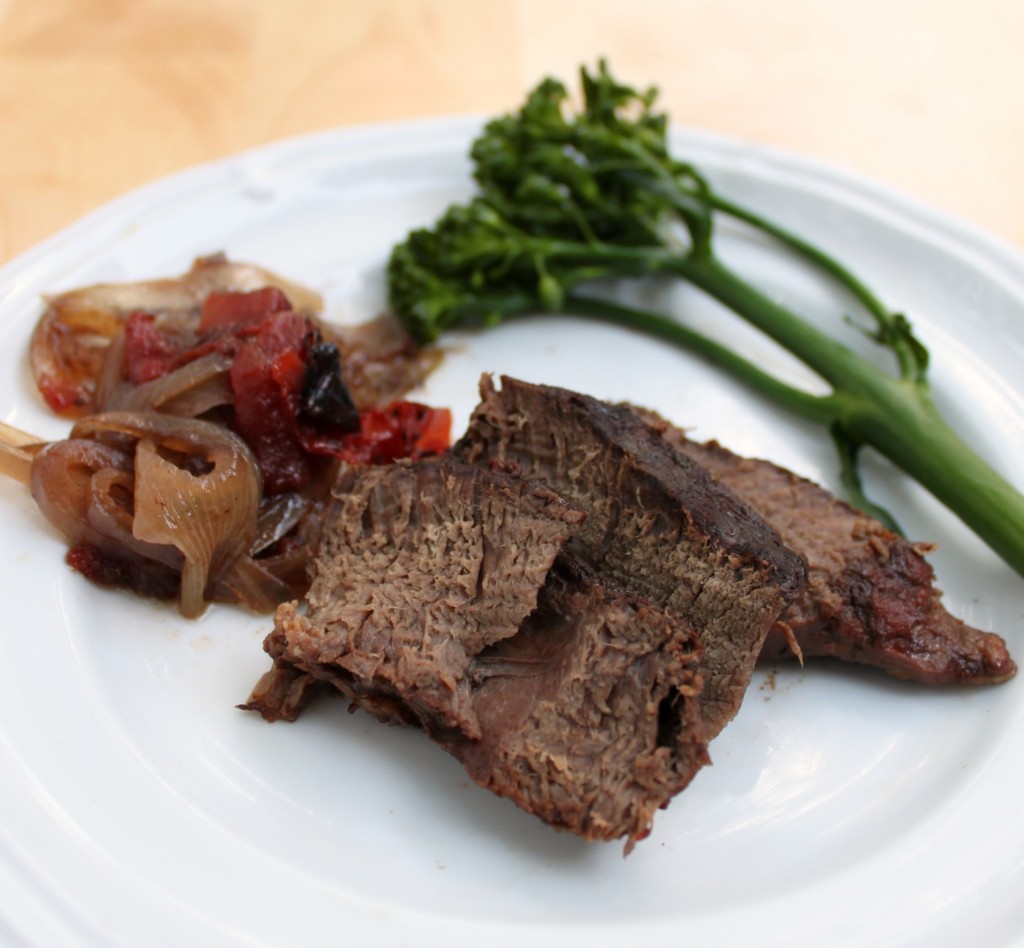 Welcome back to Slow Cooker Monday! I haven't done a Slow Cooker Monday in a few months, but you can look forward to seeing them more regularly (coming up next: pumpkin bread!).
Also, in honor of "Crock-tober," Crock Pot asked me to create a video of a favorite or secret slow cooker recipe for their Crock-Star Confessions. There will be a new video each day this month (mine will go live on October 29). You can view them if you "like" the Crock Pot Facebook page, and besides getting lots of great slow cooker recipes, you can answer trivia questions with each video to enter to win $2500!
Today's slow cooker recipe makes a incredibly tender beef coated in a slightly sweet sauce. Although it has pomegranate in the title, I was surprised the pomegranate flavor wasn't more pronounced. Instead, the juice mingled with balsamic vinegar, maple syrup, garlic and spices to create a wonderful tangy sauce. I served it alongside some sauteed garlic broccolini but it would be even better with a big helping of mashed potatoes. Perfect for a hearty dinner on a fall or winter night.
Do you have a favorite slow cooker recipe? I'd love to try it!
Recipe:
Slow Cooker Pomegranate Beef
Adapted from Gluten-Free Goddess
Makes 4-6 servings
2 lbs. grass-fed chuck roast
Sea salt to taste
A few tablespoons of olive oil
1 onion, sliced
4 garlic cloves, chopped
1 cup unsweetened pomegranate juice
1 14-oz. can crushed fire roasted tomatoes
1/4 cup balsamic vinegar
1/8 cup maple syrup or agave nectar
1/2 cup raisins
1 teaspoon Herbes de Provence
Sprinkle salt on all sides of beef.
In a 6 quart slow cooker, pour in enough olive oil to lightly coat the inside.
Add in onion and garlic, stirring to coat in oil.
Place beef inside slow cooker.
Pour in pomegranate juice, tomatoes, vinegar and maple syrup.
Add in raisins, herbs and a pinch of sea salt and ground pepper.
Cook for 4-5 hours on high or 8 hours on low (until meat is tender).
Taste for seasonings and add more salt or pepper as needed.