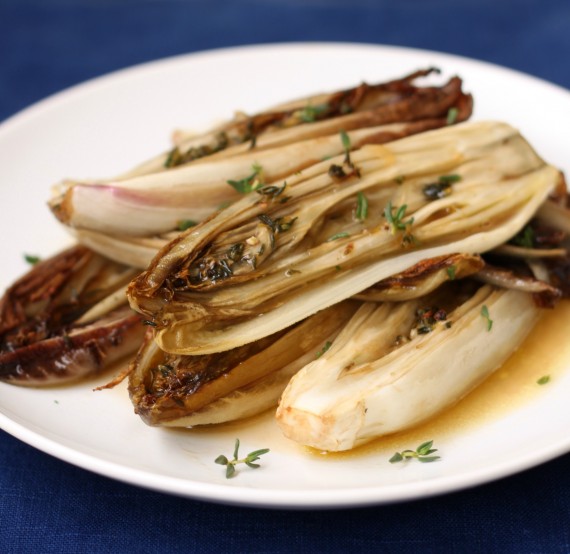 Last week I received a surprise package in the mail. I had no idea what it was but the box said to refrigerate immediately. So I opened it up and found…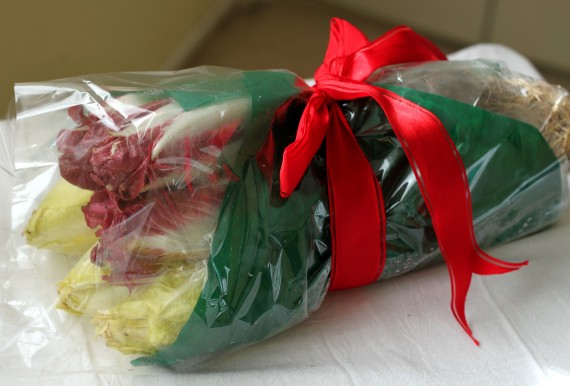 A bouquet of endives!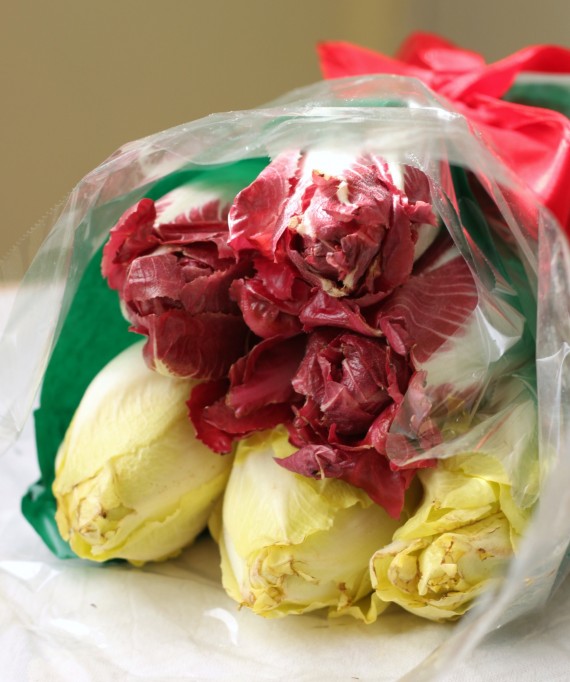 Isn't it cute? I never really thought about it before, but endives kind of look like flowers. Wrapped up with a bow they passed for a nice bouquet.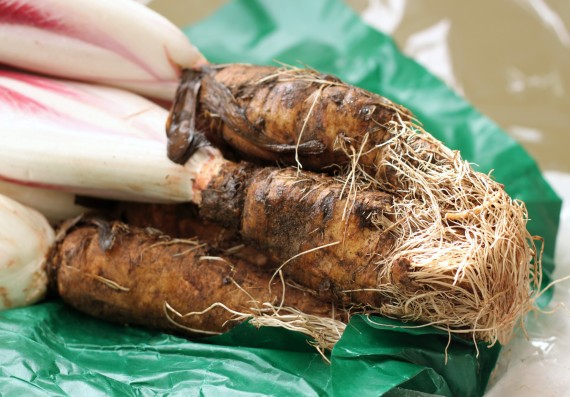 When I opened up the bouquet, I found that the roots were still attached, giving a glimpse into how endives are grown. Did you know that endives are one of the most difficult vegetables to grow? They're actually grown twice – first in a field, then the roots of the plants are harvested and kept dormant inside cold storage. The roots are taken out of cold storage and placed in a precisely controlled environment of a forcing room, where they bloom and mature. That means the leaves have never been exposed to soil (you don't even need to wash them) and they can be grown year-round, which they are here in California.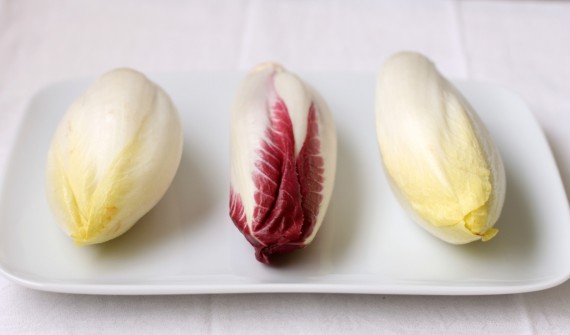 I'd never made endives before. You can eat them raw, but they have a reputation for being bitter, so I decided to cook them. Russ recommended roasting them, and I consulted the Flavor Bible to see which flavors would best compliment them. Honey and thyme were both on the list, and I found a roasted endive recipe that uses a simple sauce with these flavors. After roasting them for over 20 minutes at 350°F, the endives became soft and began to brown. However, I found them to still taste a bit bitter. I put them in the fridge overnight, and the flavor significantly mellowed and the bitterness went away. I think next time I will try roasting them at a higher temperature and that will give more of a roasted flavor (and hopefully reduce the bitterness more).
Here are a lot more endive recipes. Thanks Discover Endive for the Valentine surprise!
Have you ever tried endives before?
RECIPE:
Honey Roasted Endive
Adapted from Saveur
6 medium-size Belgian endives
2 Tbsp. olive oil
1 Tbsp. unsalted butter
1 Tbsp. honey
2 tsp. chopped thyme
 Sea salt and freshly ground black pepper to taste
1. Preheat oven to 350°F.
2. Slice endives in half lengthwise and remove as much of the bitter core as you can. Place endive halves into a baking dish.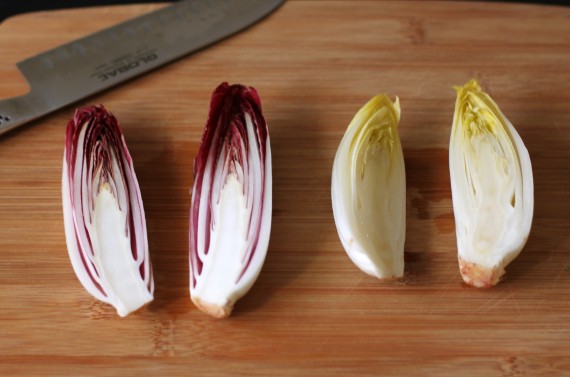 2. Combine butter, olive oil, honey, thyme, salt and pepper in a small pan. Cook over low heat, stirring occasionally. When mixture starts bubbling, remove from heat and pour evenly over endives in dish.
 3. Roast for 20-30 minutes, until endives have softened and turned brown around the edges.
More recipes you'll love: