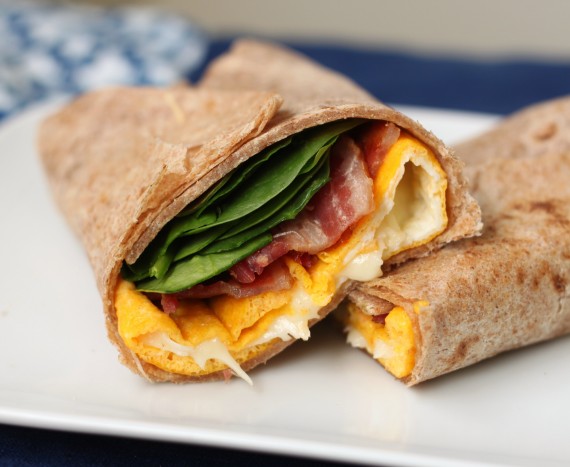 I have a confession to make: I love breakfast. I love it at any time of the day – in the morning, for lunch, for dinner, at a late morning brunch. It's my favorite meal to eat out and I have many fond memories of Sunday mornings with Russ at our favorite brunch spot.
I used to gravitate to pancakes and waffles but I can never finish a restaurant sized portion of them. They're too heavy, I get sick of them by the end and then feel guilty for wasting food. Plus, every time I stole a bite of Russ' breakfast burrito, I would be instantly jealous. I started ordering more savory options like his and we started making egg wraps at home for a quick and easy dinner.
When Deb from Smitten Kitchen shared her go-to egg and cheese sandwich recipe on Cup of Jo, I knew I had to try out her technique of quickly cooking the egg and melting the cheese at the same time.
First, beat the eggs with salt, pepper, a little water and Sriracha (optional):

Here is the technique I got from Deb: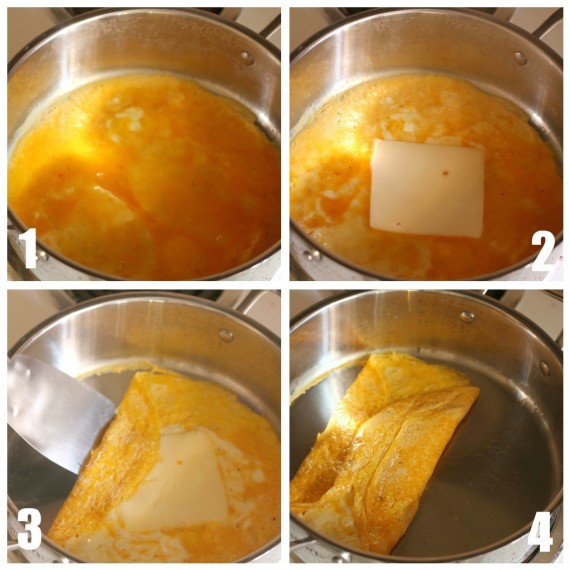 Heat pan over medium. Add a little oil, then pour in eggs and roll them around the pan like you would a crepe.
Add a slice of cheese.
When done, fold in left side.
Fold in right side (if you're using bread, fold in top and bottom to make a square).
Isn't that easy? It only takes 2 minutes to cook and the cheese gets all warm and melty. I warmed up my favorite whole wheat tortilla (Micela's California Fresh – try them out if you're in the greater Sacramento area), added fresh spinach and some cooked bacon for a little crunch, then placed the warm egg and cheese on top.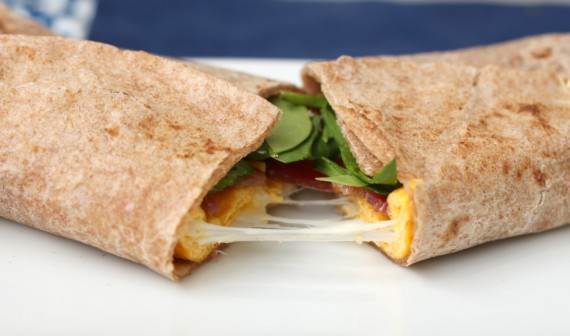 I used Jarlsberg's sliced Swiss cheese, which I'd never had before. I didn't think an egg wrap could get any better, but the cheese added a whole extra dimension of flavor. I've already made this twice in the last week, and it's quickly becoming my new go-to quick and healthy meal (I don't always use bacon). Sometimes it's nice to sleep in and just stay in your pajamas all day, and this is the perfect way to recreate my favorite brunch memory at home.
Jarlsberg USA wants to send one food blogger to Eat,Write, Retreat, a conference I am dying to go to. I'm entering this post into their contest – wish me luck! Edited to add: I won! I'm so excited for the opportunity to attend this wonderful conference. Stay tuned to hear about what I learn. Thank you Jarlsberg USA!
Recipe:
Two Minute Egg and Cheese Wrap
2 eggs
Salt and pepper to taste
Your favorite hot sauce, to taste (optional)
A slice of cheese
Tortilla or 2 slices of bread
Optional: any other toppings you like (I used fresh spinach and a slice of cooked bacon. You could also add crumbled bacon, chopped onion or anything else to the eggs when you add the cheese.)
Briefly warm tortilla in microwave or put bread in toaster. Heat a 9-inch skillet over medium heat. In a small bowl, use a fork to beat eggs with 1 teaspoon of water, a little salt and pepper and a dash or two of hot sauce (I used Sriracha).
Add a little butter or oil to the pan, lightly coating the entire surface. Add in the eggs and roll the pan around so the eggs cover it in a thin layer (like a crepe). Immediately add the cheese to the middle of the eggs.
After 2 minutes, test to see if done by poking it with the corner of your spatula (no loose egg should slip through to the skillet). When done, fold in both sides (or all four if you're using bread) and place on top of your warmed tortilla or bread. Add in any other toppings, fold in tortilla (or add second slice of bread). Enjoy immediately.