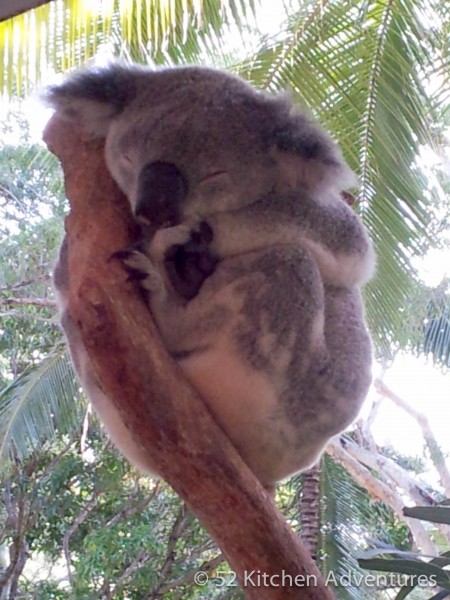 Warning: this post contains no cute desserts, recipes, or tutorials. Instead, it will make you want to cuddle a koala and go to the beach. Enjoy!
I went on an amazing trip over the summer and I have to share it with you all. First, though, let's get some housekeeping stuff out of the way:
I realize that email subscribers haven't been receiving an email every time I post a new blog anymore. The blog has had some growing pains, which is both awesome (so happy to have new readers and subscribers!) and bad (it exceeded the number of emails I am able to send out monthly). I'm still working out what I'm going to do long-term, but for now I'm trying out a newsletter format that will have photos and links to all my recent posts, rather than an email with the whole post every time there is an update. If you have any feedback, good or bad, please contact me.
On to more fun stuff! Let me tell you a story…
Last spring I saw a deal on Livingsocial Escapes. You know, one of those deal sites that has seemingly too good to be true deals on fantastic vacations. I was trying to plan a big summer trip but felt kind of overwhelmed by the possibilities and planning the whole thing. I didn't have a lot of time to dedicate to planning everything, so a package deal of air fare + hotel + some meals + some excursions seemed like a dream.
The deal was basically buying a package from a travel agency, Down Under Answers. I checked out the agency and not only did they seem legit, they had some great reviews. Russ and I pounced on the deal, which included all transportation to Sydney and Hamilton Island, plus hotels and lots of great perks.
Fast forward a few months and we jetted off to Hamilton Island in the Whitsundays (off the north-eastern coast of Australia). It was a long day of travel (3 flights: Sacramento to Los Angeles, LA to Sydney, Sydney to Hamilton Island) but it was well worth it when we arrived to this view from our room at the Reef View Hotel: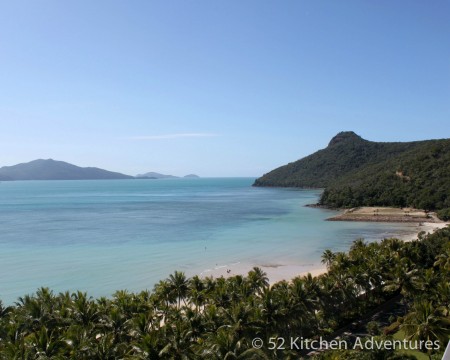 Since there was such a huge time difference for us, we woke up in time for the sun rise almost every day, which was lovely.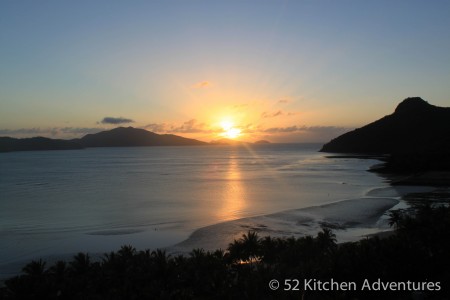 The island was gorgeous and full of lush tropical plants. There were wild parrots flying around – in fact, they'd try to steal your food if you weren't careful. One almost took my lunch one day.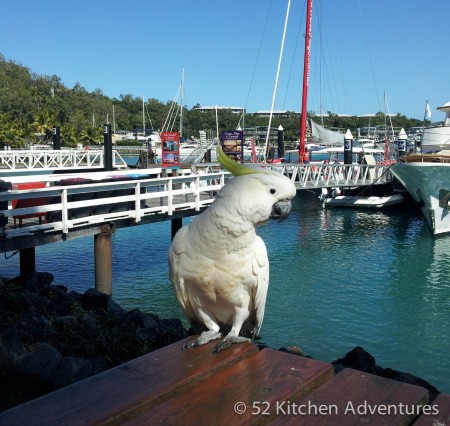 There were three big highlights on the island for us: snorkeling in the Great Barrier Reef, visiting Whitehaven beach, and snuggling koalas and other animals at the wild life park. 
Snorkeling in the Great Barrier Reef was one of those once-in-a-lifetime experiences. You could practically reach out and touch a fish, there were so many of them. They were all colorful and beautiful, as was the coral below them. We also took a spin in a glass bottom boat and learned a bit about the reef and many types of coral (and saw a jellyfish and a big turtle!).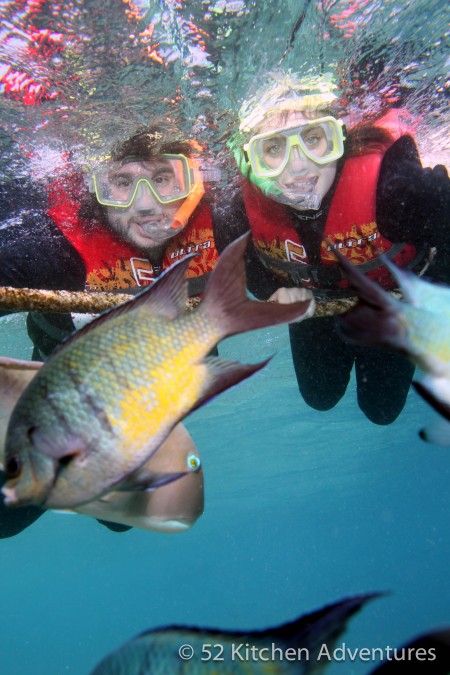 Whitehaven Beach was one of the most beautiful places I've ever been (or will ever be). The water is crystal clear and the sand is pure white. It's supposed to be one of the top 10 most beautiful beaches in the world, which isn't surprising. It seems pretty untouched – behind it is a state park and as far as I could see, there weren't any houses or other signs of inhabitants.
There is a wildlife park on Hamilton Island that is magical. Proof: 1) You can eat breakfast among koalas everyday. 2) You can pet a koala. 3) You can SNUGGLE a koala. We also fed kangaroos, pet tame dingoes and held a skink, but the koala snuggling was by far the coolest part. If you want to hold a koala, this is the place to go.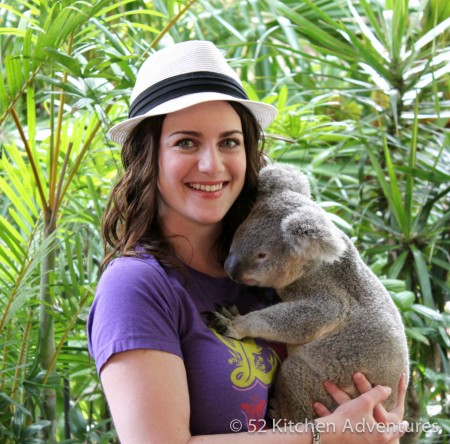 Hamilton Island is a resort island, so the food choices are limited and a bit overpriced. We did really enjoy one restaurant though; Mariners is a nice seafood restaurant by the harbor. It was a bit pricey (don't take your kids) but the food was excellent, as was the service.
We headed to Sydney next, where we ate a lot of great food. Here are a few highlights from Sydney: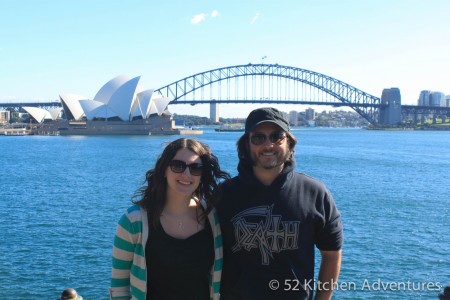 If you go to Sydney, I highly recommend taking a tour of the Opera House. Its story and architecture are pretty amazing. If you time it right and they aren't getting ready for any performances, you get to see the inside of all the concert halls and theaters too. As you can see in the photo below, the tiles that make up the Opera House sails aren't what you'd expect. From far away, it looks pure white, but it's actually 2 colors of tiles and some are matte, while others are shiny.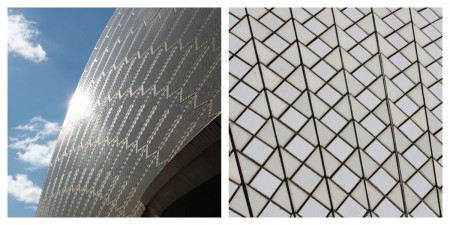 Also, if you have a chance to see a performance at the Opera House, do it. We were lucky enough to score some last minute tickets to a sold out performance of Lord of the Rings: The Two Towers. You wouldn't expect to see a movie at an opera house, but they removed the soundtrack and had the Sydney Symphony along with two choruses doing all of the music and sounds live. It was amazing.
The other major highlight was the Targona Zoo. First of all, it's beautiful. You take a gondola lift to get in from the dock, and the views are spectacular.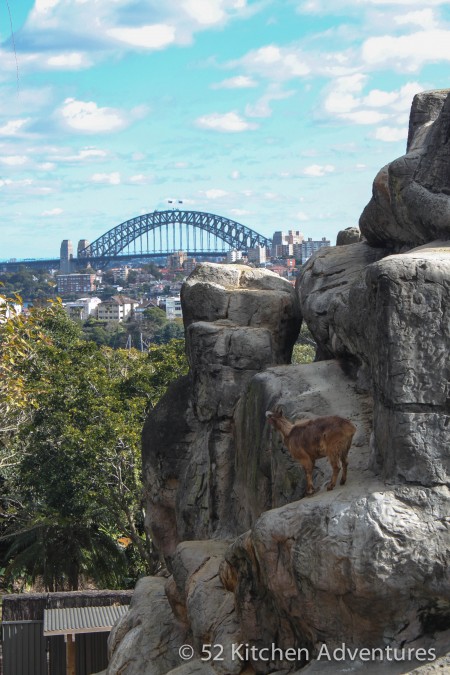 Even this goat can't help but look at the view!
The zoo has 2600 animals spread over 52 acres. You could easily spend an entire day (or two or three) just looking around. There are tons of cool reptiles, marsupials, and other animals. We got to feed giraffes while we were there too. We held out carrots and they wrapped their tongues around each one and then ate them whole. If you hold on tight you can feel their tongues too – they're very rough.
I had to include this photo I got of a flying koala below. It's actually jumping from one tree to another. They seem like lazy, lethargic animals most of the time, but then they'll go do something acrobatic like this.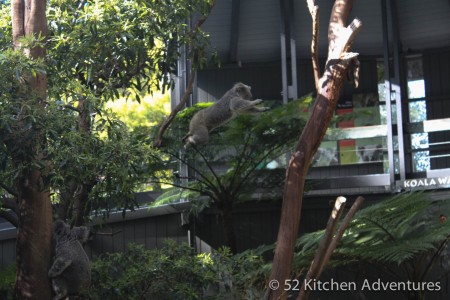 So, I mentioned food in Sydney. You'll never guess what's on this pizza…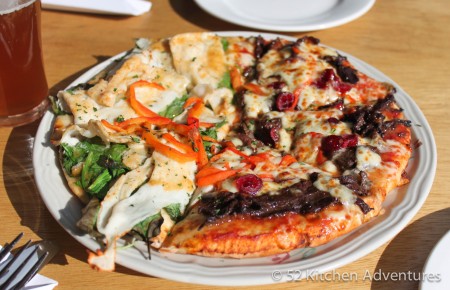 It's crocodile and kangaroo! I know that sounds weird but it was good. The crocodile tasted kind of like chewy saltwater chicken if you can imagine that. I liked the kangaroo more – it sort of like a cross between venison and beef. If you want to try kangaroo, this was one of the few restaurants we found in Sydney that had it. It's in the Australian Hotel and it's two different pizzas on the menu, we just got half and half.
We also had some good (and some bad) cupcakes in Sydney. These mini cupcakes are from Ghermez. I enjoyed these a lot – moist cake, good frosting, yummy flavors. If you're looking for a sweet and caffeine fix in one, I have to recommend a chocolate shop called Adora. They have excellent chocolates. Plus, if you buy a coffee, you get a chocolate for free. I saw a lot of people having business meetings there – I wish all meetings came with high quality chocolate!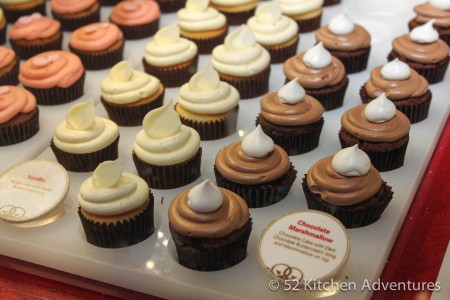 I didn't take any photos during dinners, but there were a couple of restaurants we really enjoyed. Redoak Beer Cafe brews their own beers and ciders and also has great food. They have a big selection of brews and recommend which to pair with every dish. Sea Bay is a hole in the wall dumplings and noodle restaurant. No frills, good prices and good food with generous portions. Plus, you can bring in your own wine or beer and there's a liquor store a few doors down.
If you're a coffee addict, go prepared: they don't have regular brewed coffee in Australia. You can find espresso everywhere (I even saw an ice cream stand with an espresso machine) but not plain coffee. It's funny to me, since plain coffee is cheaper to make, but if you can find it, it's often instant. Instead, try a short black (shot of espresso) or a long black (espresso with water, like an americano). There are also lattes, cappuccinos, and flat whites (less froth in the milk).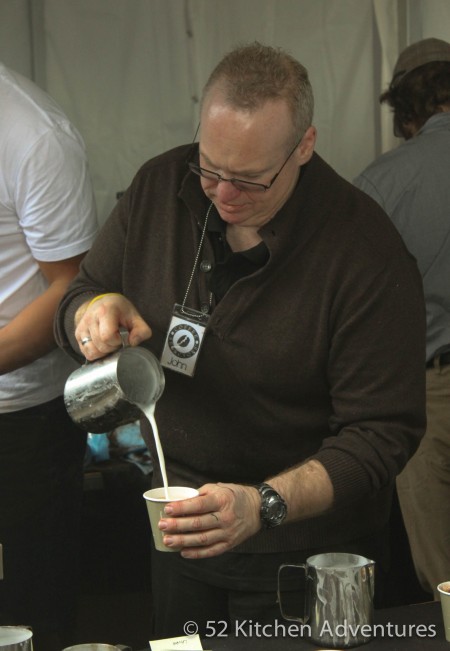 Random observations: Australians are very chill and relaxed. They like putting beet (excuse me, beetroot) on sandwiches and burgers, which is actually pretty good. Vegemite, on the other hand, is pretty gross. There is lots of hard cider options everywhere (I loved that) and great beer. Corona is extremely expensive. Entrees are more like appetizers – look for "mains" for your main dish.
If you got through all that, you deserve a cupcake. I hope you enjoyed hearing about our trip! I'd love to hear about your travels too – tell me about your favorite vacation in the comments below:
Note: I wasn't compensated by any of the businesses in this post. I wanted to share my trip with you and also give some info to anyone looking to book a trip through a deal site like Livingsocial.