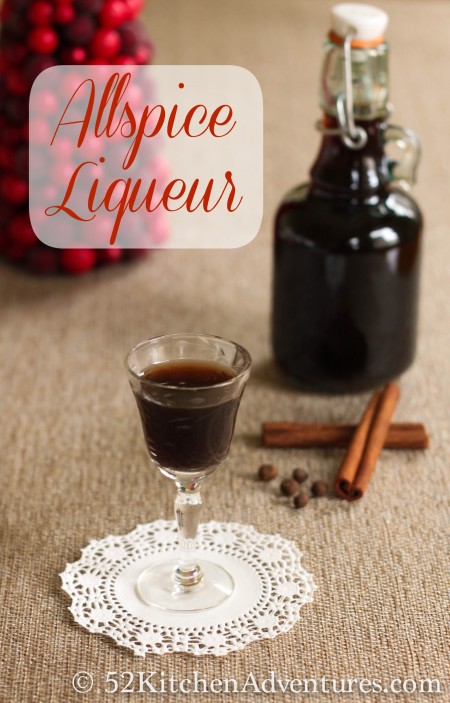 Allspice liqueur, also known as allspice dram or pimento dram, is a simple liqueur that is flavored with allspice berries and cinnamon. It's a great winter liqueur and I'm working on a fun cocktail using it that I'll share with you tomorrow. What I love about it is it has a nice sweetness balanced with a strong spiced flavor that just makes me think of the holidays.
You can buy your own allspice liqueur, but it's really easy and cheap to make and I'm sure it probably tastes better homemade (most things do). It does take a little planning, as the rum needs to steep for 12 days, but the amount of time you put into is minimal. All you have to do is remember to shake the jar occasionally. Have you ever made a liqueur or infused alcohol at home?
Homemade Allspice Liqueur
Adapted from Serious Eats
Ingredients
Instructions
Using a spice grinder or mortar and pestle, crush allspice berries into large pieces.
Put the crushed allspice berries into a sealable glass container. Pour the rum over them, seal the container, and shake it to mix everything together.
Let the rum steep for 4 days, shaking it daily. On the 5th day, crush the cinnamon stick into large pieces and add it to the rum.
After 7 more days (12 total days of steeping), strain the liquid through a fine mesh strainer lined with cheesecloth or a coffee filter. Set aside.
In a medium saucepan over medium heat, cook water and sugar until boiling. Stir until sugar is dissolved (around 5 minutes). Set aside to cool.
Add cooled syrup to infused rum and pour into a sealable glass container. Shake to combine and let liqueur sit for 2 days before using. Store for up to 2 months.
http://www.52kitchenadventures.com/2012/11/18/homemade-allspice-liqueur/