It's the day after Thanksgiving, which marks the start of the holiday season. It's also the season of giving, and in that spirit I'm skipping a food post in favor of sharing an important campaign with you today.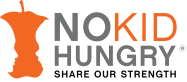 Did you know that 1 in 5 children (that's 16 million!) struggle with hunger in the U.S.? That number is WAY too high. I was blessed to have grown up in a safe, warm, loving home where food scarcity wasn't even on my radar, and I'm beyond thankful for that. Have you ever skipped breakfast and tried to get through a day of school or work? When I don't eat a filling breakfast, I have a much harder time focusing and getting my work done. I'm trying to imagine what it would be like to go day after day without a warm meal and trying to get through school. Children who are struggling with hunger won't do as well at school, are likely to get sick more often, and then less likely to graduate from high school. That just starts the cycle all over again.

Share Our Strength is trying to solve this problem with the No Kid Hungry campaign. They're working on three key steps to end childhood hunger in the U.S.: access, education, and awareness. The campaign is connecting children in need with effective nutrition programs like school breakfast and summer meals. They're also educating and empowering low-income families on how to stretch a food budget and cook healthy meals at home. Finally, they're trying to shine a spotlight on this issue and make ending childhood hunger a national priority.
There are several ways you can help. Money is tight for a lot of people right now, but with $1, Share Our Strength can connect a child to 10 breakfasts (or 180 breakfasts for $18!). Isn't that incredible? I think all of us could give up $1 or $18 pretty easily and help a child in need. Click here to make a one-time donation. You can also sign up for a monthly donation to provide consistent and reliable funding for the program.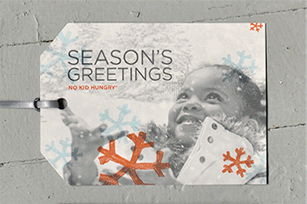 There is one more way to support Share Our Strength, and also add some meaning to your holiday season. You can send Share Our Strength holiday cards (pictured above and below) in place of your traditional holiday card. I'll be buying a set to use as gift tags for my family. All of the proceeds from the cards support Share Our Strength's work to end childhood hunger in America.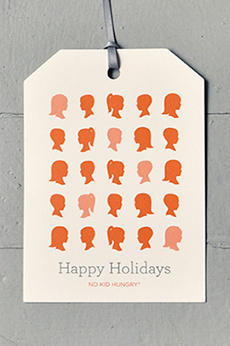 I hope you'll consider buying a holiday card or two or making a donation to this important cause. You can also take their pledge and join the national movement of people committed to ending childhood hunger in America, and find other ways you can advocate for this cause.
How are you giving back this holiday season?
More recipes you'll love: