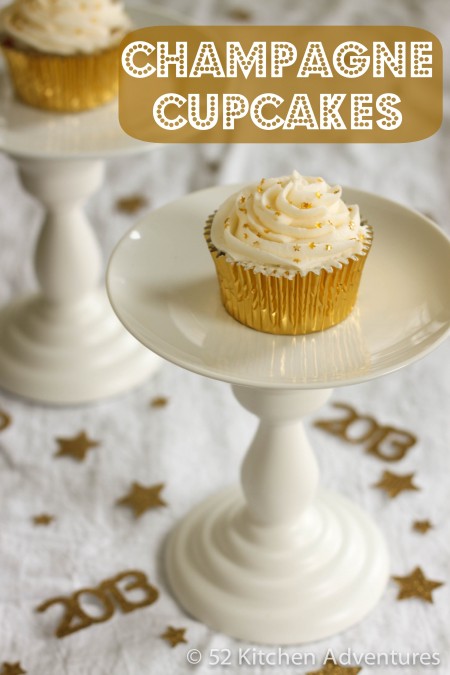 Christmas is over and I hope you had a lovely holiday with your family! New Year's Eve is around the corner and I can't wait because it's my annual reunion with some of my closest girlfriends. We've known each other since junior high and high school, but we're now scattered around the country. While we try to get together a couple of times a year, NYE has been our one constant gathering the last few years. Plus, this year we have more than just the new year to celebrate, because…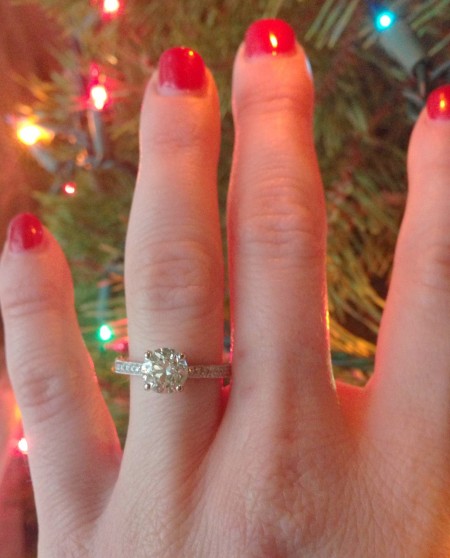 I'm engaged! Russ proposed on Christmas morning. He put the ring box at the bottom of my stocking, which he slyly suggested we open last this year. I pulled out a bunch of awesome baking supplies from the stocking and then found a square box at the toe. When I pulled out the box, Russ got down on one knee and popped the question. It was sweet and romantic and everything I'd imagined!
We spent the rest of the day calling family and friends, reliving the joy with each of them. I can't wait to celebrate with my friends in person next week. We also have another big milestone to celebrate-my BFF Hannah is pregnant with twins! She is the first of us to have babies, plus it's twins! 2013 is going to be one amazing, exciting year.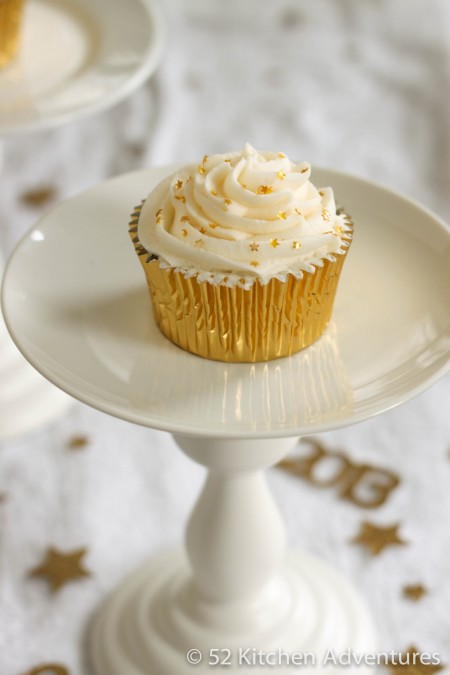 This year, I'm hosting our NYE for the first time. I'm usually drawn to silver, but for some reason I'm really into gold right now, so the basic decorating plan is gold + sparkly. You can't have NYE without Champagne (well, unless you're Hannah this year), so I made some Champagne cupcakes with gold cupcake liners and these adorable gold star sprinkles. I picked up the pictured confetti from Scrap Happy Designs on Etsy, which also created a matching "Happy New Year" banner for me-the perfect gold, sparkly signage needed for my NYE party!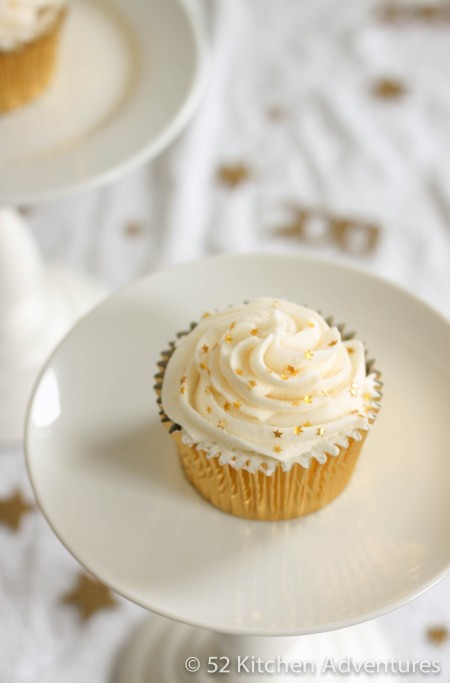 The cupcakes came out light and airy, with a creamy Champagne buttercream to top them off. The Champagne flavor is subtle, so I recommend pairing them with a glass of the leftover bubbly just to be safe. Also, random fun fact: only sparkling wine made in the Champagne region of France can be legally labeled as Champagne. I actually used prosecco in these cupcakes (a sparkling wine usually made in Italy), and you can use any sparkling wine you like. Don't splurge on the expensive stuff. Save that for sipping on NYE and get an affordable bottle for the recipe.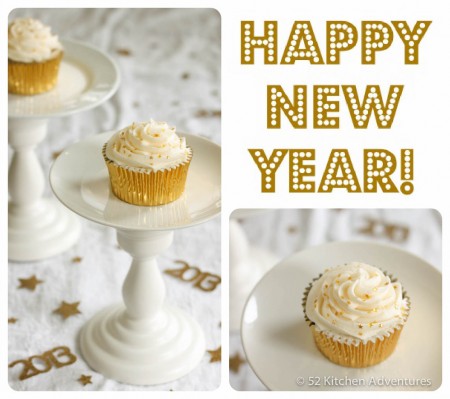 I hope you're looking forward to 2013 as much as I am. Cheers to a very happy new year for us all!
Ingredients
Champagne cupcakes:

1/2 cup unsalted butter, softened
1 cup sugar
2 eggs
1 teaspoon vanilla extract
1 3/4 cups flour
1/2 tsp baking soda
1/4 tsp baking powder
1/4 tsp salt
1/2 cup sour cream
1/2 cup sparkling wine

Champagne Buttercream Frosting:

3-3 1/2 cups powdered sugar
1 cup unsalted butter, softened
1/2 teaspoon vanilla extract
3-4 tablespoons sparkling wine
Instructions
For the cupcakes:

Preheat oven to 350°F. Line cupcake pan with paper or foil liners (I used gold foil liners).
In a large bowl, beat sugar and butter together until light and fluffy. Add eggs, one at a time, mixing after adding each one. Mix in vanilla.
In a medium bowl, combine flour with baking soda, baking powder, and salt. Set aside.
In a small bowl, carefully mix sour cream and sparkling wine together.
Alternate adding flour and sparkling wine mixtures to large bowl, beginning and ending with flour.
Add 1/4 cup of batter to each cupcake liner (they should be a little over half full).
Bake for 18-20 minutes, until a toothpick inserted in the middle comes out clean. Let cool completely.

For the frosting:

beat powdered sugar and butter together on medium for 2 minutes, until light. Add vanilla and sparkling wine, then beat for another minute. Pipe or spread onto cooled cupcakes.
http://www.52kitchenadventures.com/2012/12/26/new-years-eve-champagne-cupcakes/
More recipes you'll love: