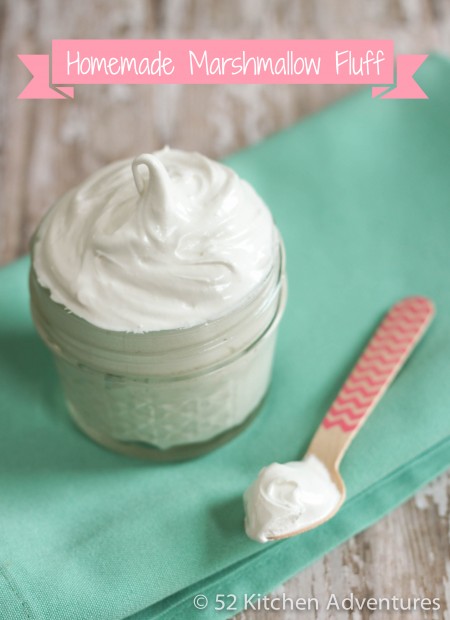 It's been a while since I've had time to blog, but I couldn't wait any longer to share this with you. Have you ever had marshmallow creme? This awesome stuff is like fluffy, spreadable marshmallow. You can sandwich it between cookies, use it in s'mores, spread it on a cupcake…   or just lick it off a spoon 🙂
Everything is better when you make it yourself, and this is no exception. Making this is a lot like making marshmallows – you add a hot sugar syrup into egg whites and then just beat it until it magically transforms into a full bowl of fluffy goodness. Watching the egg whites become marshmallow is almost as much fun as eating the fluff itself (almost).
You'll need an electric mixer, unless you want to whisk until your arm falls off, but it's not too difficult with the right tools. Use a mixer, a candy thermometer, and add in the 4 ingredients below to make your own soft, sweet marshmallow creme.
Stay tuned – I have 2 awesome desserts that use this marshmallow fluff and I'll share them soon!
Homemade Marshmallow Fluff
Ingredients
3 large egg whites
2/3 cup plus 2 tablespoons sugar
3/4 cup light corn syrup
1 teaspoon pure vanilla extract
Instructions
Place egg whites in a large mixing bowl. Using an electric mixer with a whisk attachment, beat the egg whites until light and frothy.
Keep the mixer running and slowly pour in 2 tablespoons of sugar. Continue to beat until soft peaks form.
Meanwhile, combine 1/3 cup water, corn syrup, and remaining 2/3 cup sugar in a large saucepan over medium heat. Bring to a boil and continue to cook, stirring occasionally, until it reaches 240°F (it will take 10-15 minutes).
Turn mixer on to low and slowly pour syrup down the side of the bowl into the egg white mixture.
Increase speed to high and beat mixture for 6-8 minutes. Pour vanilla into mixture and beat on high for around 2 more minutes, until mixture looks like marshmallow fluff.
Let cool and then pour into air-tight container and store in fridge for up to a month.
Notes
http://www.52kitchenadventures.com/2013/05/08/homemade-marshmallow-fluff/