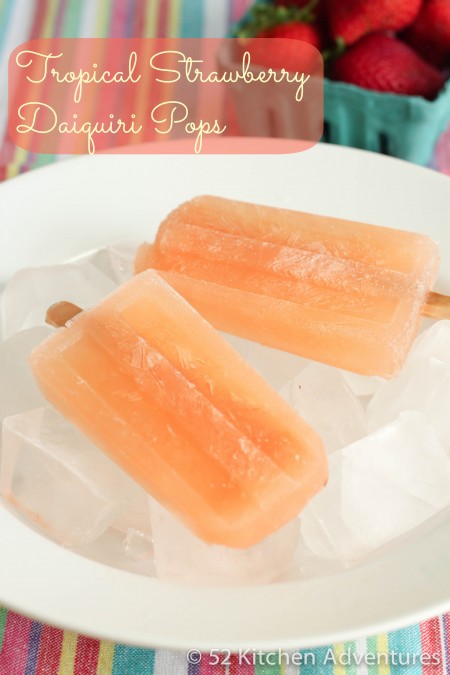 Summer has begun with a bang here – it already hit 100°F over the weekend. Clearly, trips to the lake, BBQs, and frozen treats are in order. There's nothing better than a lazy summer weekend by the water with a frosty drink or refreshing popsicle in hand. Now, combine cocktails + popsicles (does "poptails" sound too ridiculous?), and you've really got something. I made some mojito popsicles a couple of summers ago, so it's way past time to try a new poptail (yeah, it sounds a little ridiculous to me).
Bacardi has a line of light classic cocktails and sent me a bottle of strawberry daiquiri to try. It's already mixed up right in the bottle (and only 95 calories a serving!), which makes it so easy, especially for entertaining. I tried freezing straight daiquiri, but it didn't fully freeze – although, if you want a slushie consistency, try it out. You couldn't get it any easier than that, and slushie daiquiris sound pretty amazing.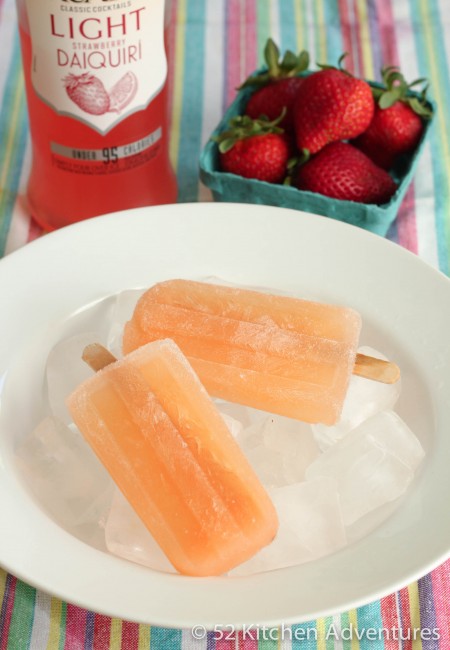 However, I wanted to make popsicles, so I added pineapple juice to the strawberry daiquiri and froze it in my popsicle mold. Tropical strawberry daiquiri popsicles were born! You could make this with lots of other juices too: guava, mango, papaya…or skip the "tropical" and try out orange or lemonade. What flavors would you try out?
When it comes to at-home entertaining, we want to have our cocktail and drink it too. With BACARDI Classic Cocktails Light, you don't need to choose between serving great cocktails or socializing with friends. Enjoy the best of everything – the convenience of ready-to-serve cocktails and the confidence of natural ingredients mixed with the world's most awarded spirit. BACARDI Classic Cocktails Light allow you to serve the best, naturally!
This is a sponsored conversation written by me on behalf of BACARDI. The opinions and text are all mine. Sweepstakes Rules.
More recipes you'll love: