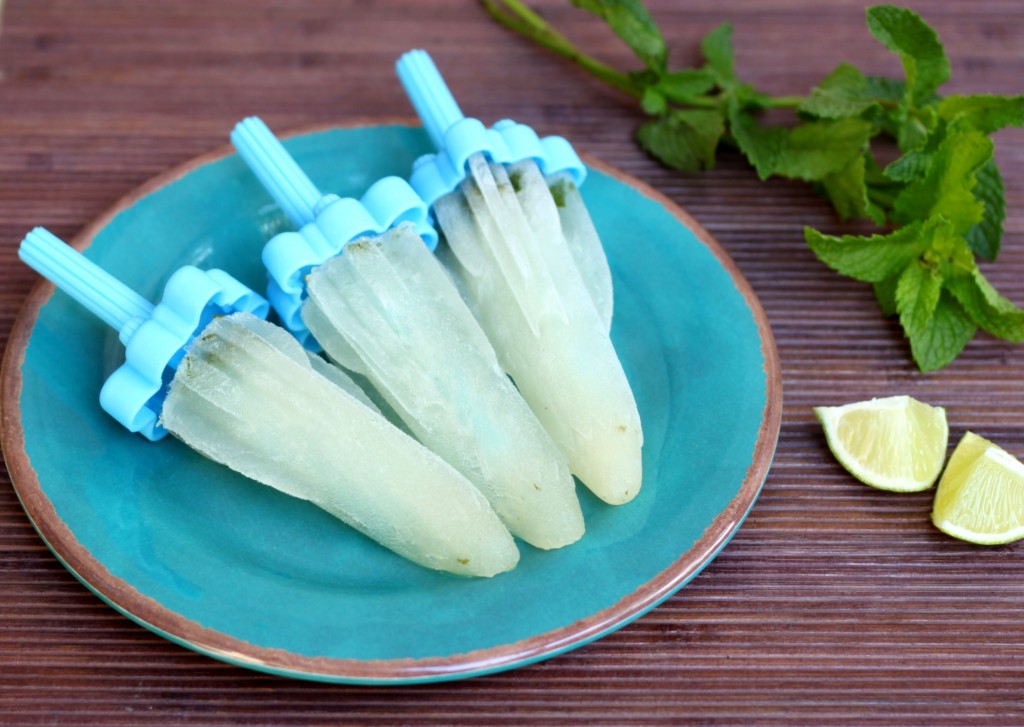 Oh my goodness, I tweeted about making these and got a lot of response. Apparently booze + popsicles is a very popular idea, and that shouldn't be a big surprise. After all, if you're in the northern hemisphere odds are that it's hot where you are. Doesn't sitting by the pool with a cocktail sound good? Freeze that drink and doesn't it sound great?! (Just remember to stay hydrated.)
These refreshing popsicles are filled with the classic mojito ingredients: mint, rum, lime, sugar and club soda. I was curious to see how the carbonation in the club soda would freeze, but I couldn't really tell a difference in the popsicles. You could probably use plain water instead and I bet it would be similar. Enjoy by the pool for optimal results!
Recipe:
Mojito Popsicles
12 mint leaves
2 limes
3-5 oz rum (depending on how strong you want them)*
7-10 T simple syrup (to taste)
2 C club soda
In a glass, muddle mint leaves (if you don't have a muddler, mash with the handle of a wooden spoon, breaking them up into little pieces). Juice the limes and add to mint. Pour into a bowl or pitcher and add rum and simple syrup to taste. Add club soda on top of everything and slowly stir to combine. Pour into popsicle molds and freeze for several hours.
*Of course, you can also omit the rum and make virgin mojito popsicles
More recipes you'll love: