The bright side of life – what does that mean to you? For some, including my fiancé, it may conjure up a certain Monty Python song (thanks, honey, for getting that song stuck in my head for 3 days). While that song is performed in a tongue-in-cheek manner, it has a good point: there's a silver lining to almost every situation. I've been a glass-half-full gal my whole life, and I honestly subscribe to this optimistic viewpoint. I believe things happen for a reason and there is something positive about most things that happen in life, even if it's not readily apparent.
Even if you have a hard time finding the silver lining, I'm sure there are many things in your life that help you look on the bright side. Whether it's your family, your health, love, or even those cute shoes you scored on sale (no judgement here), there are so many things to be thankful for and make you appreciate life. For me, it's a lot of things: my loving fiancé, supportive friends & family, adorable niece and nephews, being healthy and fit, the many amazing experiences and adventures I've had so far in life, having this awesome blog as a fun creative outlet…I could go on – I have a very lucky, blessed life. I spent some time going through my Facebook photos and picked out a few to share that represent many of the things that make me look on the bright side: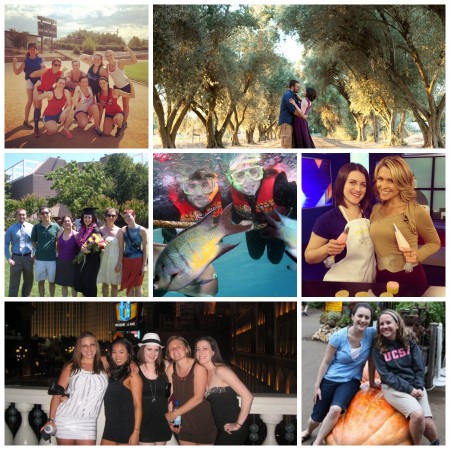 Another thing that makes me happy and look on the bright side of life is good food. (Is anyone surprised by that? ;)) Popsicles are one of those feel-good foods; they evoke feelings of carefree summertime, childhood, pool time…happy memories. I love making my own pops, but I'm always on the lookout for quick, healthy alternatives for when life gets too busy. Fruttare offered me some of their frozen fruit bars to try out, and I have to admit I was skeptical at first. I checked out the nutrition panel and was pleasantly surprised to find the fruit bars clocked in at 60 calories, 11 grams of sugar, and only a handful of ingredients. Once I bit into my first Fruttare, a mango bar, I was sold – it had a soft, almost chewy texture (not at all icy), and tasted just like it should: flavorful, sweet mango. I tried strawberry too and had a similar experience with a soft bar that tasted like fresh strawberries.
I love that these bars are filled with fruit and taste just like it. They also have a variety of fruit & milk bars, which look delicious too. Even more fun, Fruttare is all about looking at the bright side of life and celebrating the little things. On their website they say "It's not the destination; it's the journey. It's about making memories, new adventures, staying connected…making the most of every moment…it's all how you look at things." It may sound a little cliché, but that really resonates with me. Lucky for you, Fruttare wants to share the joy of biting into the bright side with their fruit bars, and 6 of you will win a free box of them to try out for yourselves! These are sold all over the world in lots of grocery stores, so if you don't win, you can still go out and try them.
I was selected for this opportunity as a member of Clever Girls Collective and the content and opinions expressed here are all my own.