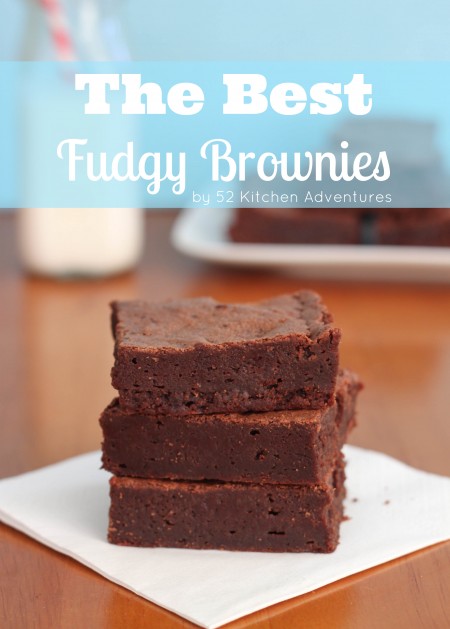 These are the best. fudgy. brownies. ever.
'Nuff said.
Okay, I guess I should say a little more than that 🙂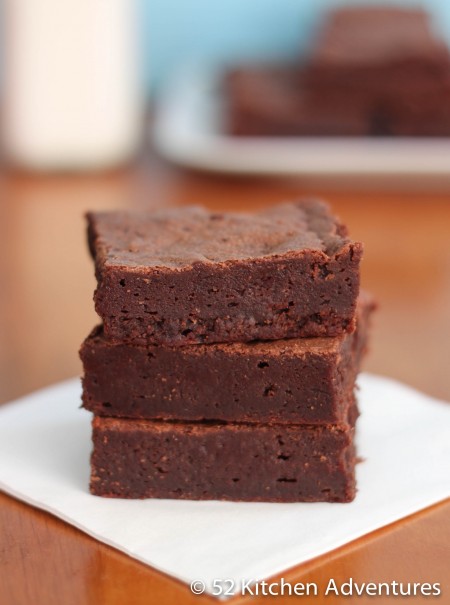 Seriously though, if you love fudgy brownies, you will love these. They're rich and super chocolatey – if you keep them refrigerated, they come out almost like a fudge or chocolate truffle. I've made them twice in the past week and I rarely make the same recipe twice ever. In fact, I made 2 more things with these brownies, so you'll see them reappear in 2 amazing reincarnations very soon. They're both so fantastic I can hardly wait to share them with you!
I'm giving up sugar for the week, and I actually had to throw some of these away (terrible, I know) to keep myself from eating them all. That's how you know they're irresistible! Go enjoy 1 (or 3) for me:
I found it easiest to cut neat squares after refrigerating the brownies.
Ingredients
2/3 cup all-purpose flour
1/2 teaspoon salt
1/2 teaspoon baking powder
2 ounces unsweetened chocolate
4 ounces bittersweet (or semisweet) chocolate
10 tablespoons (1 stick plus 2 tablespoons) unsalted butter
1 1/4 cups sugar
2 teaspoons vanilla extract
3 large eggs
Instructions
Preheat the oven 325°F. Line an 8″ or 9″ square baking pan with aluminum foil, leaving some extra hanging over the side to use to pull them out of the pan later.
In a small bowl, whisk together flour, salt, and baking powder.
Place a large bowl over a pan of simmering water. Place both kinds of chocolate and butter in bowl and stir until melted, then remove from heat.
Whisk in sugar and vanilla.
Whisk in eggs, one at a time, until fully incorporated.
Continue whisking mixture until it is smooth and glossy.
Add in dry ingredients and mix until just incorporated.
Pour batter into prepared pan and spread into even layer.
Bake for 35-45 minutes, until a toothpick comes out with wet crumbs (don't wait until it comes out clean – they will overcook).
Cool brownies in pan for 5-10 minutes, then use extra aluminum foil to pull out of pan. Let cool completely, for at least 3 hours. If not serving immediately, wrap in plastic wrap and/or aluminum foil and refrigerate for up to 5 days. Otherwise, cut into squares and enjoy.
Notes
http://www.52kitchenadventures.com/2013/07/29/the-best-fudgy-brownies/