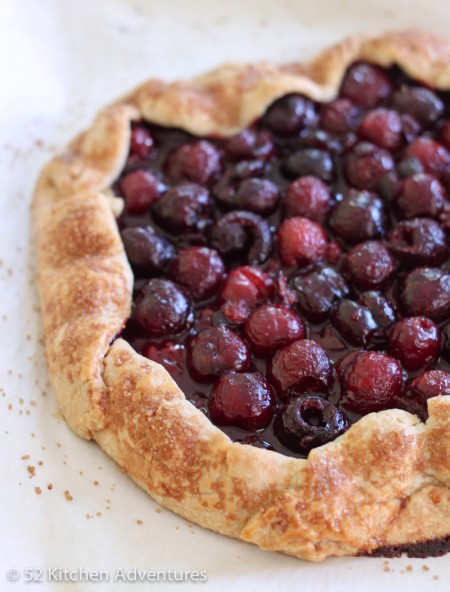 It's finally summer! I love this time of year, when there are tons of amazing seasonal fruits and veggies to enjoy. Last month I visited Salvador Family Farm in Brentwood, California, where they do U-pick cherries. It's a small 10 acre farm, but don't let that fool you – the trees were chock full of ripe Bing cherries (and a few Rainier cherries as well!). We picked so many that I made a galette, mini cherry pies, and maraschino cherries in the same weekend. Not to mention eating plenty of cherries all by themselves.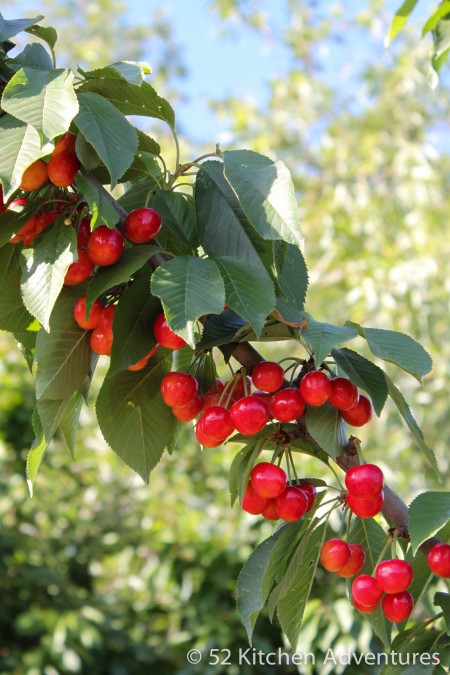 Just take a look at those gorgeous cherries! We arrived early, just after they opened, and couldn't believe how easy it was to fill the bucket. Each tree was bursting with ripe cherries and it wasn't long before we picked 8 pounds. Surprisingly, they were actually out of cherries by the end of the day, so I'm already planning on arriving early again next year.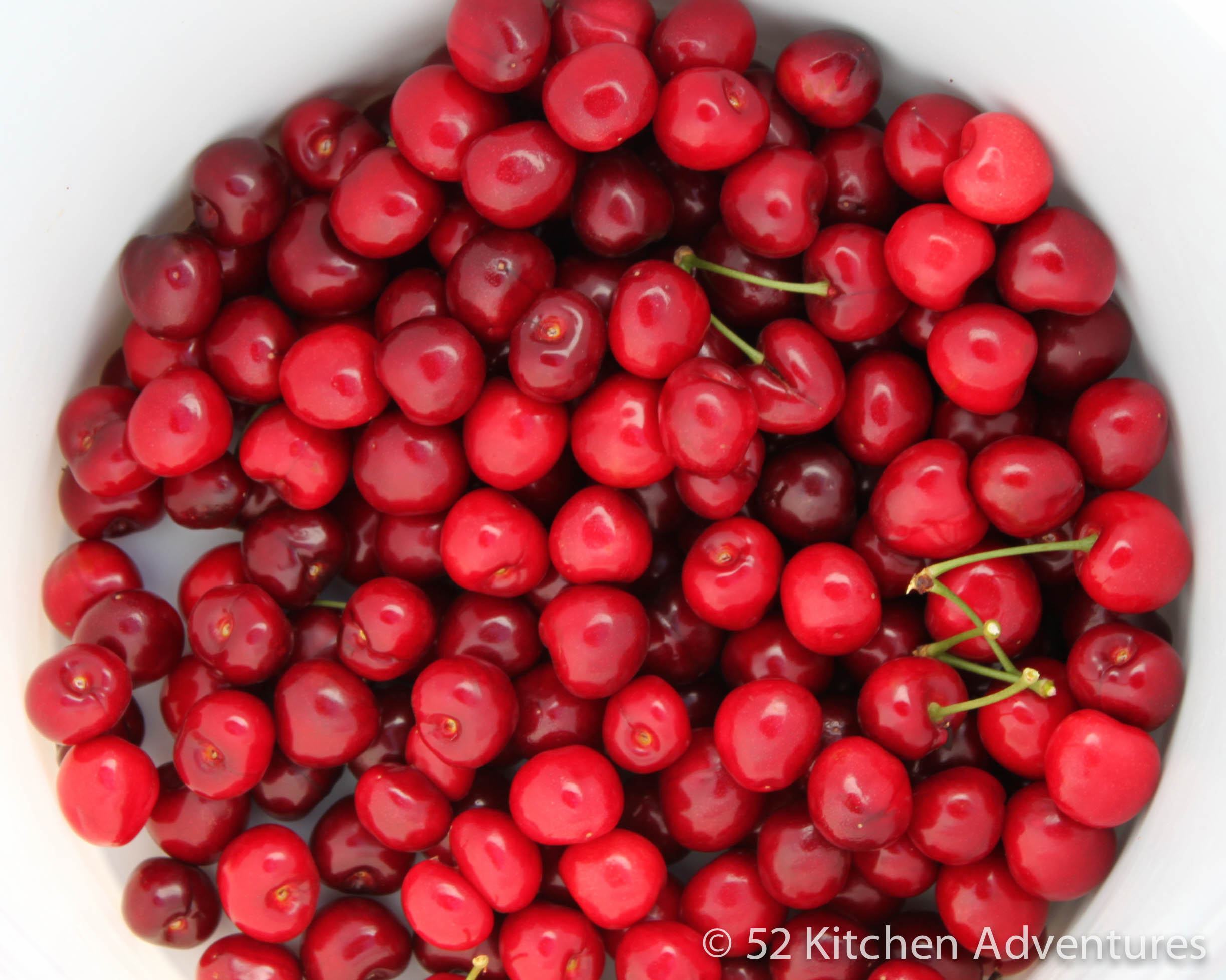 Russ and I met up with one of my best friends, Hannah, her husband, and their twin baby girls. The girls had a blast going from tree to tree in the orchard. They loved helping us pick and, even more so, taste the cherries.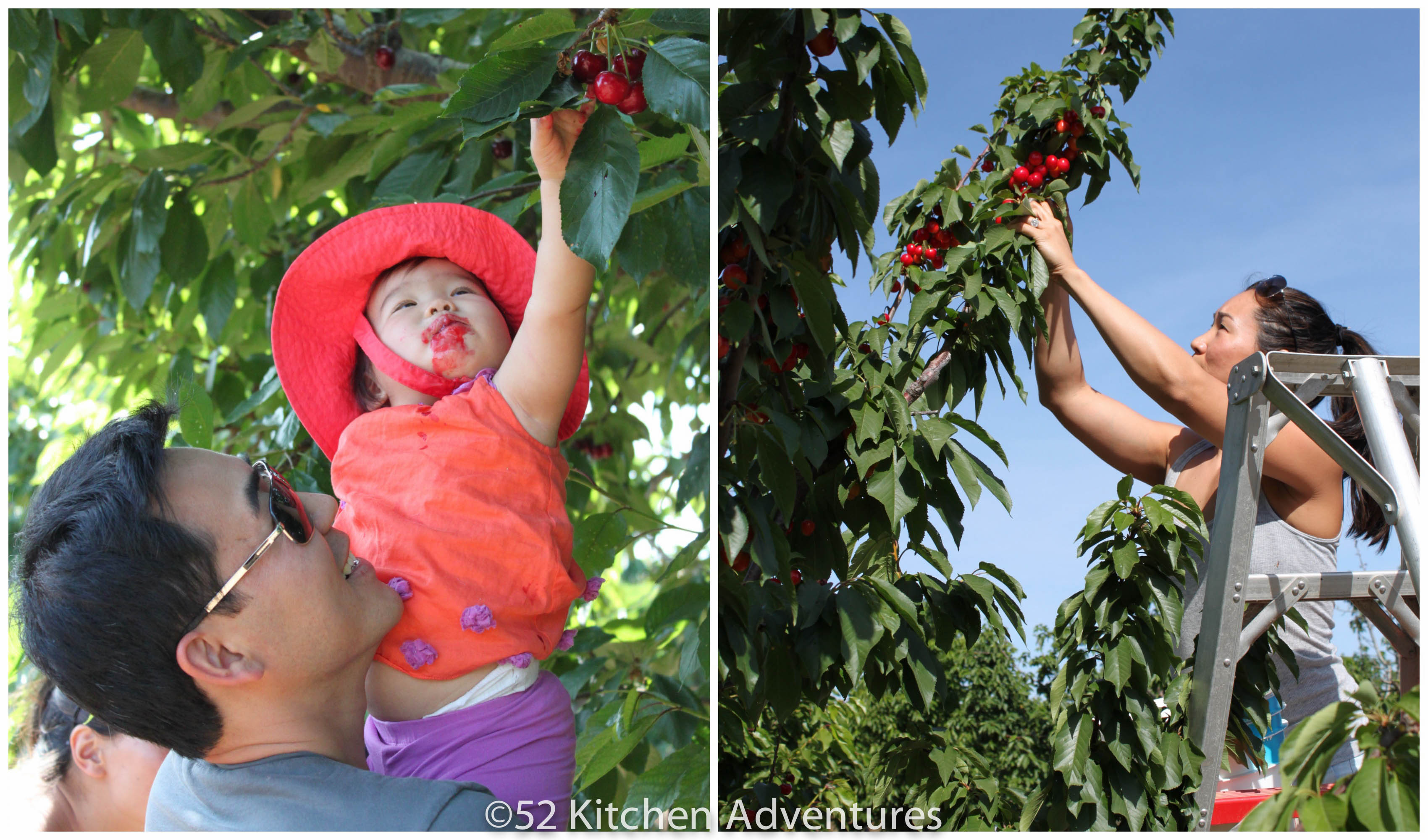 While cherries were incredible, the farm also has a bunch of adorable animals, which made the trip even more fun. The girls absolutely loved hanging out with the friendly horses, donkey, llamas, and sheep. How cute is this tiny, gentle donkey? He was so sweet with these little toddlers.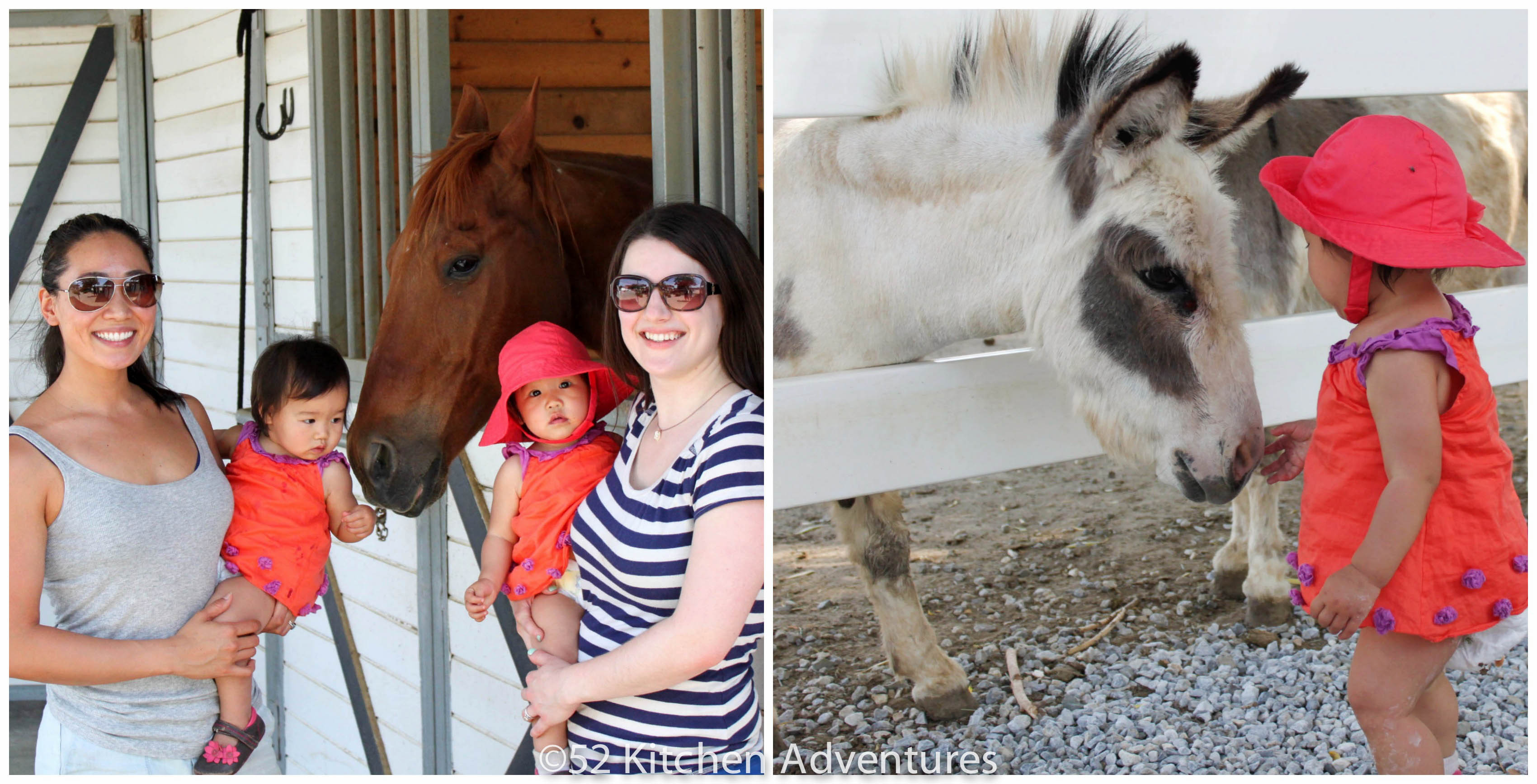 But enough about the cherry picking. Let's talk about my favorite thing I made with the cherries – this cherry galette recipe! A galette is a French term for a free-form rustic tart. Fun fact I just learned: crostata is the same thing as a galette, but the Italian word for it. Now I kind of wish I called this a crostata, but let's just roll with it.
Speaking of rolling, I was pleasantly surprised by how easy it was to make a galette. I've always admired how pretty they look, but I'm not much of a pie baker, so I'd never attempted one before. I cheated and used some frozen pie crust from Trader Joe's, which made it so easy! I loved their crust – it's made with real butter and other ingredients you can pronounce, and it tasted great.
I really can't tell you how easy it was to make this beautiful galette – check it out: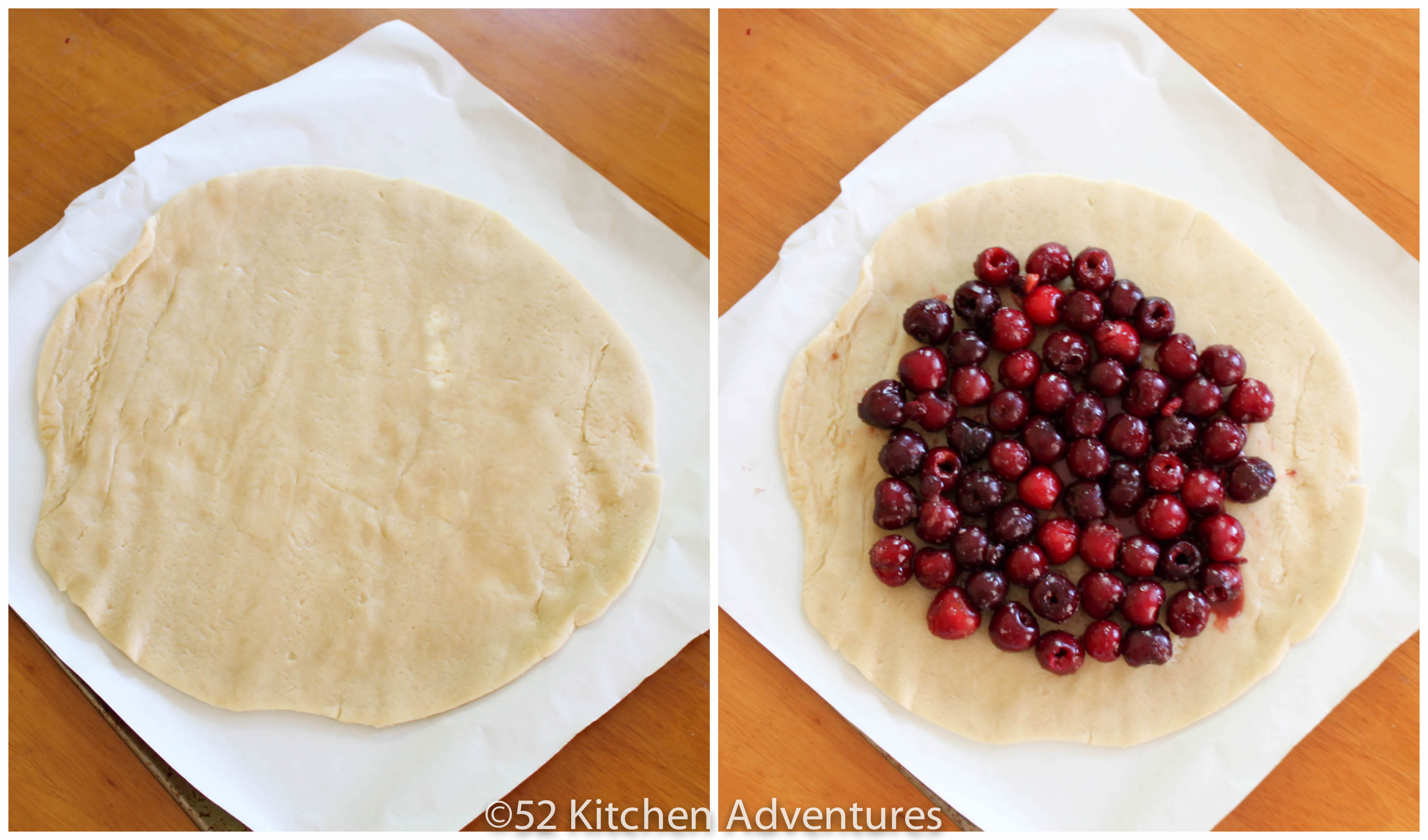 Roll out pie dough into a 12-14″ round. And don't worry – it doesn't have to be perfect.
Spread the cherry filling in the middle (it's simply cherries tossed with a few ingredients).

Fold in the edges of the crust. Again, it doesn't have to be perfect, that's part of the charm. Just follow the natural creases of the dough.
Brush beaten egg yolk over the crust and sprinkle with coarse sugar.
 Bake, cool, and enjoy! Get the full recipe below.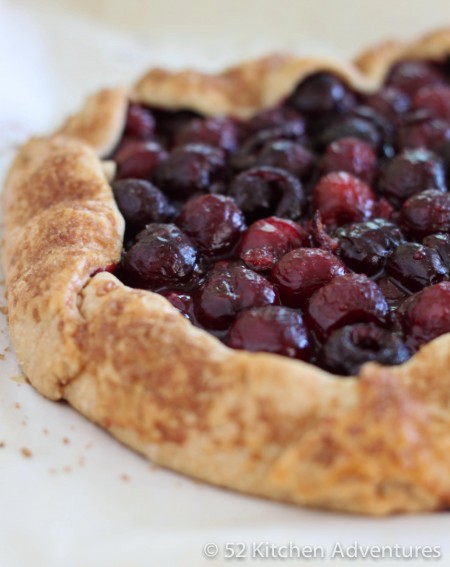 Ingredients
Dough for 1 9″ pie crust, chilled
2 pounds fresh cherries, pitted (a little over 4 cups)
1/2 cup sugar
1 tablespoon + 1 teaspoon cornstarch
1 tablespoon lemon juice
1/2 teaspoon salt
1/4 teaspoon almond extract
1 egg yolk, beaten, for coating
Turbinado sugar (or other coarse sugar) for coating
Instructions
Preheat oven to 375°F.
Remove pie dough from fridge and let it sit for 10 minutes. Place on a piece of parchment paper and roll into a 12 to 14″ round (it doesn't need to be perfect).
In a large bowl, combine the cherries with sugar, cornstarch, lemon juice, salt, and almond extract.
Pour cherry mixture into the center of the dough. Spread out, leaving 1.5″ border around the edge.
Fold up the edges of the dough around the fruit. Don't worry about it looking perfect or pretty – just follow the dough's natural creasing.
Coat the edges of the dough with beaten egg yolk and sprinkle turbinado sugar on top.
Bake until the crust is golden brown and filling is bubbling, around 1 to 1 hour 15 minutes.
Remove from oven and let cool completely, then enjoy.
http://www.52kitchenadventures.com/2014/06/30/cherry-galette/