Here's my PSA for the day – a short list of foods that are surprisingly delicious straight out of the freezer:
Cherries
Grapes
Mangoes (cubed)
Thin Mint Girl Scout cookies
Reese's Peanut Butter Cups
Gummy Bears
Have you ever tried any of these? If not, you should. They're all super refreshing snacks on a hot summer day. (And are there others that I'm missing? Tell me in the comments, I want to try them out!)
I'll never forget eating frozen gummy bears by the fistful at my friend Jess' house growing up. Her dad loved them and they were (and still are) a family devoted to Costco, so there would always be a huge bulk bag of gummy bears in the freezer. I'm sure I and our other friends had more than our fair share over the years.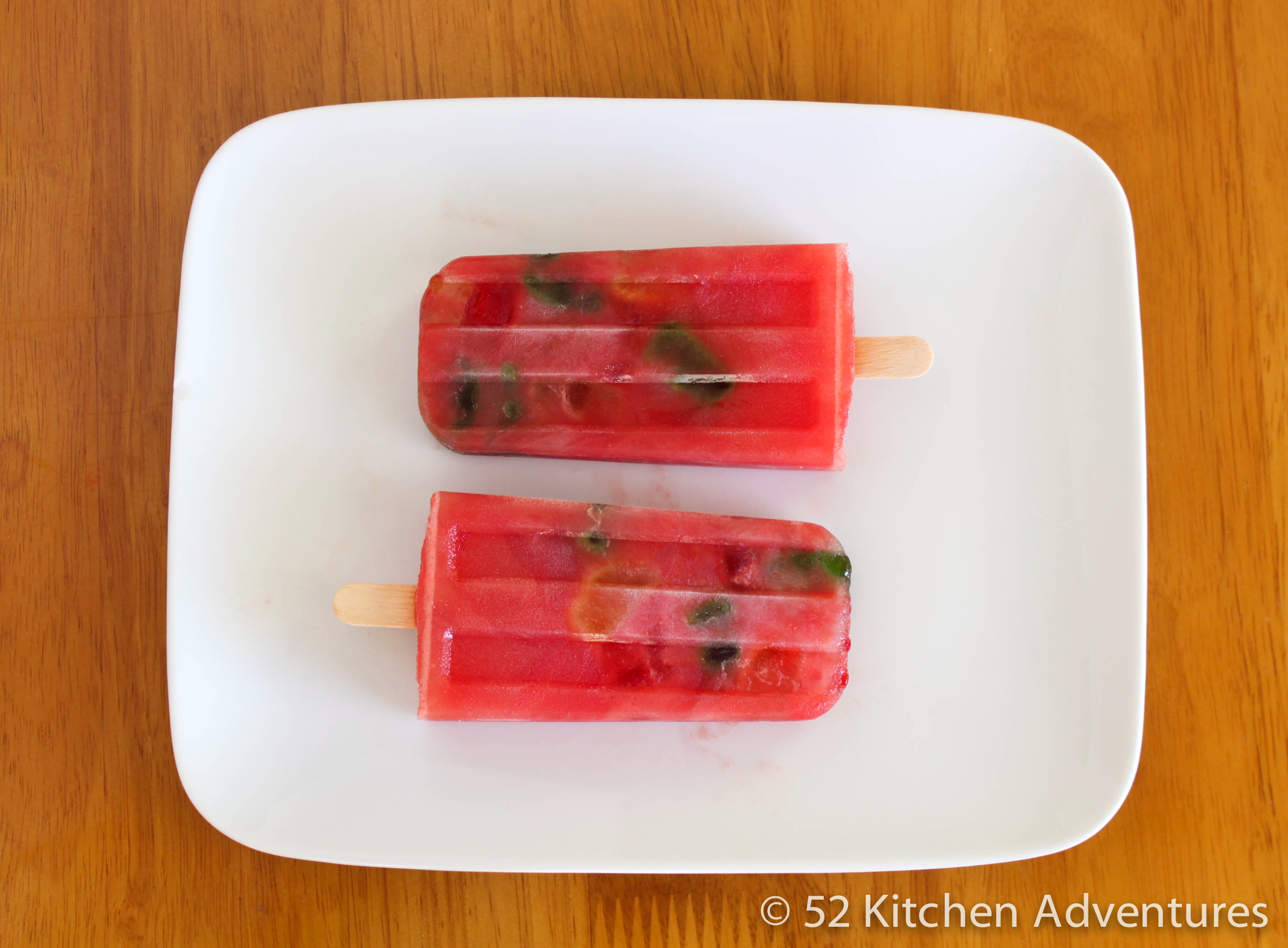 It was that memory that made me think up putting gummy bears into popsicles. I did a little Internet research and of course it's been done before (what hasn't?) but with mixed results. I guess there's a photo floating around Pinterest that is picture-perfect with gummy bears perfectly scattered across the popsicle, but it's not even an edible popsicle – it's soap!
It's funny what can go viral on Pinterest and set unrealistic expectations for people. I had to laugh over that one. While these may not be completely picture-perfect, I think they turned out pretty good. More importantly, they taste good!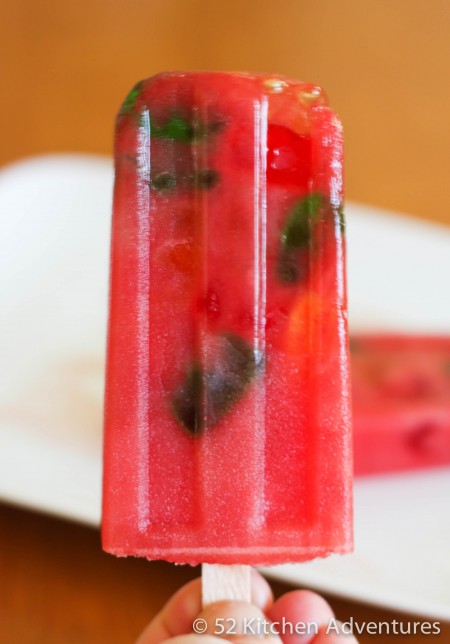 Watermelon seemed like the perfect summery flavor for some gummy bear popsicles and they turned out great – it's like eating a sweet, frozen watermelon (without the weird frozen watermelon texture). I'll be making these watermelon popsicles every summer, with or without gummy bears!
A quick word of warning on the gummy bears in popsicles: you may not like them. The outer layer is still chewy, but the inner part is really hard. If you let it sit in your mouth for a minute, it will soften, but not everyone will like having to wait if they like chewing through popsicles quickly.
Watermelon Gummy Bear Popsicles
*If your watermelon is really sweet, or you want a healthier/lower sugar treat, you can skip the steps to make and add simple syrup out of sugar and water
Ingredients
4 cups of seedless watermelon cubes (around 1 mini watermelon)
1/4 cup sugar (optional)*
1/4 cup water (optional)*
2 cups gummy bears
Instructions
In a small saucepan, bring the water and sugar to a low boil. Stir until all the sugar has dissolved, then remove from heat and set aside to cool.
Place your watermelon cubes into a blender or food processor and blend until smooth.
Add the slightly cooled simple syrup to the watermelon puree and blend until it is incorporated.
Put a fine mesh strainer over a bowl and slowly push the watermelon puree through it. Discard what is left in the strainer (or use it to make watermelon fruit leather.
Add gummy bears to your popsicle mold, layering them.
Pour the watermelon juice over the gummy bears and add your popsicle sticks. Freeze for several hours or overnight, then enjoy!
http://www.52kitchenadventures.com/2014/07/23/watermelon-gummy-bear-popsicles/
More recipes you'll love: