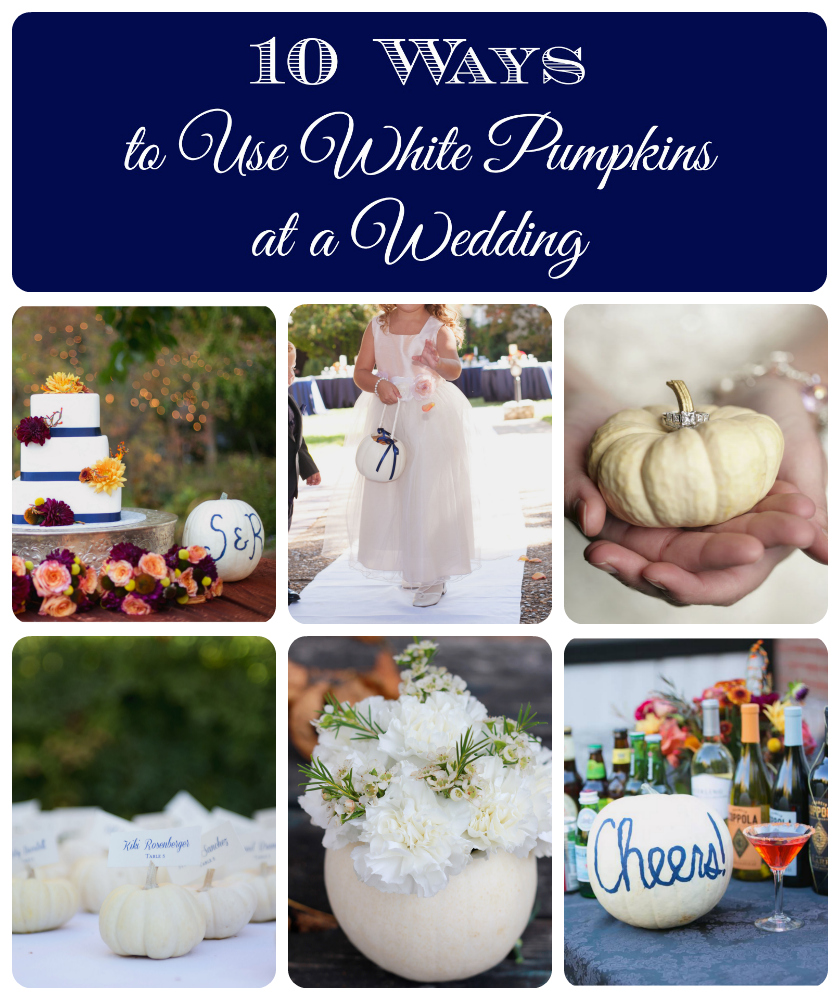 (You'll have to forgive me for a non-food post while I reminisce a little about my wedding. Tune in for some cookies, cupcakes, and a food travel post coming up soon!)
Hello, autumn! I can't believe it's this time of year again. I had a lovely autumn wedding last October and after chatting with some new friends recently, I realized I never shared much about it here on my blog. Rather than overwhelm you with photos of the whole day, I wanted to share something I wish I had when I started planning. Although I had Pinterest to help, I struggled to find elegant ways to incorporate pumpkins into the wedding.
We dreamed of an autumn wedding and were lucky enough to book the last available Saturday in October at our incredible venue, Monte Verde Inn. To weave autumn into the wedding, I choose colors and decor that celebrated the season. We used navy and ivory as main colors, and added in pops of autumn shades (burgundy, yellow, orange) with the flowers, centerpieces, and other accents.
Photos: Kim J Martin Photography
Pumpkins were a must (I love them and what says "autumn" more?), but orange pumpkins seemed a bit too garish. Then I had an epiphany: white pumpkins! They come in miniature and regular sizes just like orange ones, would go perfectly with our colors, and look much classier than orange pumpkins. They can be a bit harder to find, so I kept a look out starting in September and started picking them up at grocery stores whenever I saw them.
Next up was finding ways to use white pumpkins, which is where this list comes in. The first 5 ideas below are from my wedding, and the last 5 are ones I either thought about or found recently and wish I'd used! All the photos from Kim J Martin Photography are from my wedding of pumpkins I DIY'ed into wedding decor.
Here are 10 ways to use white pumpkins at weddings:
1. White Pumpkins Wedding Decorations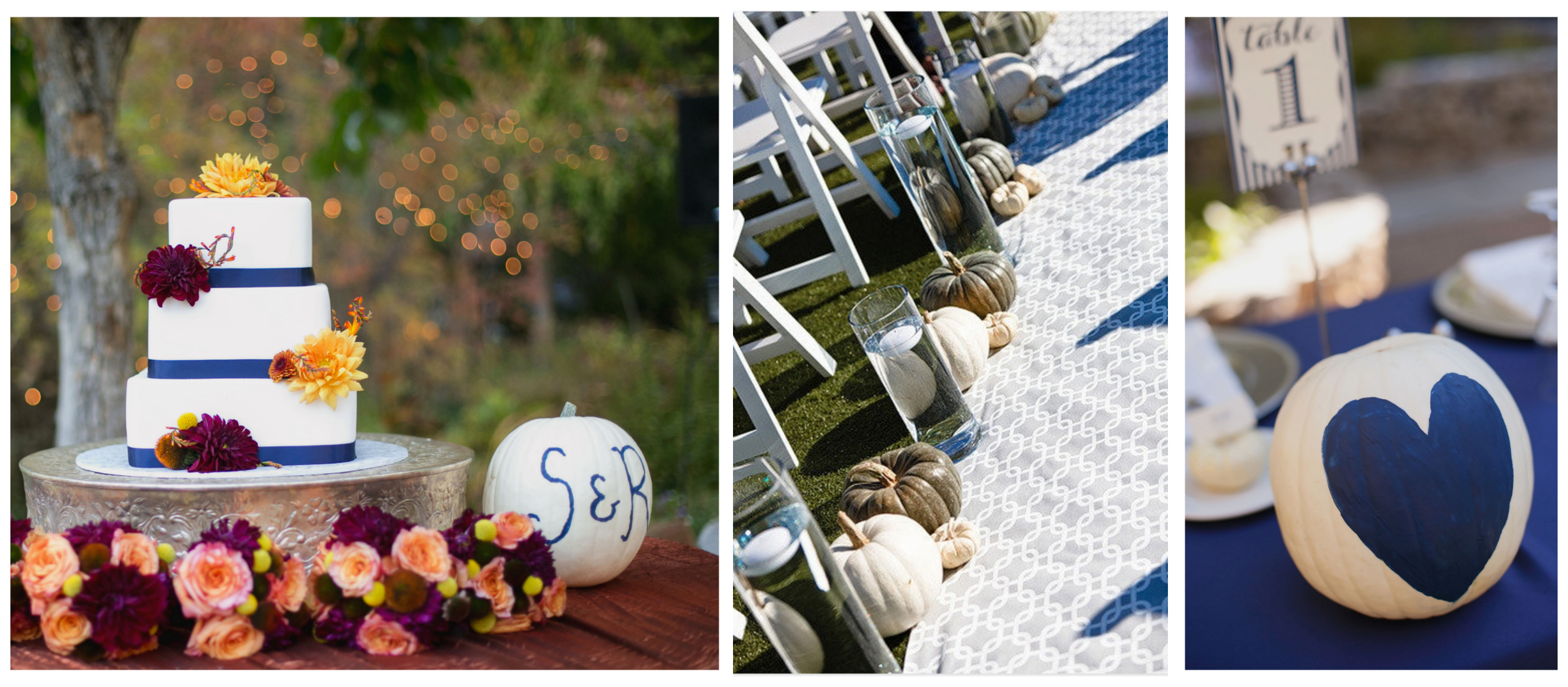 Photos: Kim J Martin Photography, Style Me Pretty, Kim J Martin Photography 
White pumpkins can be incorporated in many ways into ceremony and reception decor. You can paint or carve them, or leave them plain – they're beautiful on their own. For the ceremony, you can line the aisle with small or big pumpkins or use a few to decorate the spot where you'll say your vows. For the wedding reception, use white pumpkins to accent your cake table, bar, buffet, etc.
2. White Pumpkin Place Cards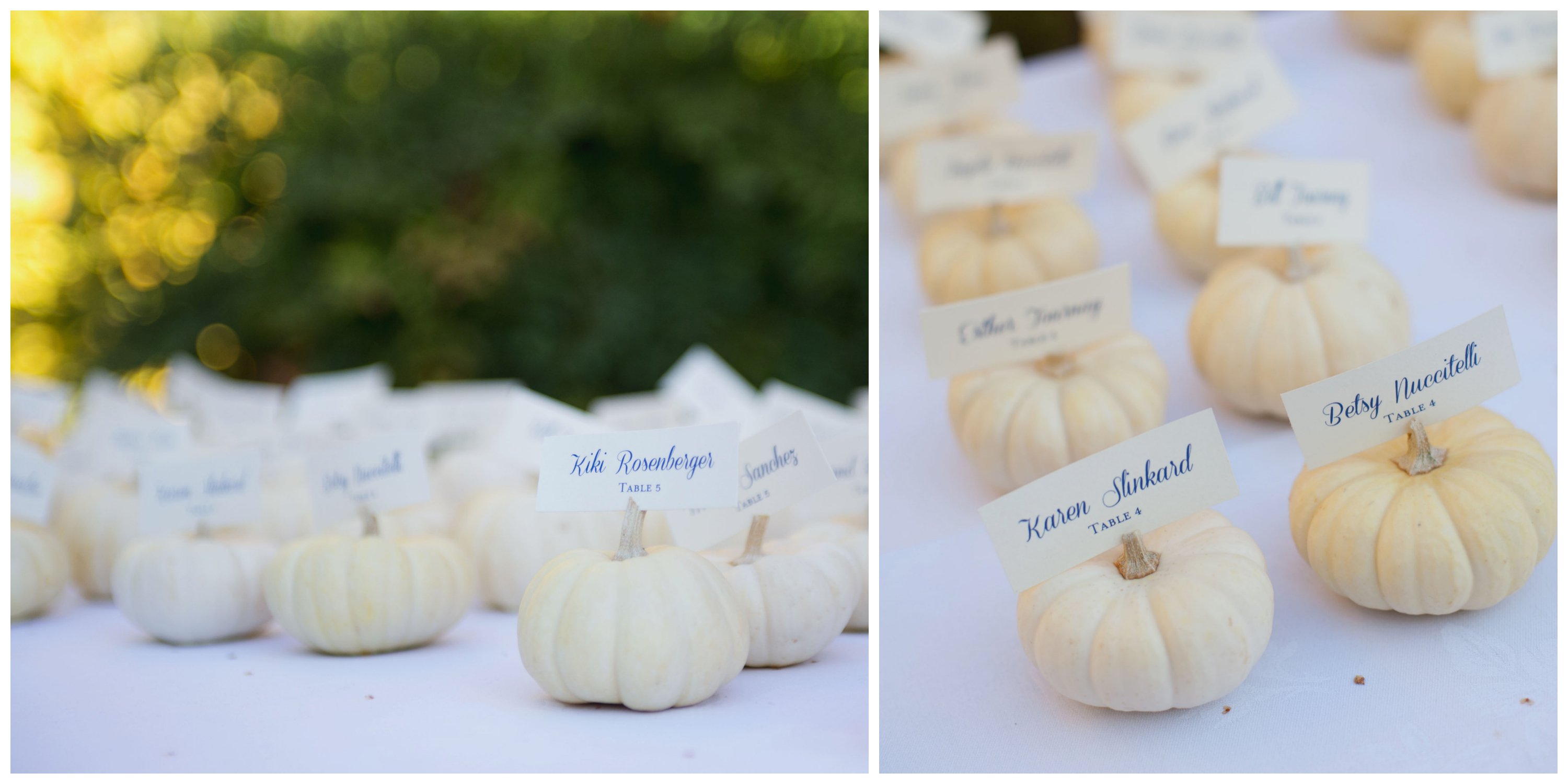 Photos: Kim J Martin Photography
I used miniature white pumpkins as place card holders. To make ones likes these, gather as many mini white pumpkins as you can find. I found that different stores sometimes carried different sizes (the ones at Trader Joe's were significantly larger than the ones at Safeway), so I recommend buying them all at once if you can. If you're expecting a lot of guests, keep an eye out for sales or try calling local farms or pumpkin stands and ask about buying in bulk.
Once you get enough mini white pumpkins, the rest isn't so hard, it just takes a little time. Get some card stock in one of your wedding colors and either find a friend with mad handwriting skills (or hire a calligrapher) OR go the cheap/easy route I took – find a pretty font and type out your guests' names and table numbers. Slice a slit in the stem and insert the place card. Your guests can even take them home as a memento.
3. White Pumpkin Flower Girl Basket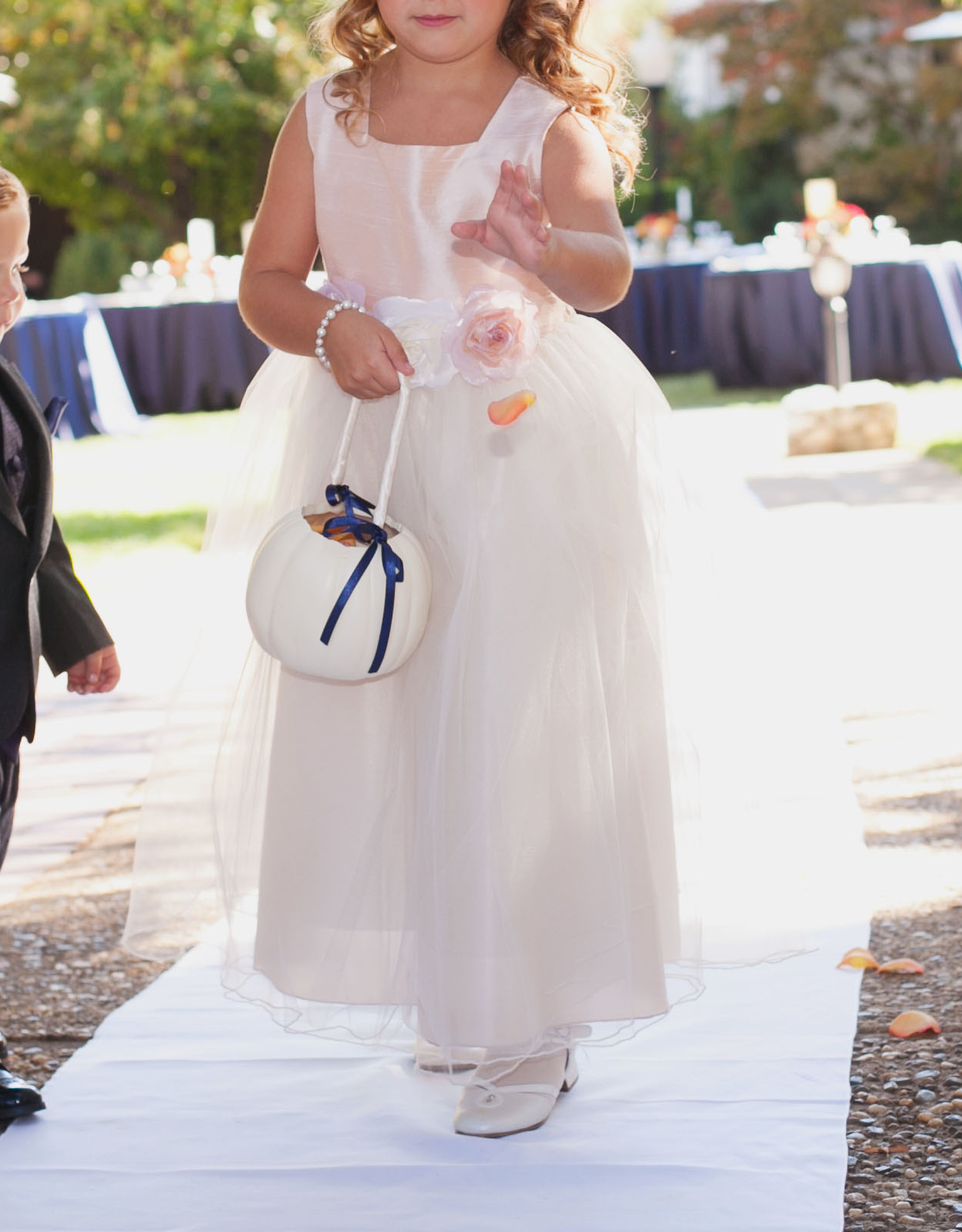 Photo: Kim J Martin Photography
Craft stores have really realistic (and not so realistic…) faux pumpkins. I found the nicest, most realistic faux white pumpkins at Michael's AND they're hollow! I used an X-Acto knife to cut a hole in the top and had an instant basket. Get your hot glue gun out to glue a strong string or thin rope (I got one in the ribbon section at a craft store). To make it a little prettier, I covered the rope with a satin off-white ribbon and tied on some navy blue bows as a festive touch. Then all you have to do is fill it with rose petals and find a cute little kid to to carry it down the aisle!
4. White Pumpkin Wedding Signs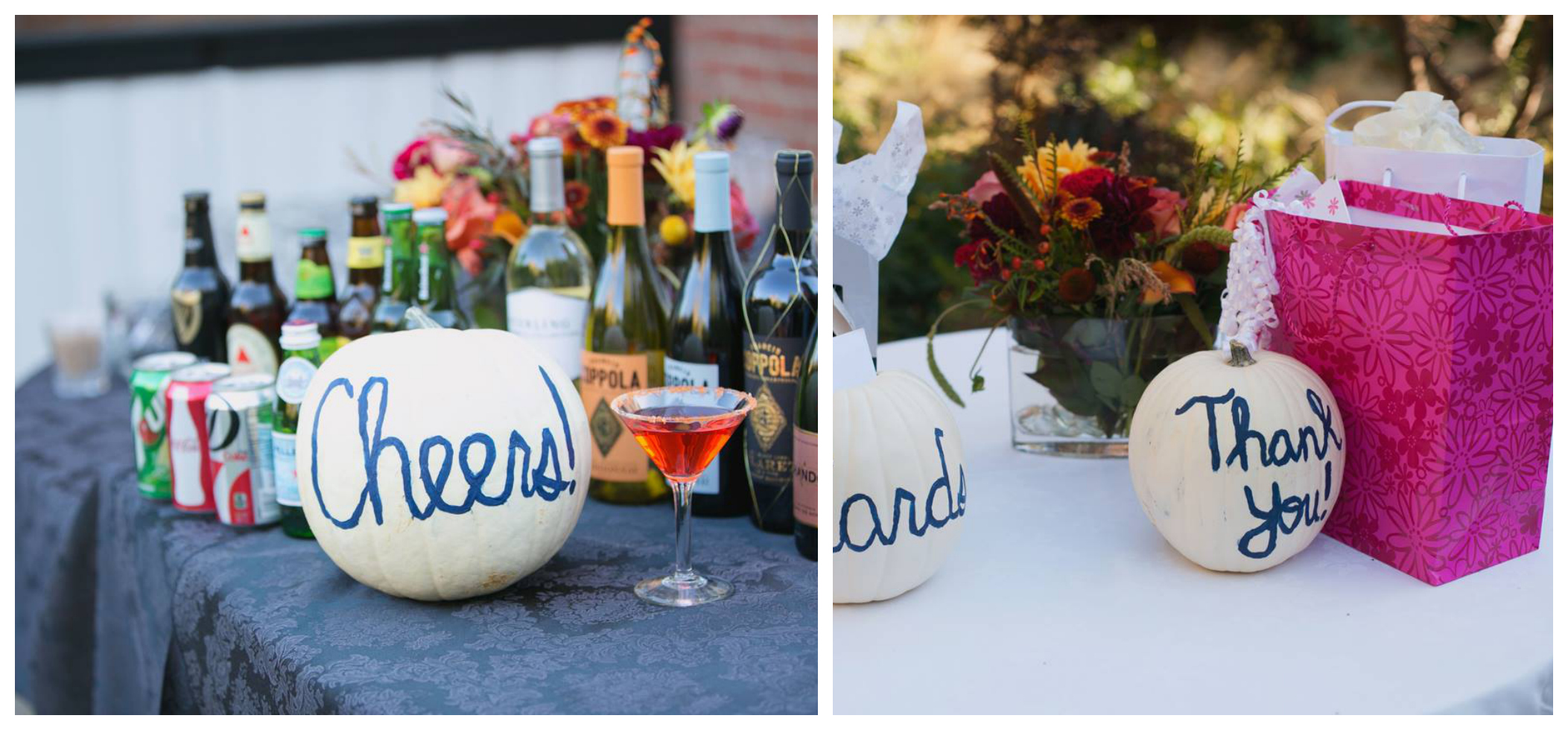 Photos: Kim J Martin Photography
Recently, I took a hand lettering workshop from Pigment & Parchment and I wish I'd taken it before our wedding. Looking back, I'm not crazy about how these turned out, but at the time they got the job done and added another touch of pumpkin to the reception.
These are pretty simple – find someone artistic or with good handwriting, hand them some paintbrushes, acrylic paint, a few pumpkins, and whatever words you want written on them. You can make signs that point guests to different locations in your venue, thank you signs on your gift table, to label the bar or other tables…the list goes on.
5.White Pumpkin Card Box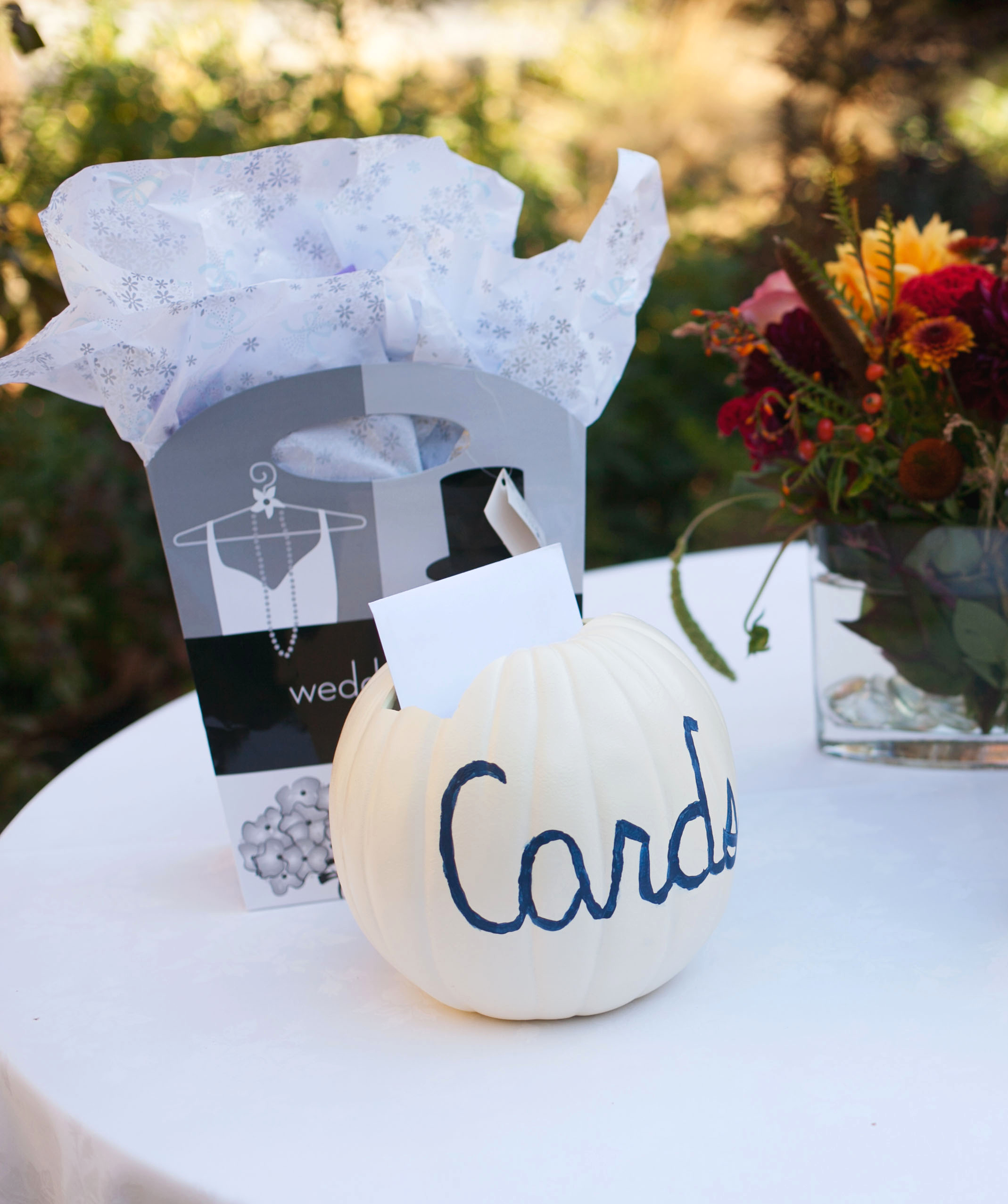 Photo: Kim J Martin Photography
Here's another faux white pumpkin craft! Get one of the fake white pumpkins I mentioned above in idea #3 (flower girl basket) and use an X-Acto knife to cut a slit in the top. Paint on the word "Cards" and you've got an easy DIY white pumpkin card box for your gift table.
6. White Pumpkin Vases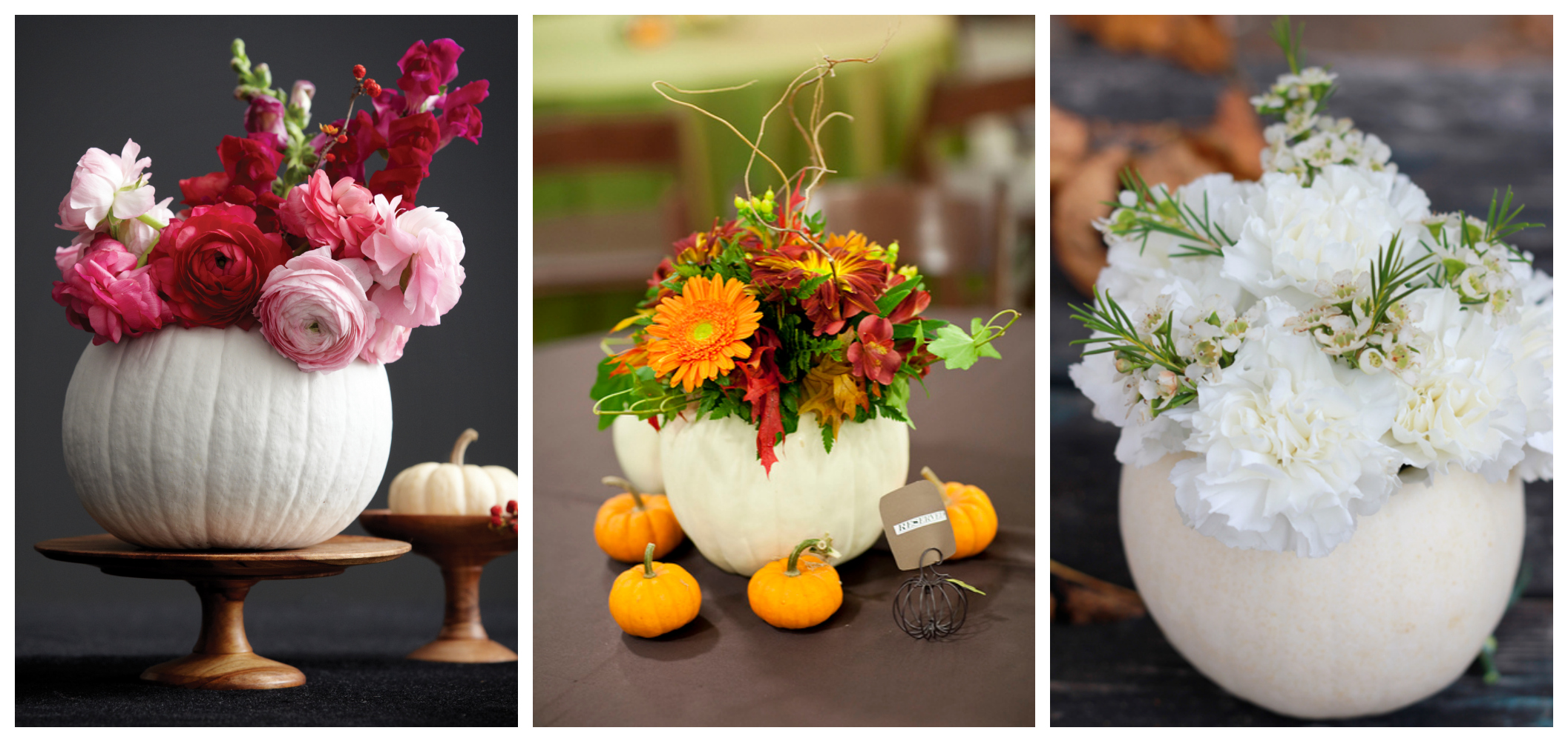 Photos: Chatelaine, The Wedding Specialists, The House that Lars Built
When I came across some photos of white pumpkins as flower vases, I fell in love. Our venue took care of our centerpieces by providing bouquets, and I thought about hollowing out a half dozen pumpkins the day before my wedding and bringing them to our rehearsal to be used as vases…and I then I realized that was a little crazy and didn't sound like what I wanted to be stressing over the day before the wedding. So instead, I pass this idea on and hope that some of you can create some gorgeous white pumpkin vases!
7. White Pumpkin Centerpieces 

Photos: Karin Lidbeck-Brent, DIY Wedding Craft Magazine, DigsDigs
Instead of white pumpkin vases, there are tons of ways you could incorporate white pumpkins into centerpieces (and save a little money on flowers). You could decorate the pumpkins themselves – as seen above with some seasonal vines (you can find ones like that at Michael's), or by carving or painting them. Miniature white pumpkins are even more versatile and can be put into different shaped vases, artfully arranged around candles, etc.
 8. White Pumpkin Patch
I never thought of having a pumpkin patch at my wedding, but isn't this a fun idea? This would be especially fun at a daytime, outdoor wedding with kids involved. You could use pumpkins in lieu of favors. If there are a lot of children at the wedding and it's not too formal, you could even set up a craft station, hire a babysitter or two to man the table, and let them decorate the pumpkins.
9. White Pumpkin for your Ring Bearer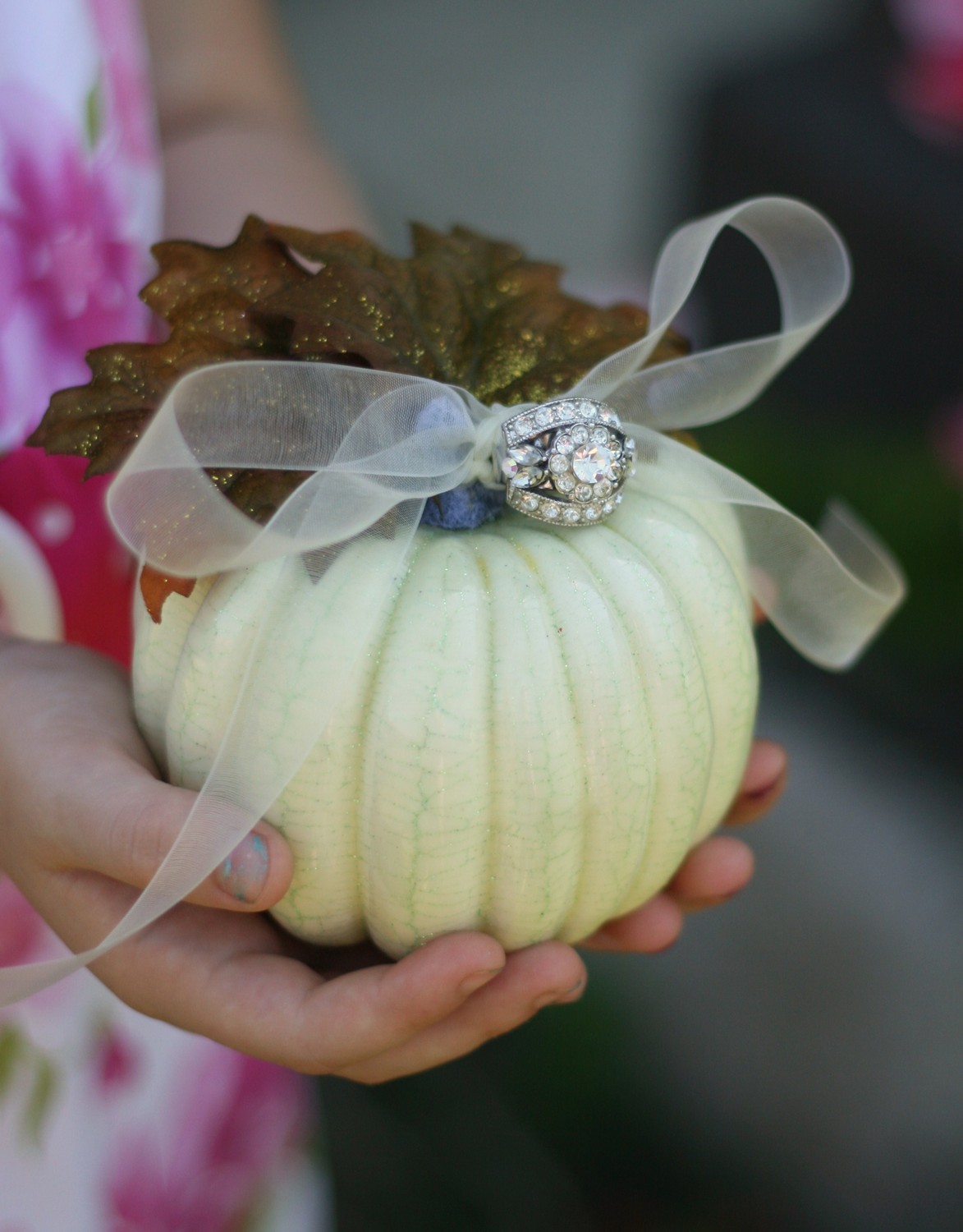 Photo: braggingbags 
Our 2 year old nephew was our ring bearer and we didn't exactly trust him to get our rings down the aisle safely, so I made him a cute flag that said "Here comes the bride" instead. However, using a matching white pumpkin ring bearer pillow with a white pumpkin flower girl basket would be precious. This is another very easy DIY white pumpkin wedding craft too – find a white pumpkin (fake or real) of the right size with a decent stem, tie a pretty ribbon to the stem and loop on your rings.
10. White Pumpkin Photo Prop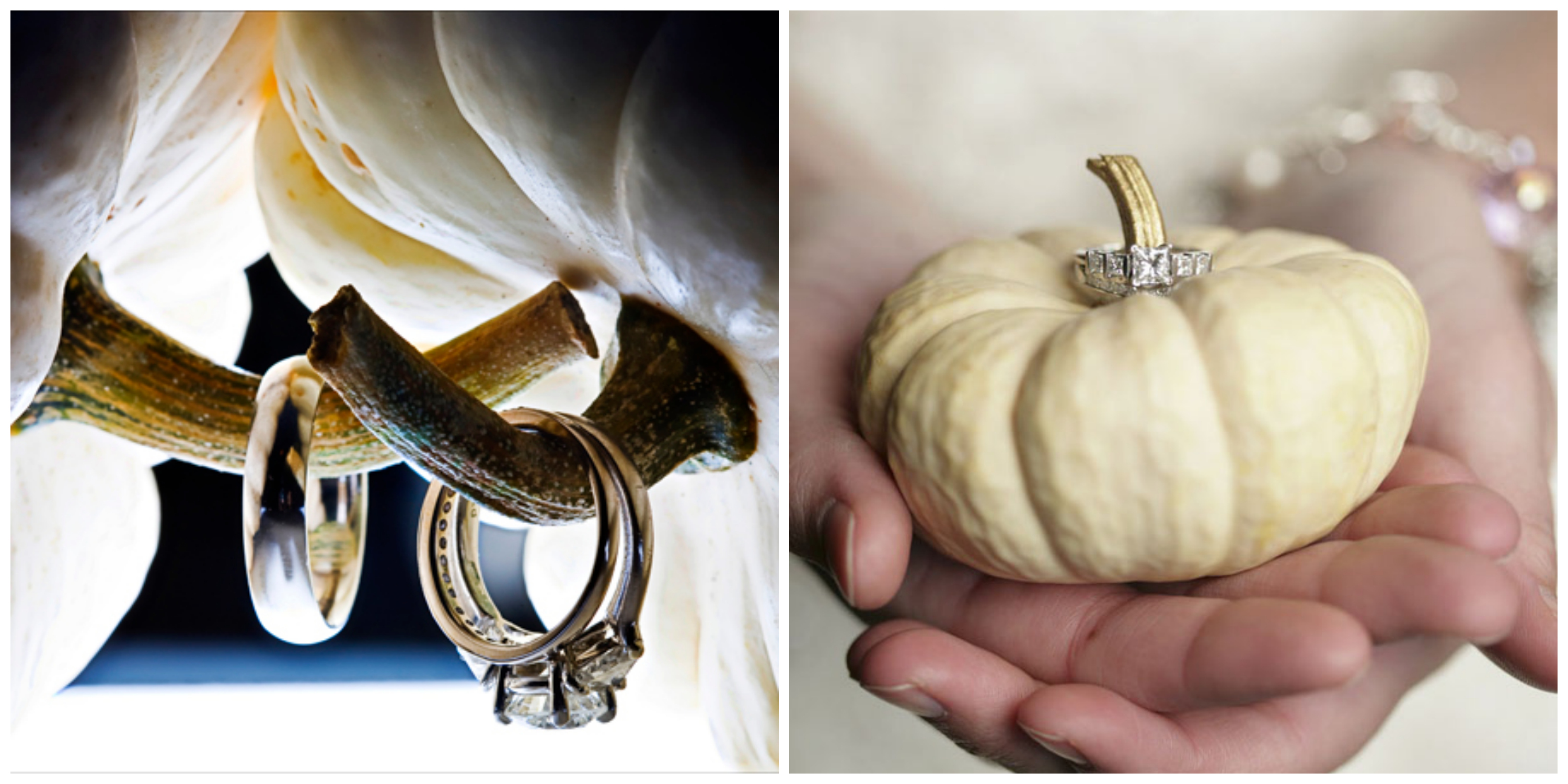 Photos: Our Labor of Love, Wedding Chicks
One final, and very easy, way to use white pumpkins at a wedding – photo props! I found these two pretty ways to display your rings on the stem of a white pumpkin, but you could also use them in other photographs as well. You could have them decorate the ground near where you stand (taking some photos in your pumpkin patch from idea #8 would be adorable), paint or carve your new monogram, initials, or "thank you" and hold them in photos (then print those out for thank you cards later). Get creative with it!
Do you have any other ideas for using white pumpkins at weddings? I'd love to hear them – please share in the comments!