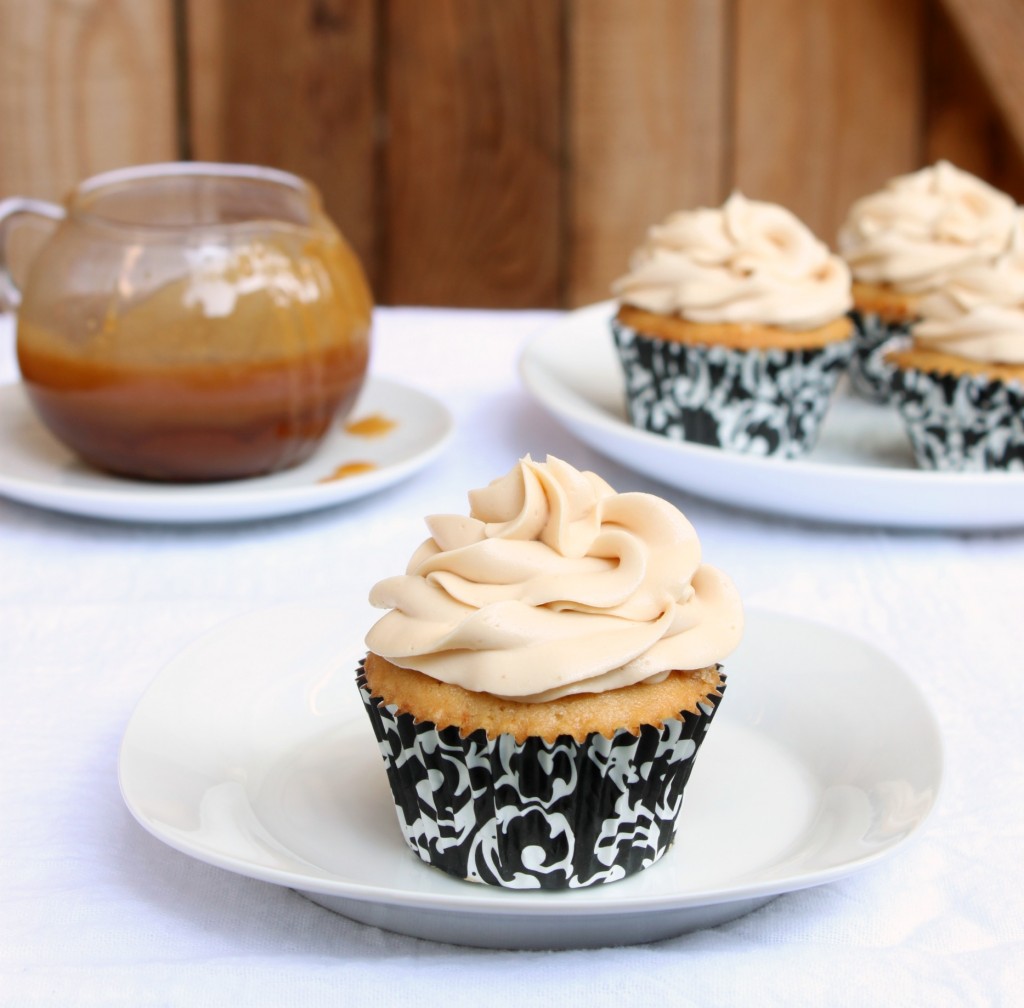 I'm curious – what do you associate with 52 Kitchen Adventures? I've avoided calling it a baking blog because I didn't want to be stuck in a theme after being stuck in one for the first year of my blog (wondering why it's called 52 Kitchen Adventures? See the "about" section to learn more). I know it doesn't need a label but it's hard to give a concise description when someone asks what the blog is about. And since I've always loved baking and have a big sweet tooth, I end up making and blogging about desserts a lot (here are all my dessert recipes). I think I might start calling it a baking blog (with a few other recipes thrown in the mix).
Anyway, I made these cupcakes for a coworker to celebrate some of her recent accomplishments. I'd never made salted caramel cupcakes and randomly decided that would be a good flavor to try out. I was lucky enough to stumble upon on Sprinkle Bakes and her Triple Salted Caramel Cupcakes. She tried different recipes until she found her ideal balance of salty and sweet in a brown sugar cupcake with salted caramel filling, salted caramel buttercream and candied salted caramel rounds. I adapted her recipe slightly, leaving behind the decorative rounds of spun sugar (the other 3 recipes are already pretty time consuming) and adding a sprinkle of fleur de sel on top to really bring out the salty/sweet balance.
These cupcakes are so good! The cake is moist and sweet, the frosting is creamy and has a wonderful caramel flavor, but my favorite part is the salted caramel filling. Next time I will cut bigger holes and pour in more. I didn't find the frosting had enough saltiness for a salted caramel cupcake, but sprinkling some fleur de sel on top did the trick. Try the frosting first and see what you think. You can always add more but it's hard to remove if it's too salty.
Recipe:
Salted Caramel Cupcakes
Adapted from Sprinkle Bakes
Makes 15 cupcakes
Brown Sugar Cupcakes
1 1/2 cups flour
1 teaspoon baking powder
1/4 teaspoon sea salt
1 stick of unsalted butter, at room temperature
1 cup plus 2 tablespoons packed light brown sugar
2 large eggs, at room temperature
1 teaspoon vanilla
1/2 cup plus 2 tablespoons buttermilk
Preheat oven to 325 °F. Line muffin tin with paper or foil liners.
In a medium bowl, combine flour, baking powder and salt.
In a large bowl, cream butter and brown sugar until pale and fluffy. Add eggs one at a time, beating after each until fully incorporated. Mix in vanilla extract. Add flour mixture to wet ingredients in 3 batches, alternating with 1/2 of the buttermilk, stirring after each until everything is combined.
Pour batter into prepared muffin tin until each liner is 3/4 full. Bake for around 25 minutes or until a toothpick inserted in the center comes out clean.
Salted Caramel Filling
Making caramel can be tricky. For some tips, see this guide on how to make the perfect caramel from David Lebovitz.
1/2 cup sugar
3 tablespoons salted butter, cubed

1/4 cup plus 1 tablespoons heavy cream, at room temperature
In a medium saucepan over medium heat, cook just the sugar. Whisk it occasionally as it melts and cook it until it turns a deep amber color. Then add the butter and stir until it is melted. Add the heavy cream and whisk until the caramel is smooth. Remove from heat and let cool.
Using a large pastry tip or a paring knife, cut a small round piece out of the top of each cupcake. Pour in around 1-2 teaspoons of caramel. (See photos below – they're from my Limoncello & Meyer Lemon Cupcakes, but you get the idea.)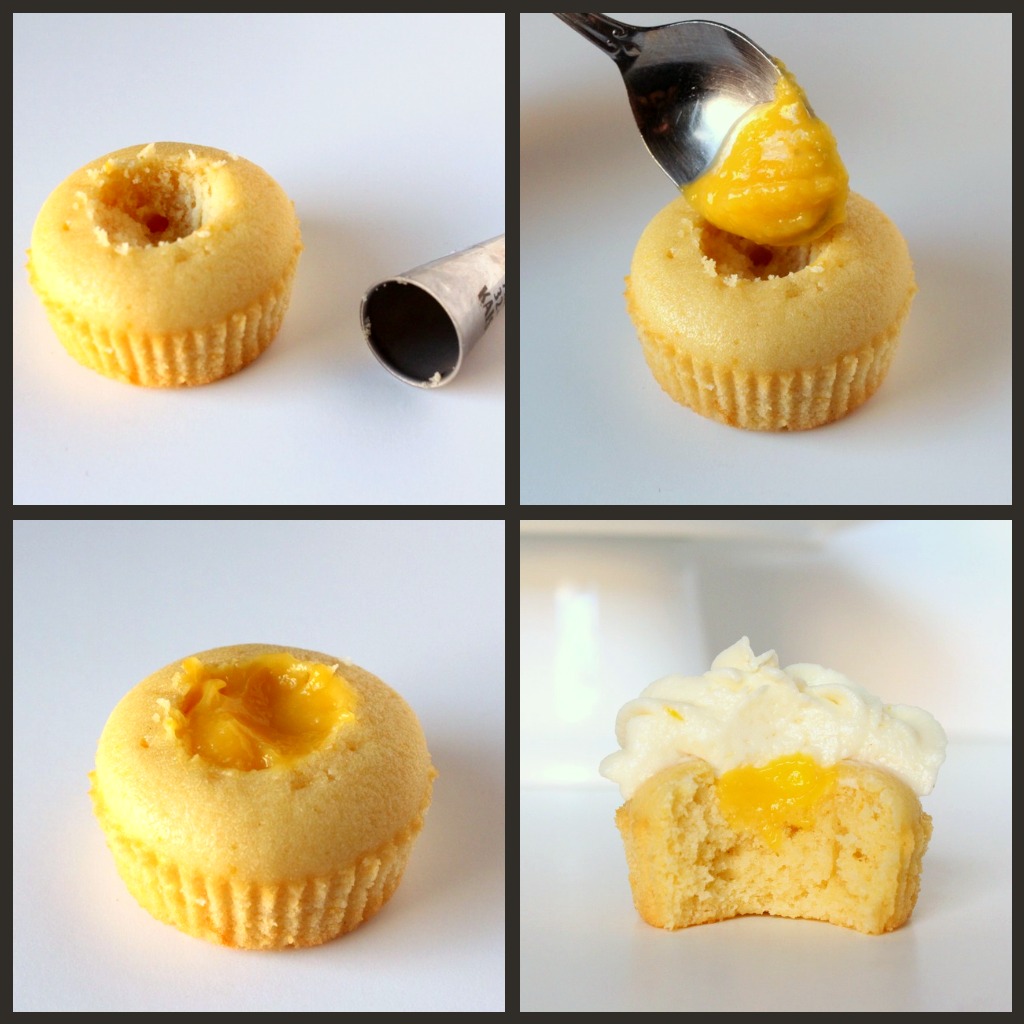 Salted Caramel Buttercream Frosting
1/4 cup granulated sugar
2 tablespoons water
1/4 cup heavy cream
1 teaspoon vanilla extract
1 stick salted butter
1 stick unsalted butter
1/2 teaspoon sea salt
1 1/2 cups powdered sugar, sifted
Fleur de sel for sprinkling (optional)
In a medium saucepan, combine sugar and water and cook over medium-high heat. Boil without stirring until it turns a deep amber color. Remove from heat and slowly pour in cream and vanilla, whisking until it is very smooth. Let cool for around 20 minutes, until it's just barely warm and still pourable.
Meanwhile, beat butter and salt together until light and fluffy. Add powdered sugar and beat until thoroughly combined. Pour in the cooled caramel and beat on medium-high speed until light and airy (around 2 minutes). Spread or pipe onto filled cupcakes (if frosting is too runny, the caramel was too warm when added – refrigerate for around 15-20 minutes until frosting is stiffer). Sprinkle each cupcake with a small pinch of fleur de sel.
More recipes you'll love: