One of my favorite sushi restaurants has a spicy edamame appetizer that I've been trying (and failing) to recreate for months. I tried cayenne pepper and other spices but there was always something major missing. When I inquired at the restaurant, a server said they use a Japanese spice blend.
Fast forward to last week, when I was browsing the always lovely spice section at Cost Plus World Market (if you've never shopped there, check it out – they have great prices and bags of spices if you want to refill your jars) and stumbled upon a spice I've never seen before: sansho spice blend. It's very brief description alluded that it was spicy blend that could be used in Japanese cuisine. The spicy edamame dish immediately came to mind – could this be the secret ingredient? At $1.99/packet, it couldn't hurt to try.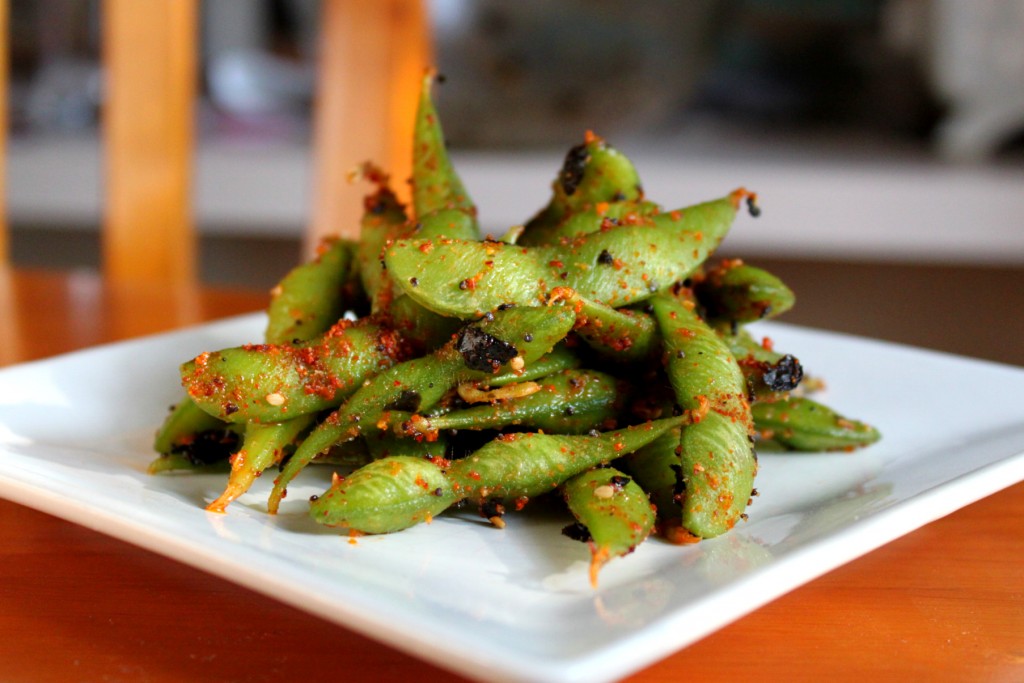 Also known as Japanese 7 spice or shichimi togarashi in Japanese, the spice blend contains red chili, seaweed, sansho pepper, orange peel, poppy seeds and white and black sesame seeds. It is a popular table condiment in Japan, where it used to add heat and flavor to lots of different dishes from noodles and rice to beef tataki. I added a bit of cayenne pepper for more heat, some granulated garlic and salt and voila! A spicy, flavorful edamame dish, perfect as an appetizer, side dish, or just a healthy snack.
Spicy Edamame
1 lb. edamame
2 1/2 T toasted sesame oil (or olive oil)
2 1/2 T Japanese 7 spice (AKA sansho spice blend)
1 t cayenne pepper
1 t garlic powder
1/2 t salt
Place edamame in large mixing bowl. Add oil and toss to coat pieces (add more if needed). Add the rest of the ingredients and mix together until all pieces are evenly coated. Add more spices or salt to taste.
More recipes you'll love: