Mmmmmm, fungi. Get away from white button mushrooms (which are fine but boring) and you enter a world of delicious, earthy, flavorful fungi. One of my favorites is morels, also known as morchella, dryland fish, hickory chicikens, merkels and sponge mushrooms. They have an extremely distinctive look; the oblong cone on top of the stem has a pattern similar to honeycomb or sponge.
Morels are highly sought after for their unique flavor. They are difficult to find fresh, but you can often find them dried. Reconstitute in hot water and you'll be rewarded with something almost as good as the original. Be careful though: morels contain a small amount of toxins, which are removed during the cooking process, so don't eat them raw.
They grow under many different types of trees and, interestingly, in areas that have been scorched by fire. Many mushroom hunters follow forest fires to find these prizes mushrooms.
To simply enjoy their flavor, sautee in butter with freshly cracked pepper and salt to taste. Here, I prepared a lovely pilaf with morels and bacon. I really wanted to include asparagus in this recipe but unfortunately they are out of season here now. If you can, grill some spears and add them in with the morels, bacon and cheese at the end.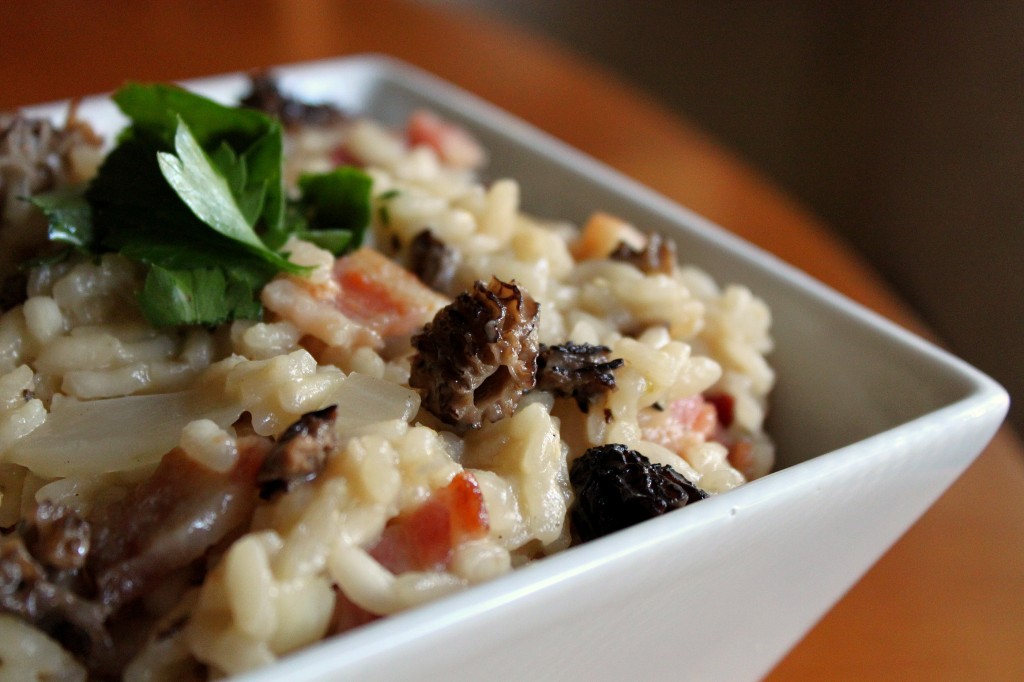 Morel and Bacon Pilaf
1/2 oz. dried morels*
1 C boiling water
4 C chicken stock
2 bay leaves
2 T butter
1 yellow onion, chopped
4 garlic cloves, minced
2 C arborio rice
1 1/2 C dry white wine
1/4 lb. bacon, cooked and chopped
1/2 C grated Parmesan cheese
Chopped parsley for garnish
Remove boiling water from heat. Add in dried morels and let steeped, uncovered, for 20-30 minutes. Strain liquid through sieve and reserve broth.* Roughly chop rehyrated morels.
In a medium saucepan, heat chicken stock with bay leaves over medium-low heat.
In a large skillet, melt butter over medium heat. Add onion and garlic, and cook for a few minutes. Add rice and toast for 2 minutes. Add white wine and cook until liquid evaporates. Stir in 1/2 cup of chicken stock or morel broth. Continue to stir in 1/2 cup of both as the liquids are absorbed (about every 3 minutes), until all liquids are used.
Once all liquids are absorbed, mix in morels, bacon and Parmesan cheese. Serve with chopped parsley as a garnish.
*If you have fresh morels (lucky you!), add in 1 more cup of chicken stock in place of morel broth
More recipes you'll love: