Dragon fruit, also known as pitaya, is the fruit from a cactus. Although native to South America and Mexico, the cacti are now also cultivated in Asia, Hawaii, and Australia. They only bloom at night, leading the fragrant white flowers to be nicknamed "moon flower" and "Queen of the Night," and causing a dependence on nocturnal creatures to pollinate them.
Inside the inedible outer skin you will find either white or magenta pulp with lots of tiny black edible seeds. The fruit is low in calories, and contains fiber, carotene, Vitamin C and other antioxidants. So, even though I made candy out of it, I'm going to think of it as "healthy."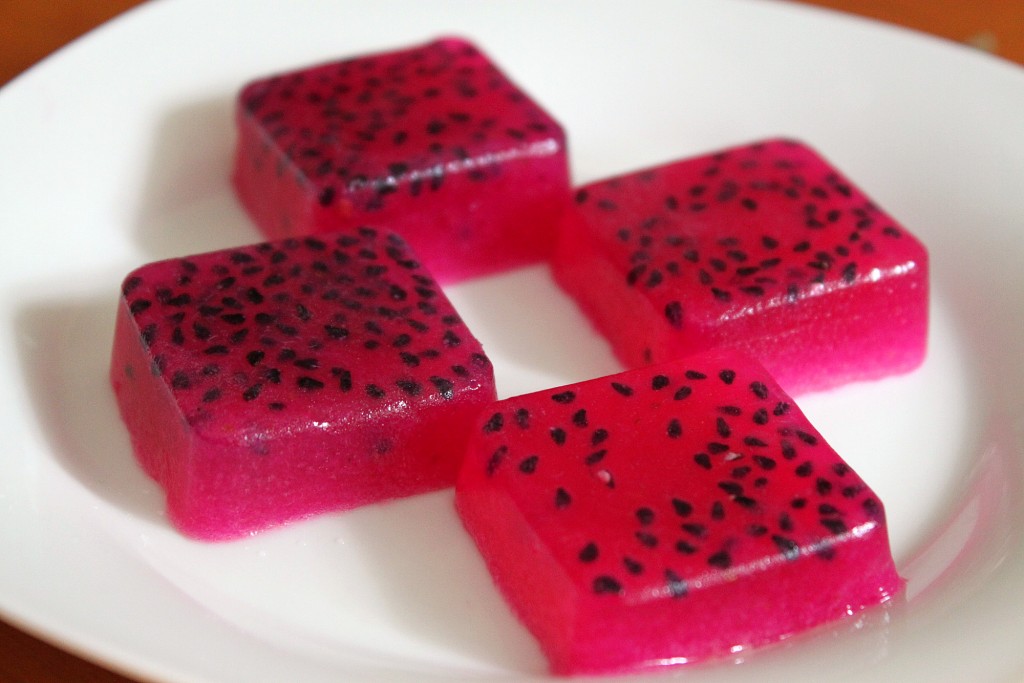 Scoop out the flesh of a dragon fruit and add some gelatin, water, and a little sugar (optional), and you get wonderful little jellies. They're especially good when dusted with powdered sugar. They're lightly sweetened and taste faintly of watermelon and strawberries, with a bit of crunch from the seeds (very similar to kiwi seeds).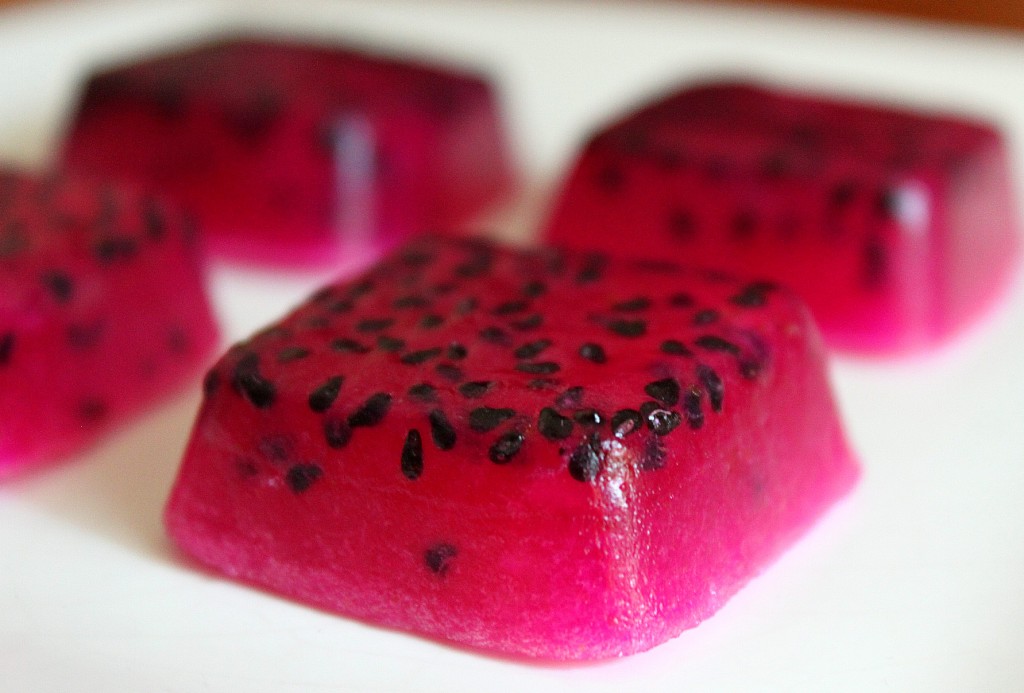 Dragon Fruit Jellies
Makes 10 one inch squares
1 packet of gelatin (1/4 oz)
1/4 C cold water
3/4 C dragon fruit puree (I used 1 dragon fruit that was ~1/2 lb.)*
2 1/2 t sugar or honey (adjust based on sweetness of your fruit)
Powdered sugar, sifted, for dusting (optional)
Sprinkle gelatin over cold water in bowl. Let sit for 1 minute, until gelatin has softened. In the meantime, place dragon fruit puree in a small saucepan over medium heat. Add sugar or honey as needed. Once the mixture has just started to boil, pour over gelatin. Mix until all gelatin has dissolved. Pour into molds or a small pan. Refrigerate 1-2 hours or until solid, then remove from molds and dust with powdered sugar if desired.
*To prepare the dragon fruit, cut in half and scoop the flesh out. Place in blender or food processor and blend until relatively smooth (no large chunks).
More recipes you'll love: