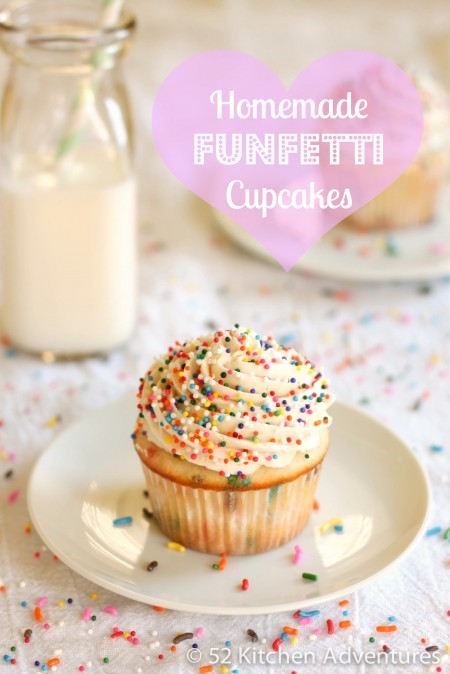 Happy New Year! The beginning of the year marks another important day for me-the 3rd anniversary of the start of 52 Kitchen Adventures! I think most of you have probably started following in the last year or two, so you may not know the background of this blog. It all started 3 years ago as a New Year's resolution (one that actually stuck!). I've always loved baking, but back then I pretty much hated cooking and avoided it when I could. To change that, I resolved to cook 1 new, unusual ingredient each week for 1 year, and blog about my 52 kitchen adventures (do you get the name now?).
I tried everything from colorful dragon fruit to mushrooms that taste like maple syrup (you can see all 52+ adventures by visiting the "kitchen adventure" category). While the adventures made me cook a little more than normal, baking is my true passion in the kitchen, so this blog slowly evolved into a baking blog over time, with the exception of some snacks, drinks, and slow cooker dishes.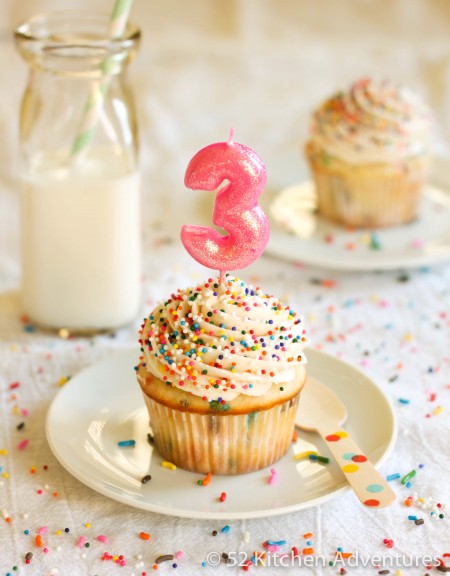 Happy 3rd birthday, 52 Kitchen Adventures!
If you've visited here before, you can probably tell that cupcakes are my favorite thing to bake, so it was only fitting that I made some celebratory cupcakes for the blog's birthday. And what's more celebratory than funfetti cupcakes? People are always curious how to make funfetti cake at home, and it couldn't be easier-you just add rainbow sprinkles like these to white cake. Just like that, you'll have colorful cake that's perfect for any party. Get the recipe I used at the end of this post.
In the last 2 years, the audience has grown a TON and I'm still a little flabbergasted every time I peek at the analytics. In 2012, almost 2 million of you from all over the world visited 52 Kitchen Adventures! Isn't that crazy?! I love reading every comment, email, and tweet that comes my way from you all. Connecting with people from all parts of the world over my favorite recipes is the best part about blogging.
For fun, I looked at the most popular posts from the last few years, and the first one is pretty surprising…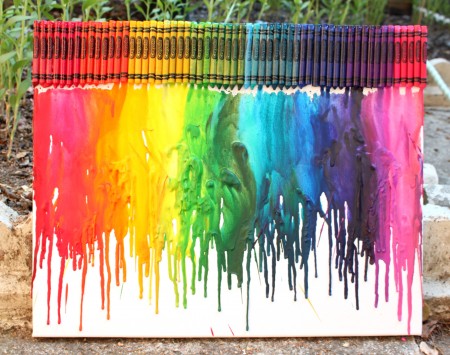 Oddly enough, the #1 most popular post ever on this blog isn't even about food. In 2011, I kept seeing images of melted crayon art all over Pinterest, so I blogged about the step by step process of making my own melted crayon rainbow. The post took off on Pinterest and I still get a ton of traffic to it to this day. My image was even featured in Women's World Magazine a few months ago (so exciting!).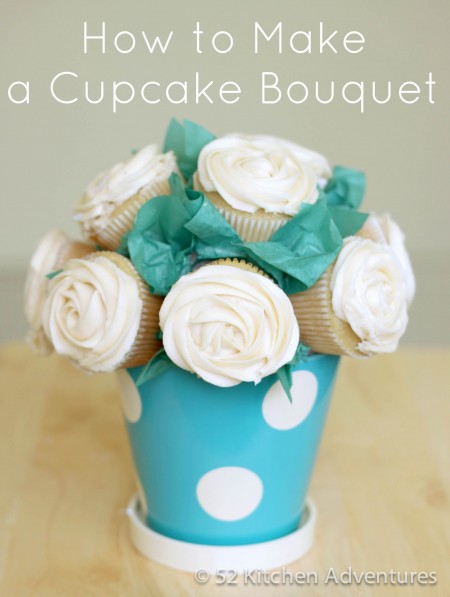 My #2 most popular post ever is How to Make a Cupcake Bouquet. This is one my personal favorites as well, along with my pink ombre rose cake. Rose frosting just looks so elegant and beautiful. Making rose cupcakes into a bouquet is perfect for a gorgeous dessert display at any gathering.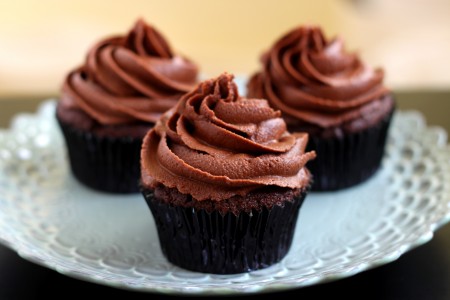 #3 isn't surprising either-Chocolate Nutella Cupcakes…3 of my favorite things in 1 delicious dessert! I have quite a few Nutella recipes and this Nutella buttercream is right up there as one of my favorites. These Creamy Nutella Popsicles are the 2nd most popular Nutella recipe on my blog.
Blogging has led me to some pretty amazing experiences and opportunities that I would never have had without this blog. This year, I was hired to bake cupcakes for a wedding, I recently made my first TV appearance, won the cupcake war at the Sacramento Chef Challenge, went to my first food blogging conference, came third in a national Crock-Pot contest, and have had countless opportunities to work with some of my favorite brands to develop recipes. It's been a bit of a whirlwind, especially over the last few weeks! I'm so thankful for all the things that have come my way and I couldn't have done it without your continued support and well wishes. Thank you for reading 52 Kitchen Adventures!
Homemade Funfetti Cupcakes
Ingredients
Funfetti Cupcakes

2 ¼ cups cake flour
1 tablespoon baking powder
½ teaspoon salt
1 ¼ cups buttermilk

(you can make your own by adding 1 tablespoon of lemon juice or white vinegar to plain milk)

4 large egg whites
1 ½ cups sugar
2 teaspoons grated lemon zest
1/2 cup (1 stick) unsalted butter, at room temperature
1/2 teaspoon vanilla extract
1/4 cup rainbow jimmies

Fluffy Vanilla Buttercream

1½ cups unsalted butter, at room temperature
4 cups powdered sugar
2 tablespoons heavy cream
1 tablespoons vanilla extract
Instructions
Funfetti Cupcakes:

Preheat oven to 350°F and line a cupcake pan with paper or foil liners.
In a large bowl, whisk together flour, baking powder, and salt. Set aside.
In a medium bowl, whisk together buttermilk and egg whites. Set aside.
In a large mixer bowl, combine sugar and lemon zest. Rub together with your fingers until sugar is moist and fragrant. Add the butter and beat for 3 minutes, until well combined. Mix in vanilla extract.
Alternate adding 1/3 of flour mixture and 1/2 of buttermilk mixture to mixing bowl, beating until just incorporated in between (begin and end with flour mixture). Beat for 1 more minute.
Add sprinkles and stir until distributed through batter.
Fill cupcake liners 3/4 full. Bake for 18-20 minutes, until cupcakes spring back when lightly touched and a toothpick inserted in the middle comes out clean.

Vanilla buttercream:

In a large bowl, beat butter until smooth. Add powdered sugar and beat until just incorporated. Add heavy cream and vanilla and mix until incorporated. Increase speed to high and beat for around 4-5 minutes, until frosting is light and fluffy. Pipe or spread onto cooled cupcakes.
Notes
Cupcake recipe is loosely based on Dorie Greenspan's Perfect Party Cake.
http://www.52kitchenadventures.com/2013/01/05/homemade-funfetti-cupcakes-2/
More recipes you'll love: