The second challenge of Project Food Blog is to make a classic dish from another culture that is outside your comfort zone. After considering several different ethnic foods, I settled on Greek food in honor of Russ. He is half Greek, studied Greek history in college, and would have had a very cool Greek last name if it hadn't been Americanized at Ellis Island.
In the process of researching some classic Greek dishes, I came across some fantastic desserts, including the most well-known classic, baklava. I have a vivid memory from several years ago when Russ attempted to make baklava. I was in the kitchen too and added extra honey (cause who doesn't like a little honey?) and totally ruined it, making super sticky, sweet and wet.
Since then, I've never wanted to try making it again. Which brings us to now. This certainly took me out of my comfort zone, but I was determined to make it work!
First, I toasted the walnuts by baking them at 350°F for 10 minutes until they were aromatic, which brings out their flavor. I pulsed them in the food processor till finely chopped and tossed with sugar and spices. That alone tasted great – maybe a good snack idea in the future. Layering this between buttered phyllo dough wasn't too difficult, and the syrup came together easily. I don't know where we went wrong before!
I meant to take pictures of each step, but I always get too into cooking and baking to remember to do so. Here is the finished product up close: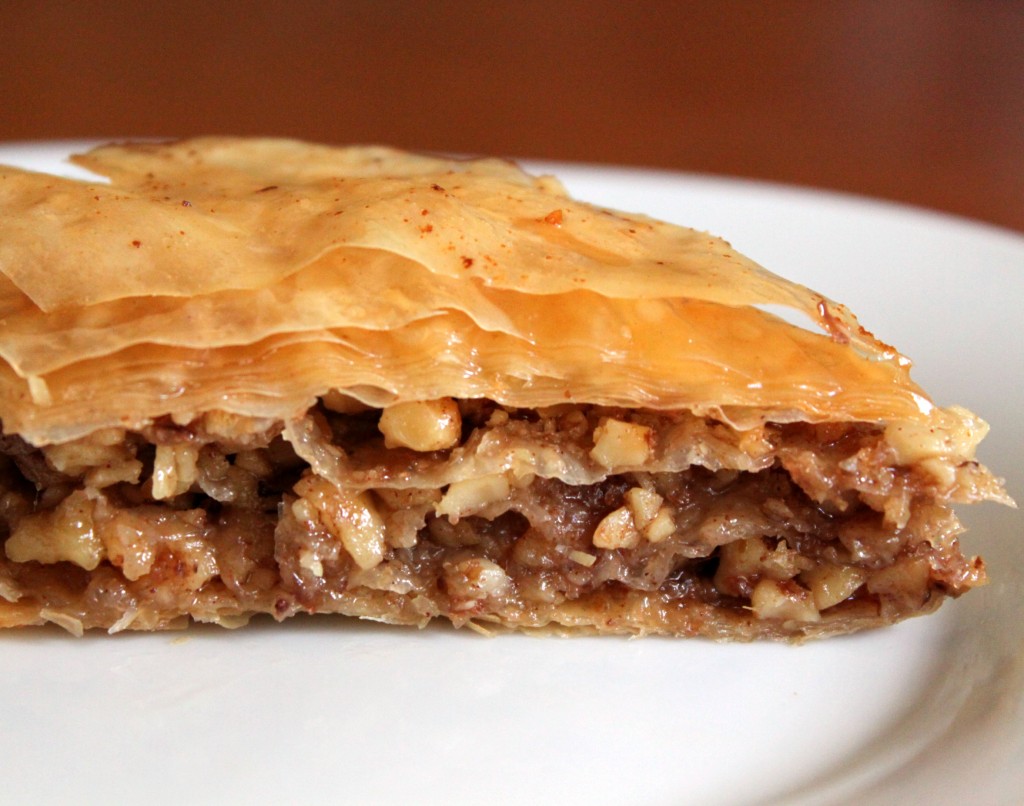 And one piece (I couldn't eat just one though!):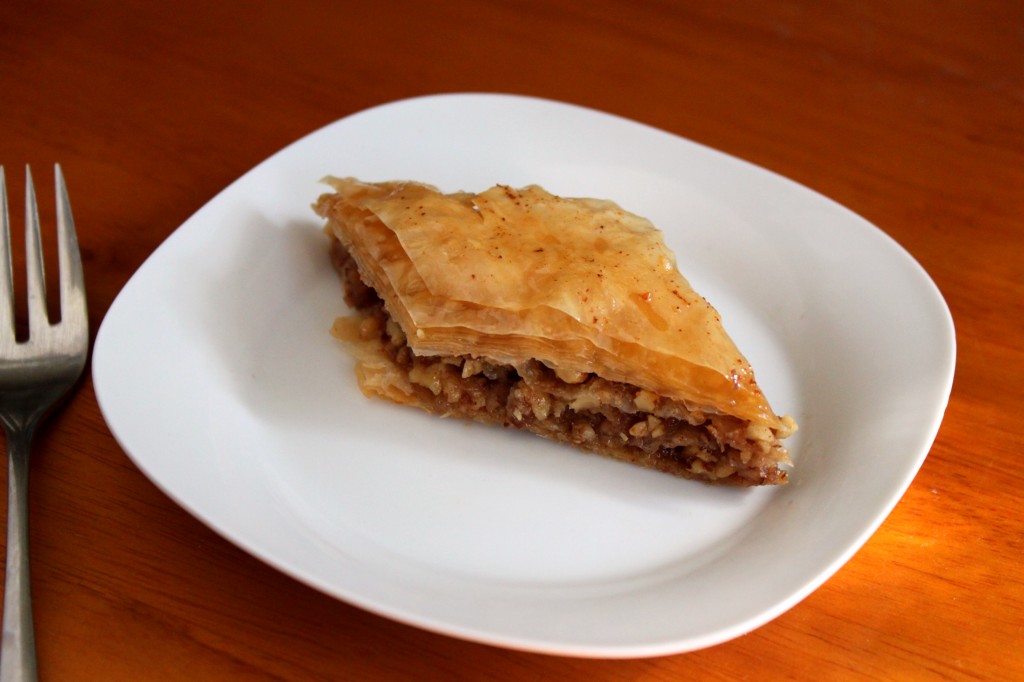 The best part was Russ' reaction. He came home just before I pulled the baklava out of the oven and said, in a surprised tone, "Wow, it smells good in here!" Once the dish was out of the oven and covered in syrup, he told me, "I'm proud of you for making baklava." Mission accomplished!
Baklava
1 lb. toasted walnuts, finely chopped
1/3 C sugar
1 t ground cinnamon
1/2 t ground cloves
1 lb. phyllo dough, thawed
1 C butter, melted
For the syrup:
1 C water
1 C sugar
1/2 C honey
2 T lemon juice
1 cinnamon stick
Lightly grease a 13″x9″ baking dish.
In a large bowl, combine finely chopped walnuts with sugar, cinnamon and cloves. Roll out phyllo dough, cut sheets in half and cover with a damp towel.
Place a sheet of phyllo into the greased pan, then brush with melted butter. Layer it with 7 more sheets, brushing butter in between each one. On top of the 8th layer of phyllo, spread a thin layer of the walnut mixture. Layer with 2 more sheets of phyllo, brushing butter in between. Repeat pattern of 1 layer of nut mixture and 2 sheets of phyllo with butter until all of the walnut mixture is used. Once it is used up, layer 8 sheets of buttered phyllo for the top.
Preheat the oven to 350°F and refrigerate the baklava in the meantime to let the butter set (making it easier to slice). Then, using a sharp knife, cut diamond shaped pieces by cutting horizontally across the long side of the pan 5 times, then cutting diagonally across the entire pan. Bake for 30-35 minutes or until lightly golden brown and the edges appear slightly crisp.
While the baklava bakes, prepare the syrup. Combine water, sugar, honey, lemon juice and cinnamon stick in small saucepan over high heat. Once it boils, reduce heat to medium low and simmer for 7-10 minutes, or slightly thickened. Remove the cinnamon stick and set aside to cool.
Once the baklava come out of the oven, evenly pour the syrup on top, getting in between all the pieces. Let cool, then serve warm or cold.
More recipes you'll love: