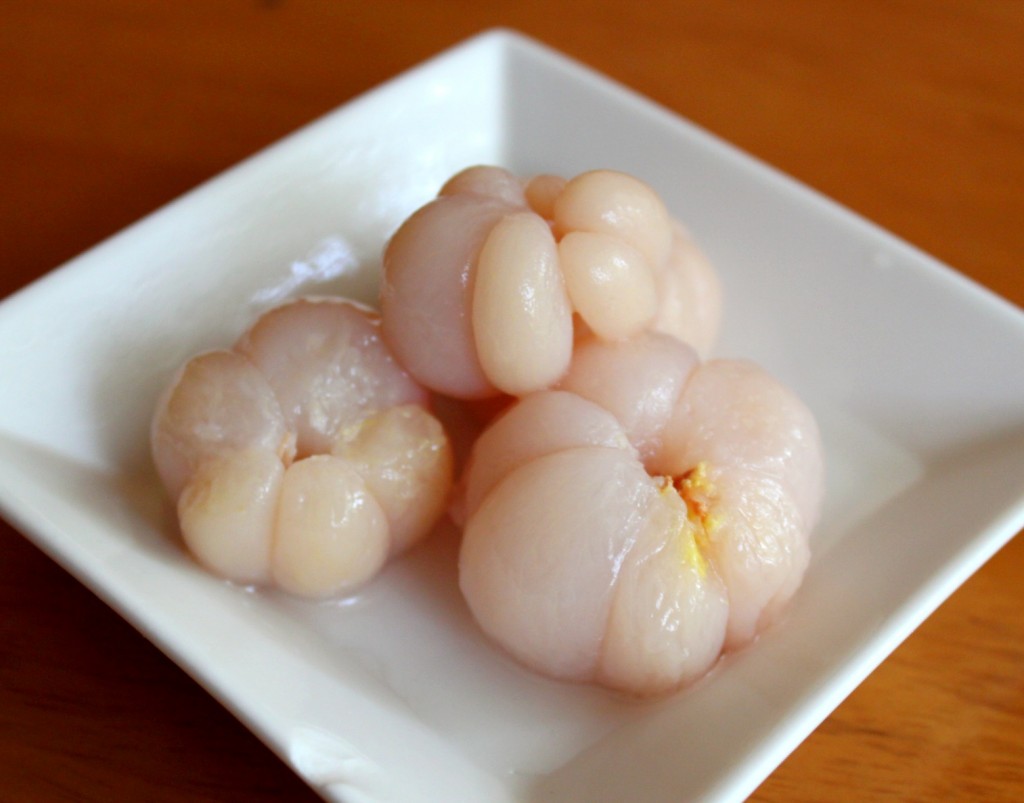 9 months ago I promised to at some point cover mangosteen. I still haven't managed to find fresh mangosteens but I did find canned mangosteen (the same company also make canned rambutan, so look out for that ingredient soon!). Above are a few of the canned mangosteens, which, by the way, have nothing to do with mango. They're more like lychees in texture, color, and taste.
Although mine came without a rind, that part is apparently purple, bitter and inedible, so you should crack it open with a knife and remove the inner fruit. The fruit's official name seems to be "purple mangosteen" but it is generally called mangosteen. The evergreen trees that bear mangosteens are notoriously difficult to grow, as they must be in consistantly warm temperatures. They grow naturally in southeast Asia, particularly in Malaysia, Thailand, Indonesia and southern India.
Historically, mangosteens were prohibited from being imported in the United States due to fear of the Asian fruit fly coming along for the trip. Since 2007, Thailand has been allowed to export them to the US using certain packing and shipping techniques. Mangosteens were sold for insanely high prices (up to $45/pound) in 2007 but cost has gone down since then. Another fun fact – supposedly Queen Victoria offered a prize for anyone who could bring an edible mangosteen back to England, leading to the nickname "Queen of Fruit."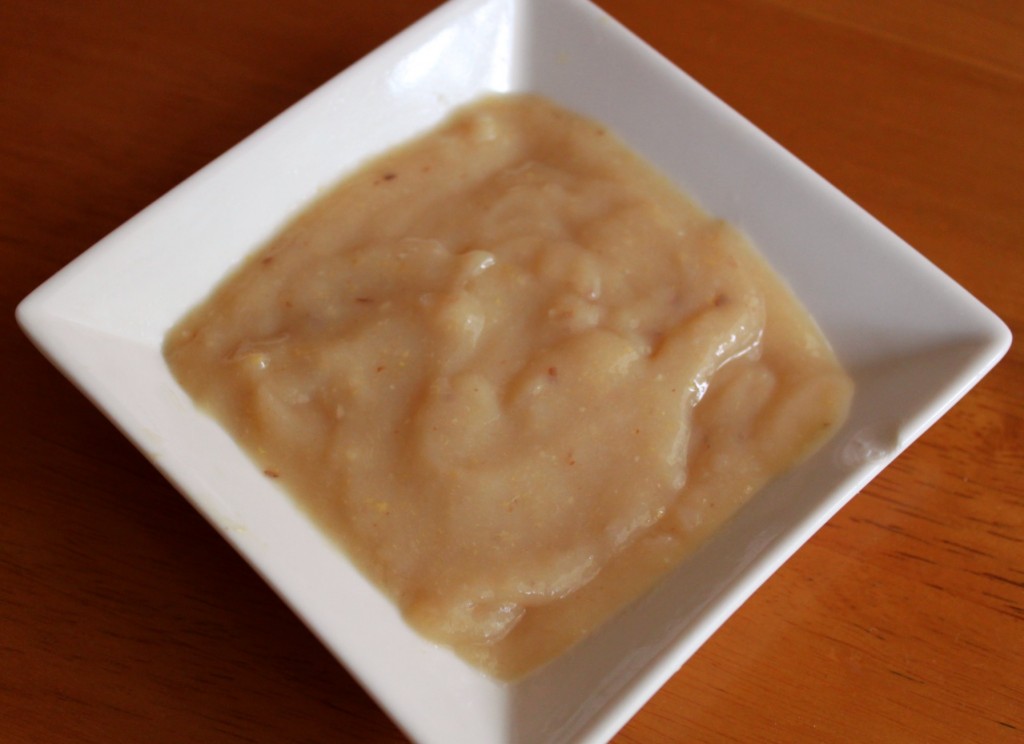 While mangosteens are delightful to eat raw -they are sweet and slightly tangy, with hints of peach and strawberry- I pureed them and added a hint of pineapple and brown sugar to make a tropical sauce that would compliment many desserts (and was good by itself too). I used the sauce over mini cheesecakes. I would also spread it over ice cream, pound cake, angel food cake or other simply flavored cakes or cupcakes.
Mangosteen and Pineapple Sauce
1 6-oz. can mangosteen, drained and seeds removed
2 T pineapple, chopped
1/2 t brown sugar
Place all ingredients in a small saucepan over medium heat. Bring to a simmer and cook for 5 minutes, stirring occasionally. Remove from heat and let cool slightly, then puree in a blender or food processor. Allow to cool completely, then serve over ice cream, cheesecake, or your favorite dessert.
More recipes you'll love: