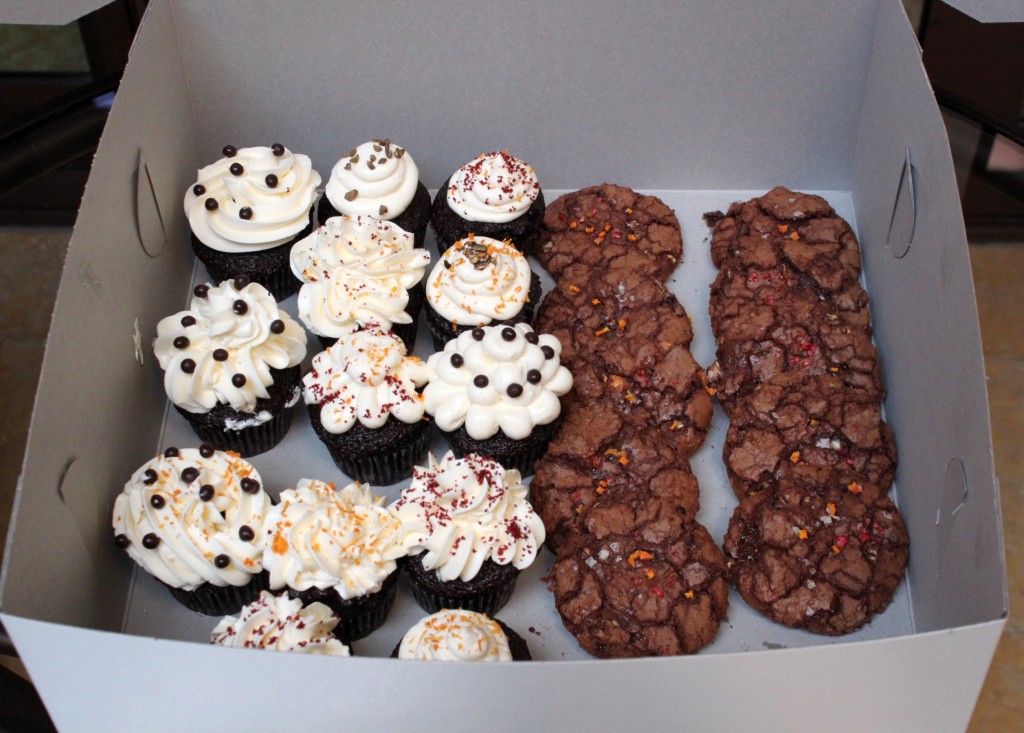 Yesterday I wrote about my experience at the Bazaar restaurant in Los Angeles. The reason we were in LA was actually because I won a hotel stay at the beautiful Montage Beverly Hills last year through a contest on Twitter! It was one of those things you enter and never dreaming of winning, so I was incredibly surprised (and excited!) when I was notified that I won.
Somehow I stayed at Montage for 2 nights without taking a single picture of our room or the hotel, but I can say it was definitely one of the nicest hotels that I've experienced. In our deluxe king room there were 2 flat-screen TVs (one embedded in the wall above the marble bathtub, natch), a sofa, a lovely patio with table and chairs, and the most important thing (and my absolute favorite): the world's most comfortable bed. It was soft and luxurious, with plush pillows and comforter.
On top of staying at this wonderful hotel for free (did I mention it has an amazing spa and a rooftop pool?), I was also given a one-on-one pastry lesson with their executive pastry chef, Richard Ruskell. If you watch Food Network, odds are you've seen him competing on one of their Food Network Challenges – in fact, he is the reigning champion, with the most wins in the show's history! Beyond being a Food Network fan, as an avid baker I was really excited for the opportunity. I had no idea what to expect until I arrived, and after settling into the room I heard a knock on the door. I opened it to reveal this amazing chocolate sculpture (yes, the entire thing except the marble base is chocolate!):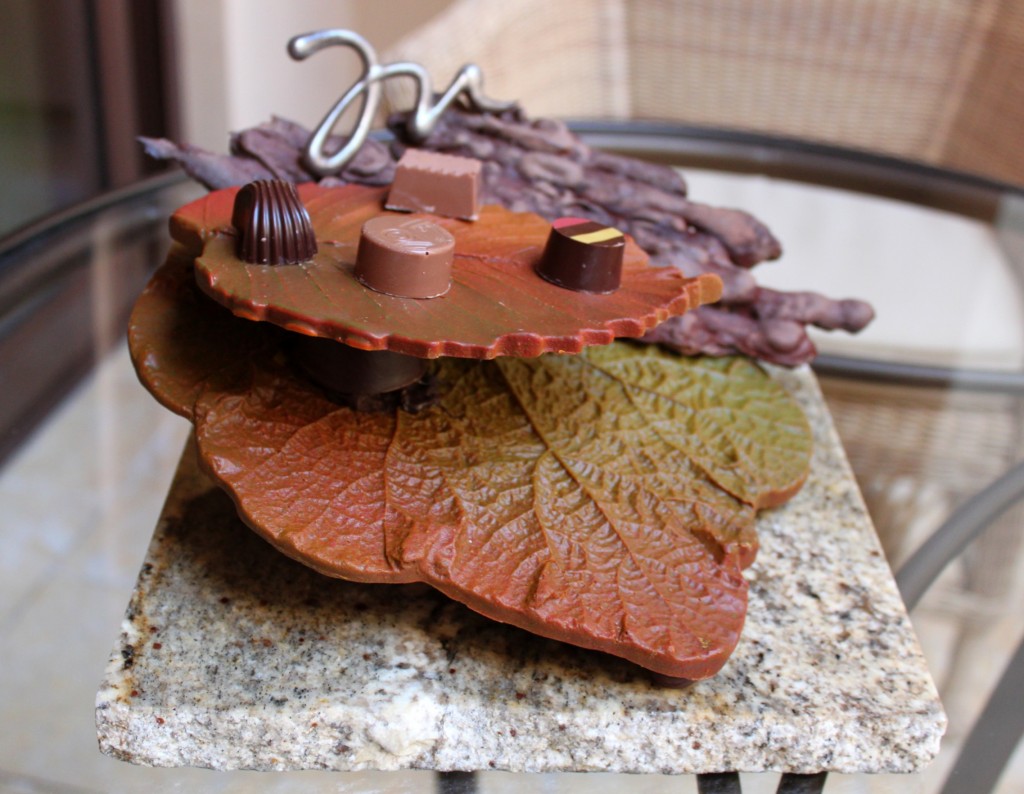 Isn't it beautiful? The truffles on top were rich and decadent bites, and I also tried a nibble of one of the leaves, which was actually really good as well.  It was accompanied by 2 welcoming cards from a PR rep for the hotel and the chef, who gave me 2 clues about our baking class: we would be making cookies and decorating cupcakes. 2 things right up my alley!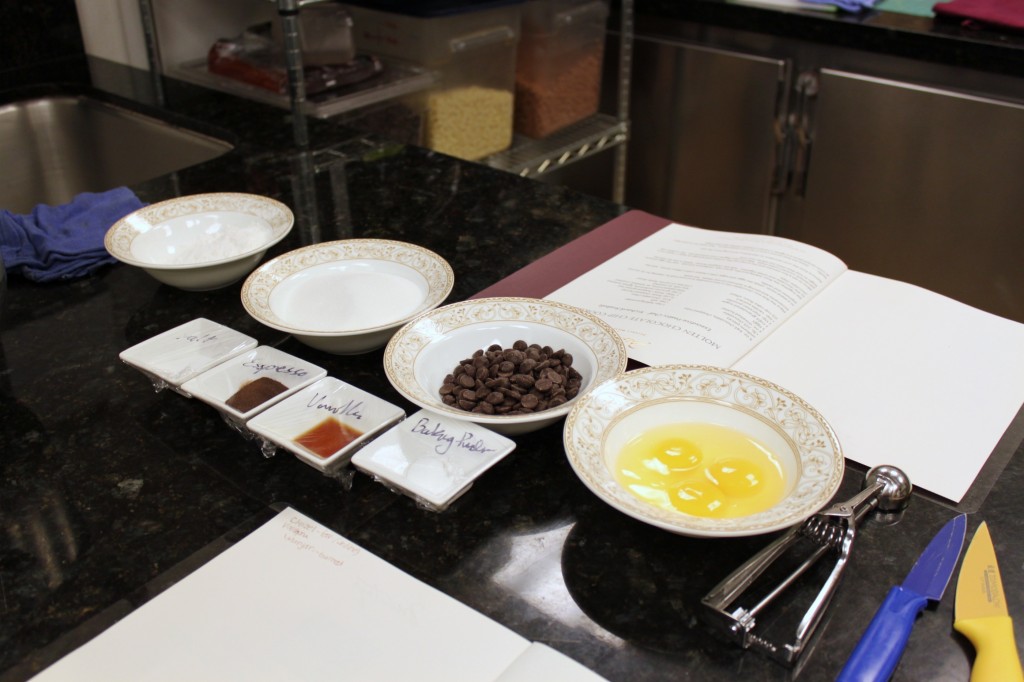 The next morning I was taken to the "chocolate room," a small room adjacent to the kitchen of the hotel's Italian restaurant, Scarpetta. Everything had been measured and set out already, as you can see above. I chatted with the chef for a while and he told me a bit about how it works behind the scenes at a Food Network Challenge. His record win came last August in the Ultimate Cookie Clash. He admitted that he thought a cookie challenge would be easy compared to the more common cake challenges, which involve baking huge, ornate cakes that fit a specific theme. It turns out, he was wrong.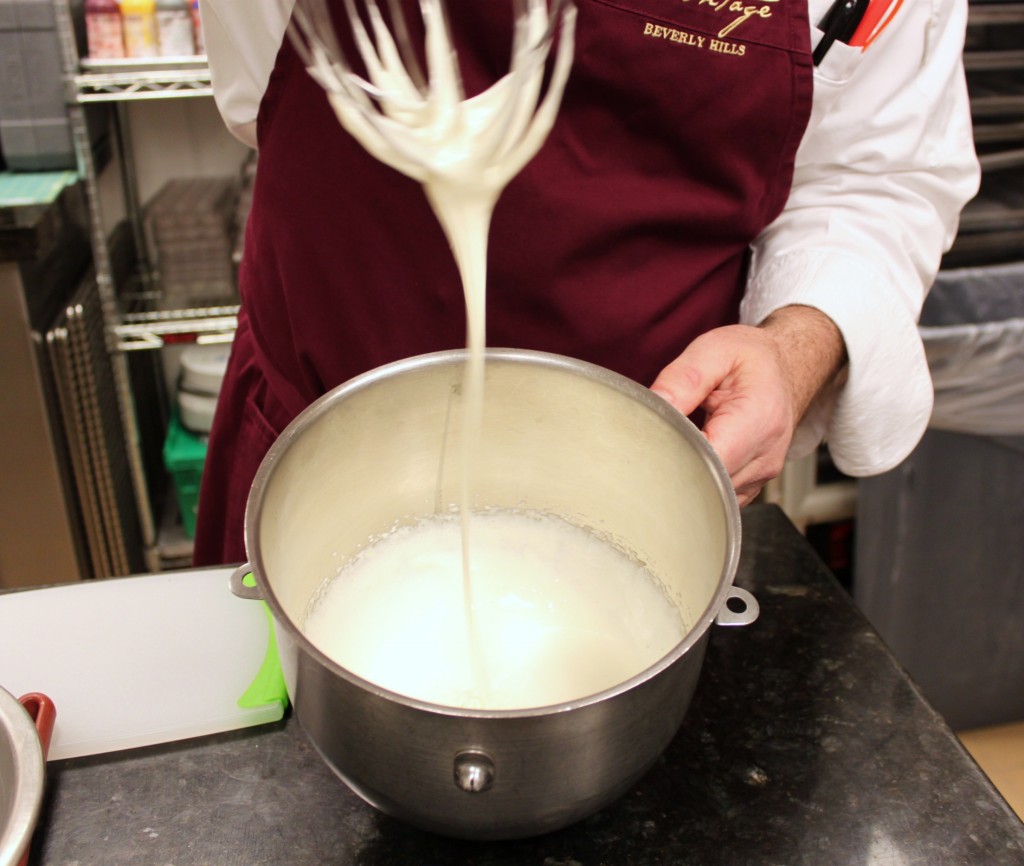 The competition consisted of 3 rounds, each with their own last-minute surprise. The first round the contestants were able to use recipes they had submitted before the show, with one big twist: incorporate as many mystery ingredients as possible. The basket of odd-ball ingredients included fennel, pink peppercorns, green tea, cardamom, carrots, sea salt, among others. He was able to use all the ingredients I just listed and still make the cookie taste good (another challenge: only 45 minutes for each round, so no way to try something out and start over again). To read a little more about the other two rounds, check out Montage's press release on his win here.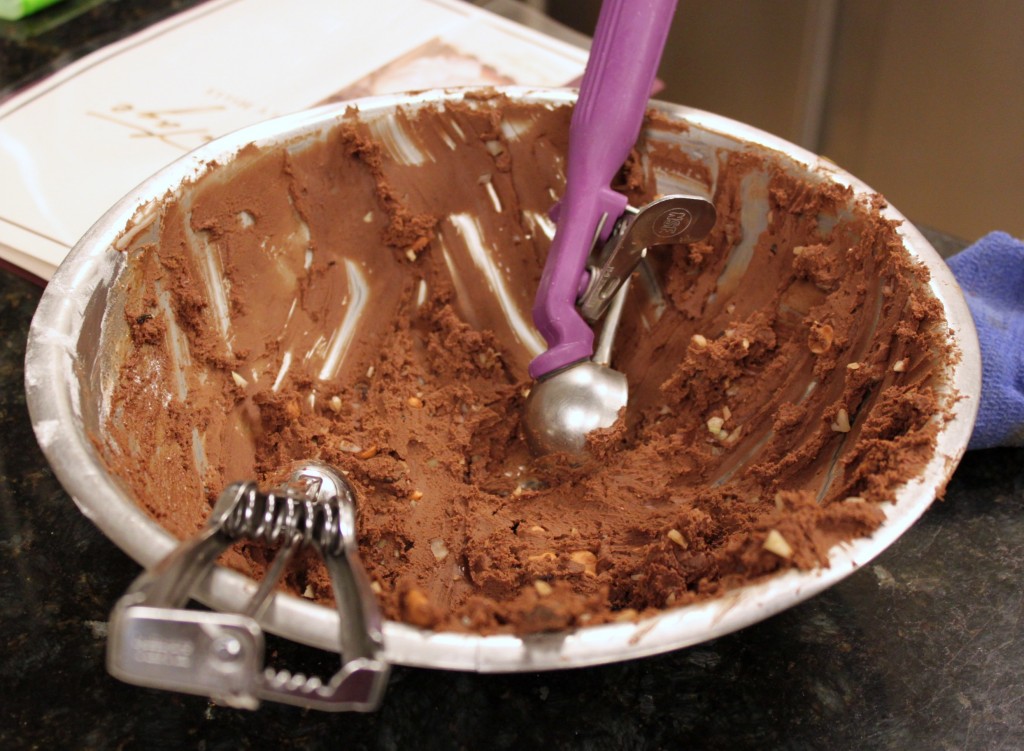 To celebrate the record win, the hotel hosted the contest that I ended up winning. To tie it all together, I got to make one of the record-breaking cookies, as well as decorate the hotel's most popular cupcake flavor. The cookies were molten chocolate chip, which are extremely versatile and a great base for adding different toppings and flavors. While with the added unusual ingredients from the contest the cookie tastes great, you can remove them (and add in other favorites, like butterscotch chips, nuts, etc.) and either way have a wonderful cookie.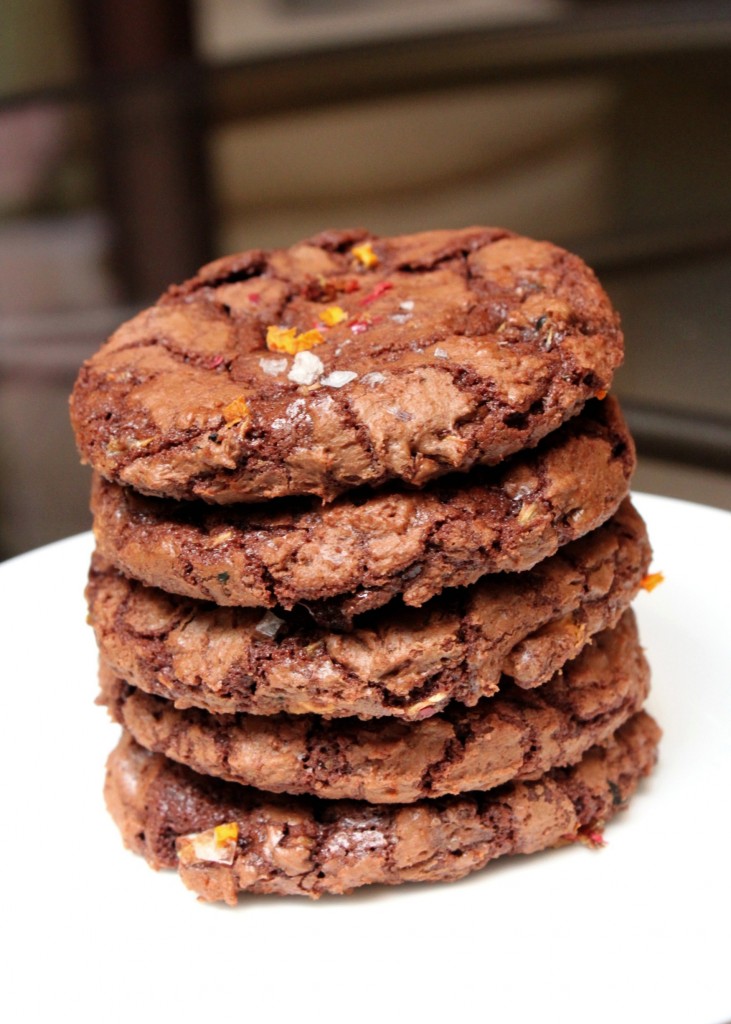 There is very little flour in the cookie dough, which leads to a cracked cookie with an incredibly moist texture and molten chocolate flavor. As you can see, the carrot, pink peppercorn and salt were used as colorful garnish, while the fennel, green tea and cardamom are inside the cookie dough.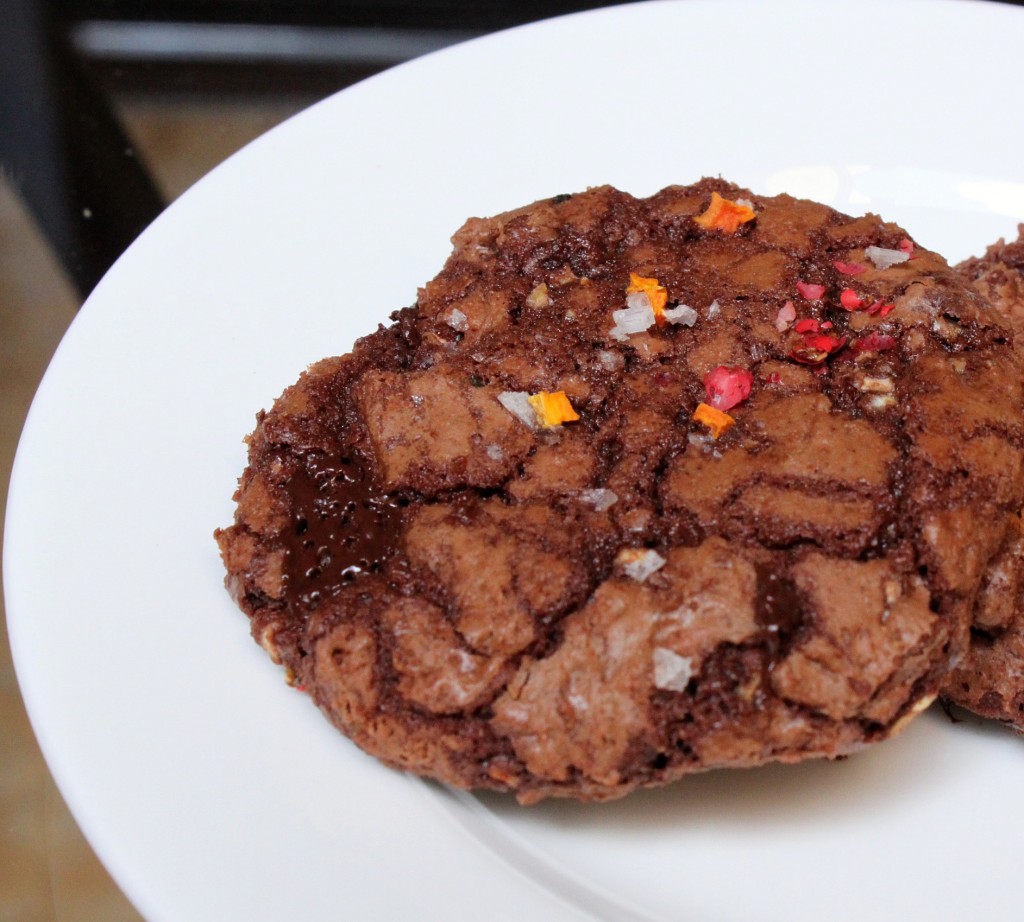 Once the cookies were in the oven, we moved on to the next task: decorate mini black bottom cupcakes with an Italian meringue buttercream. I had never combined meringue with buttercream, but apparently this stabilizes the frosting. I was left to decorate them however I wanted with a star tip and a round tip.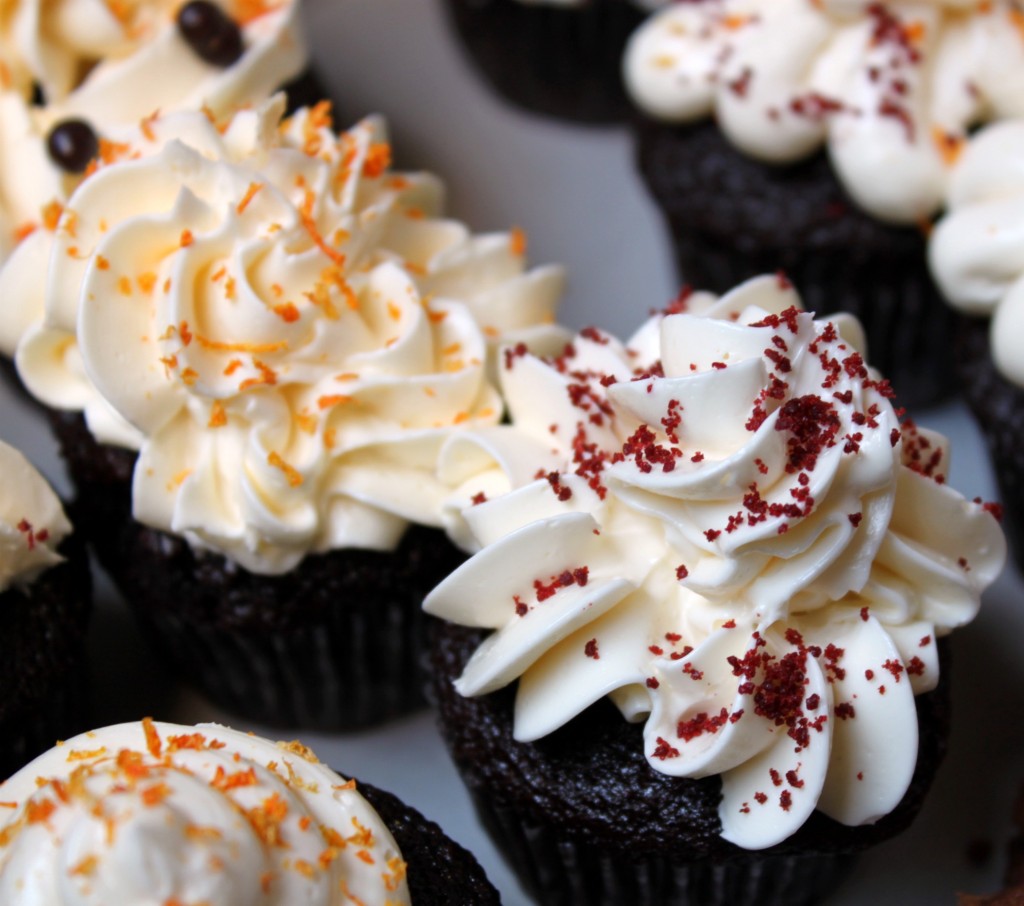 I was also given lots of interesting and fun garnishes to further decorate the cupcakes: dried red velvet crumbs, zested and dried orange peel, chocolate covered rice balls, and cocoa nibs coated in gold dust.
Overall, it was a fun and informative class. Richard was kind and easy to talk to, and answered my questions about being a pastry chef and working in a professional kitchen. If you want to see him in action, tune into Food Nework for Last Cake Standing on April 3rd!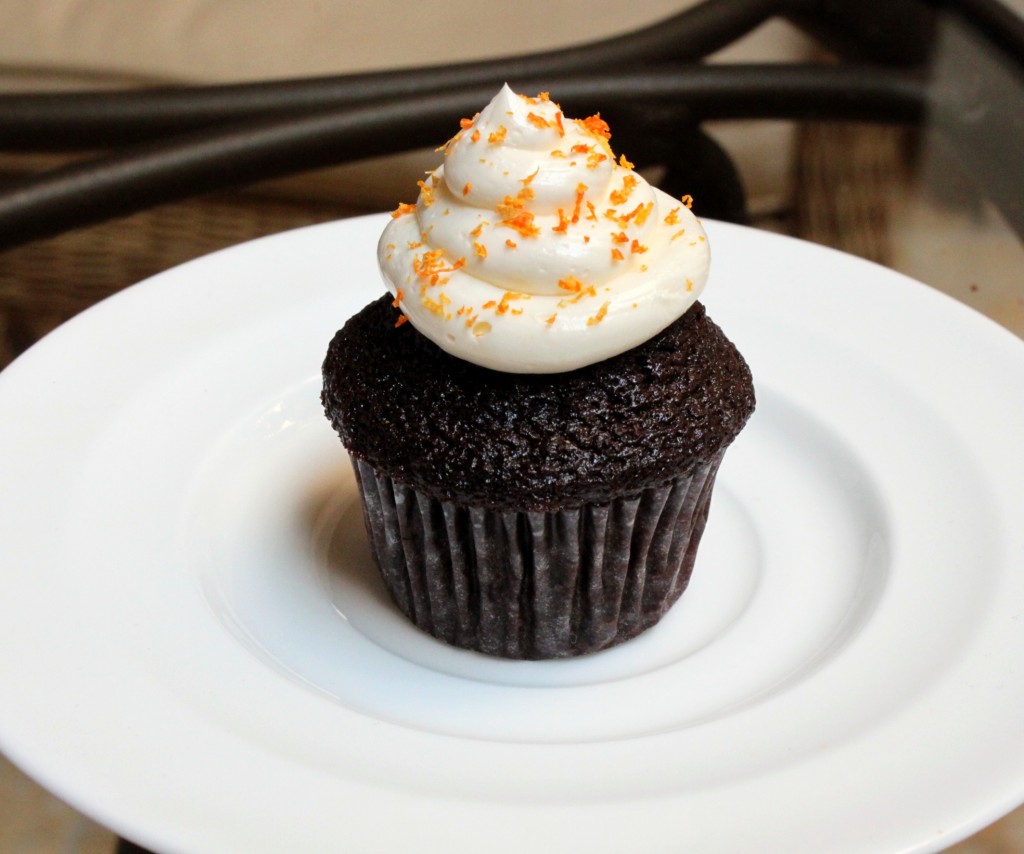 Recipe:
Molten Chocolate Chip Cookies
Recipe by Richard Ruskell, Executive Pastry Chef at Montage Beverly Hills
6 oz. 64% chocolate, chopped into uniform pieces
1 lb. 72% chocolate
3 oz. unsalted butter
5 eggs
2 C granulated sugar
2 t espresso powder
1 t vanilla extract
2/3 C cake flour, sifted
2 t baking powder
1 t salt
8 oz chocolate chips
1/4 C finely chopped fennel (optional)
2 T finely chopped green tea (optional)
1/2 t ground cardamom, lightly toasted (optional)
Pink peppercorns as needed, crushed (optional)
Sea salt, as needed (optional)
2 inches of carrot, finely diced (optional)
Place the first two chocolate and the butter into a microwaveable bowl and melt by zapping for 30 second increments and stirring in between power blasts. Set aside.
In a stand mixer, whisk the eggs and sugar with a beater until a ribbon forms. Add the espresso and vanilla.
Stir together the flour, baking powder, green tea, cardamom and salt. Add the egg mixture to the chocolate and whisk together. Add the chopped fennel. Whisk in the dry and the chocolate chips.
Allow to set for a few minutes and scoop out the cookies and arrange at least 2″ apart on a parchment covered cookie sheet. Sprinkle pink peppercorns, sea salt and carroton top. Bake in a 350 degree oven until just set. The cookies will begin to lose their shine but will still be very soft.
Remove from the oven and allow to rest before removing from the pan. They will keep for several days at room temperature in an air-tight container. The cookies are best served warm or at room temperature.
More recipes you'll love: