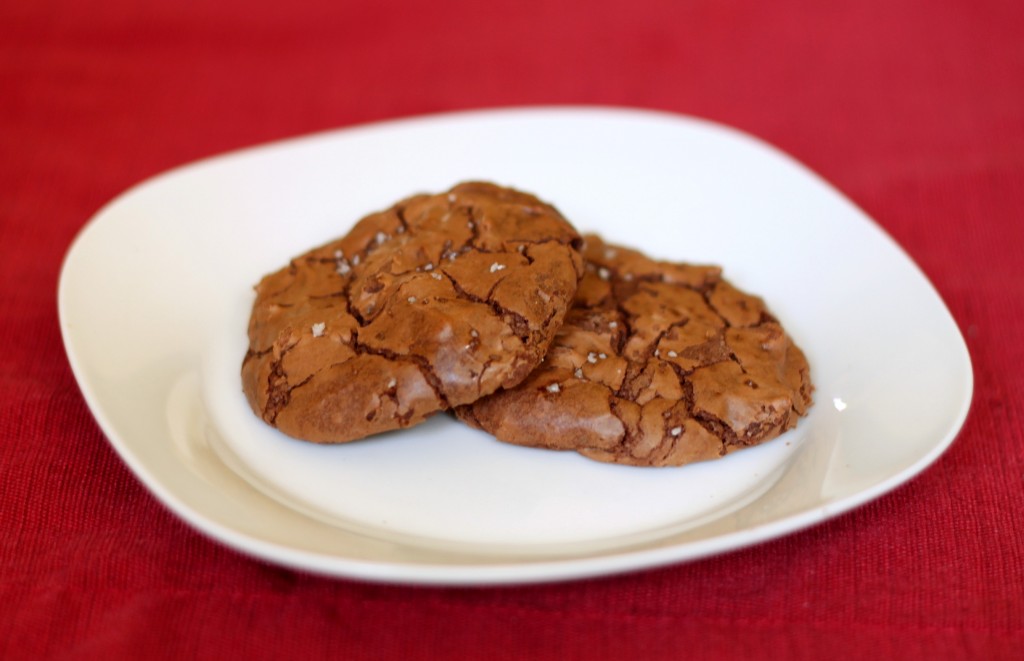 I received a request to make a gluten-free version of Richard Ruskell's Food Network Challenge molten chocolate chip cookies. The recipe only contains a small amount of flour, so it seemed pretty simple. I swapped it out for Bob's Red Mill gluten-free all-purpose baking flour (a combination of garbanzo bean flour, potato starch, tapioca flour, white sorghum flour and fava bean flour), added a little xanthan gum, and ta-da! gluten-free molten chocolate cookies.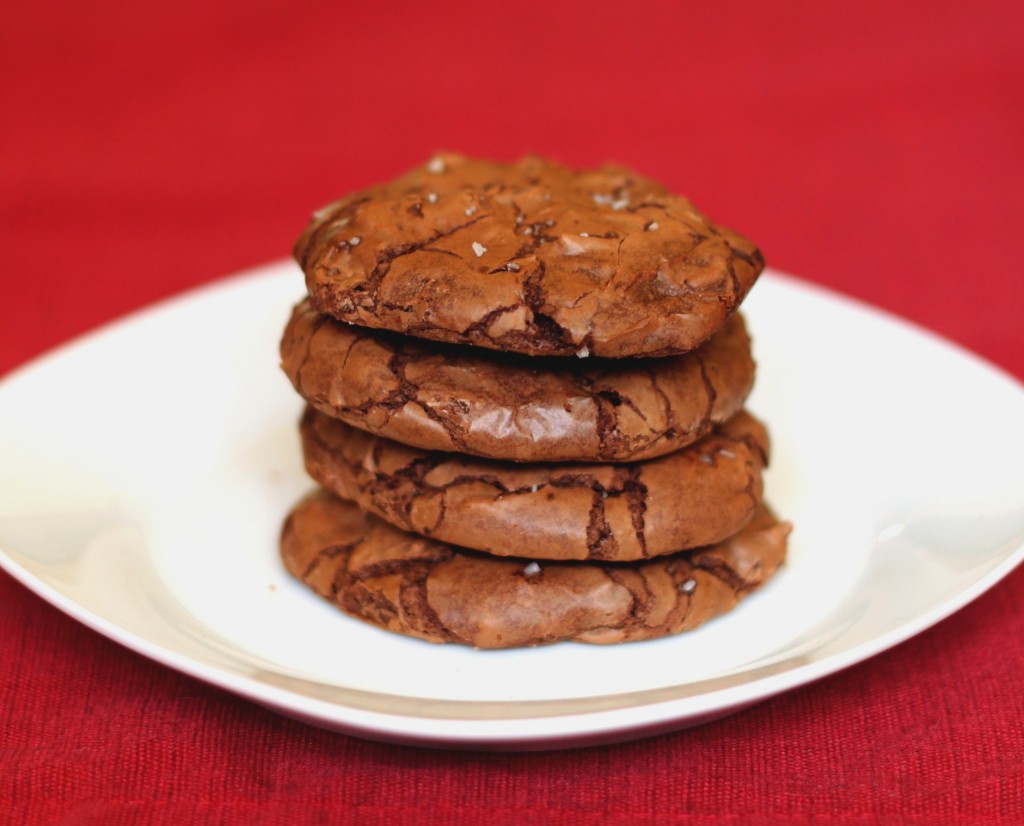 These cookies are so rich and insanely chocolatey. I omitted all the extraneous ingredients the original recipe (unusual ingredients like fennel were added as part of the Food Network Challenge), and didn't miss them too much. I simply finished the cookies with a sprinkle of fleur de sel, and enjoyed the extreme chocolate-ness of them with a bit of saltiness to compliment the sweetness.
Recipe:
Gluten-Free Molten Chocolate Chip Cookies
Adapted from recipe by Richard Ruskell, Executive Pastry Chef at Montage Beverly Hills
Makes 2 dozen cookies
4 oz. 64% chocolate, chopped
7 oz. 72% chocolate, chopped
1.5 oz. unsalted butter
3 eggs
1 C granulated sugar
1 t instant coffee or espresso powder
1/2 t vanilla extract
1/3 C gluten-free all-purpose baking flour, sifted (I used Bob's Red Mill)
1/8 t xanthan gum
1 t baking powder
1/2 t salt
4 oz. chocolate chips
Fleur de sel, as needed (optional)
Preheat oven to  350°F. Melt both types of chocolate and butter in the microwave or on a double boiler on the stove, then set aside.
With an electric mixer, whisk the eggs and sugar until a ribbon forms. Mix in instant coffee and vanilla.
Stir together the flour, xanthan gum, baking powder and salt. Whisk together the melted chocolate and the egg mixture. Stir in the flour mixture and the chocolate chips.
Allow batter to set for a few minutes. In the meantime, line a baking sheet with parchment paper. Scoop cookie dough by the tablespoon and arrange 2″ apart on prepared sheet. Sprinkle with fleur de sel.
Bake for around 10 minutes (cookies will lose shine and then cracks will appear all over the surface). Remove from the oven and allow to rest before removing from the sheet.
Store cookies in an air-tight container at room temperature for several days. Serve at room temperature or warmed up.