Happy April! I'm excited to kick off the month with a giveaway and a fun recipe for homemade funfetti cupcakes. This month I'm challenging myself to make as many homemade versions of typically storebought items as I can, and I'm starting with this classic cake mix. Other potential projects: homemade condiments like ketchup and mayo, Nutella, Hostess cupcakes…the list can go on! (Any other ideas or requests? Email me please!)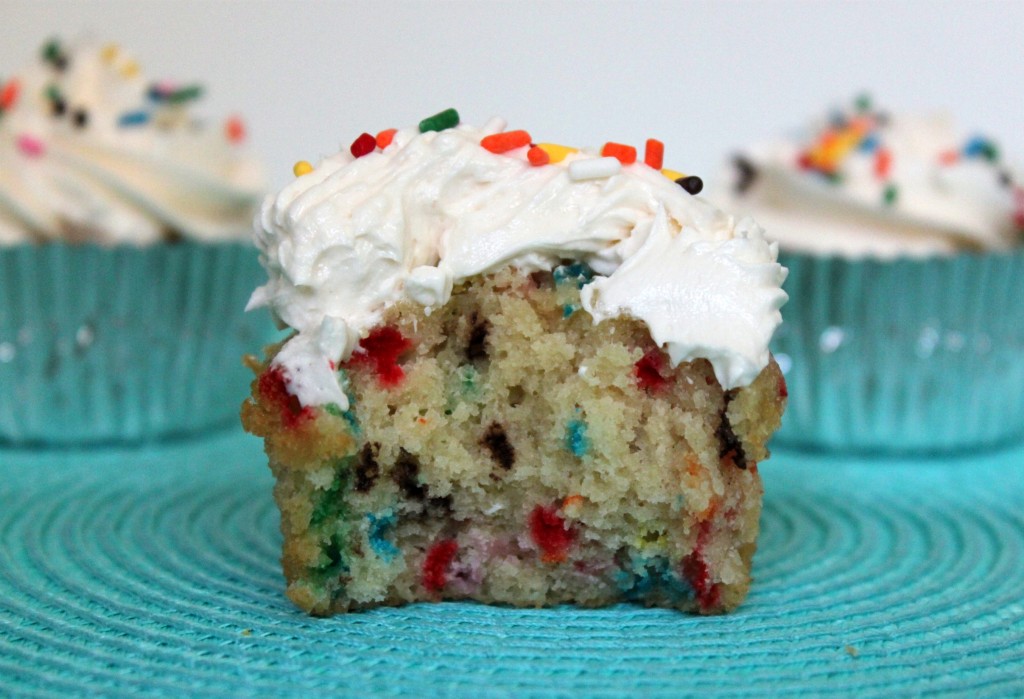 I've actually made funfetti cupcakes once before, but I thought I would try again and tweak the recipe a little to make it my own. Go to the bottom of the post for the recipe. If you want to decorate your own cupcakes like mine, keep on reading…
There have been some exciting developments over at 52 Kitchen Adventures recently. The site look has changed (if you read this via RSS feed, go check it out), plus the blog has joined Sacramento Connect and Facebook. To celebrate, I bought some cupcake decorating accessories over at Bake It Pretty to share with you all: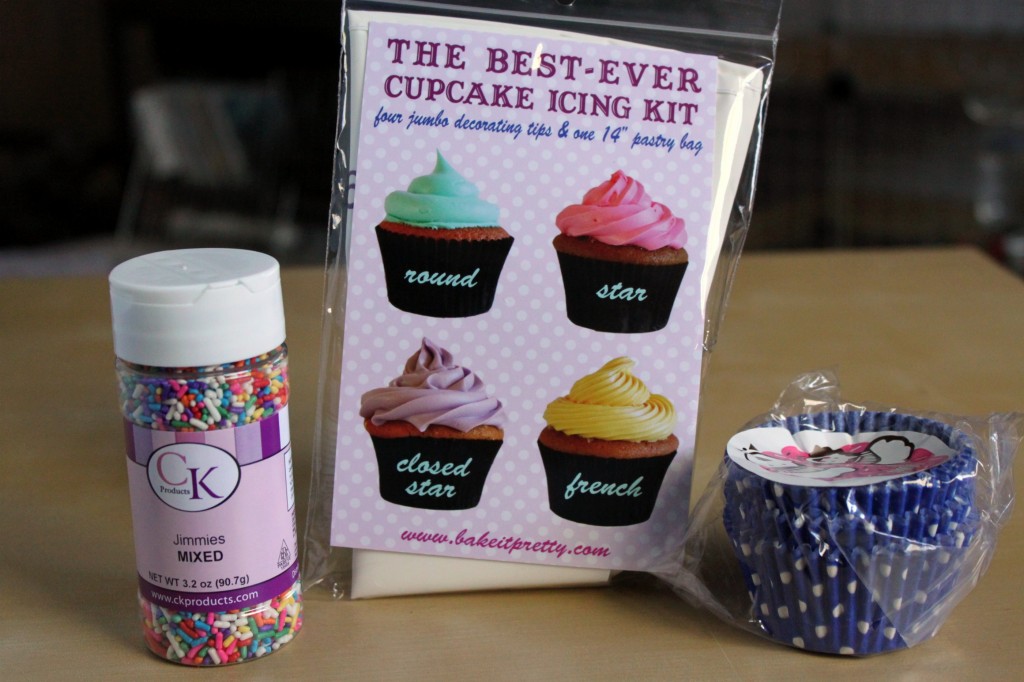 1. The Best-Ever Cupcake Icing Kit, which includes:
4 jumbo decorating tips: round, star, closed star and French

A bonus flamingo cupcake topper
2. Blue polka dot baking cups
3. A bottle of colorful sprinkles so you can make your own homemade funfetti cupcakes
Put it all together, add some butter and sugar and you'll be all set to decorate some cupcakes! I have lots of cupcake recipes if you need any inspiration.
To enter the giveaway:
Become a fan of ("like") 52 Kitchen Adventures on Facebook (already a fan? suggest the page to friends who may be interested) and leave a comment on this post telling me that you've done so.
Extra entries:
Additional entries can be earned by doing any of the following and leaving a separate comment for each completed item.
1. Follow KitchAdventures on Twitter and tweet the following: I just entered the #giveaway for a cupcake decorating kit from @KitchAdventures! Enter here: http://tinyurl.com/4v5jcun
2. Subscribe to 52 Kitchen Adventures via RSS or email (if you're already a subscriber, that counts too!)
3. Write about this giveaway on your blog
The small print:
All entries must be received by midnight EST on Tuesday, April 5th. I will use a random number generator to select the winner and announce on Wednesday. Also, I will ship internationally, so anyone can enter.
Good luck and thanks for entering!
Recipe:
Homemade Funfetti Cupcakes
Adapted from CakeSpy
Makes around 10-12 cupcakes
For the cupcakes:
1 1/4 C all purpose flour
1 1/2 t baking powder
1/4 t salt
3/4 C sugar
6 T unsalted butter, room temperature
1 large egg plus 1 egg white, room temperature
1 t vanilla extract
1/2 C milk
1/8 C rainbow jimmies
For the frosting:
 1/2 stick unsalted butter, room temperature
1 t vanilla extract
2 C powdered sugar, sifted
1-2 T milk
More sprinkles for decorating
To make the cupcakes:
Preheat oven to  350° F. Line muffin tin with paper liners.
In a medium bowl, sift together the flour, baking powder and salt.
In a separate bowl with an electric mixer, beat the sugar and butter until well combined. Add the egg and egg white, one at at time, mixing thoroughly in between. Mix in vanilla.  Beat in flour mixture in 3 additions, alternating with milk, beginning and ending with flour. Fold in rainbow jimmies, then fill cupcake liners with 1/4 cup batter (they should be 1/2 – 2/3 full). Bake for 15-18 minutes or until a  toothpick inserted in the middle comes out clean. Let cool completely before frosting.
To make the buttercream frosting:
With an electric mixer, beat the butter for 2-3 minutes, until smooth and creamy. Add in the vanilla extract. Gradually mix in the powdered sugar on low speed. Add in 1 tablespoon of milk and increase speed to high. Beat for 2-3 more minutes, until frosting is light and fluffy. Add more milk or powdered sugar, if needed, to achieve desired consistency. Spread or pipe onto cooled cupcakes, then garnish with sprinkles.
More recipes you'll love: