Edited to add: I made these chocolate cupcakes with a Nutella buttercream. If you love Nutella, you have to check them out!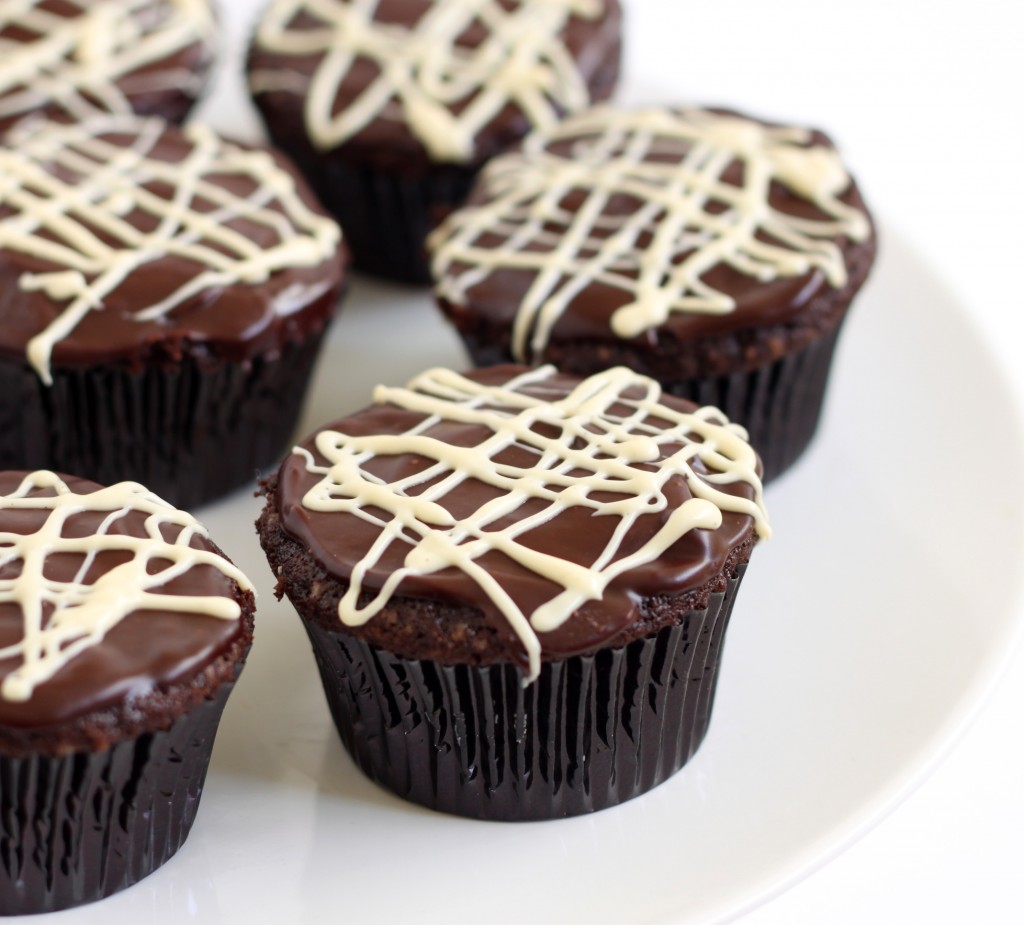 …I think the title says it all. These cupcakes actually live up to their lofty name. The cake part is really moist with a strong chocolate flavor, and topping them with dark chocolate ganache and a drizzle of white chocolate simply puts them over the top.
Stef over at Cupcake Project actually added mini chocolate chips to the batter and then filled the cupcakes with chocolate mousse (which sounds amazing) but even without those added chocolate layers, these were definitely quite decadent and rich chocolate cupcakes. Next time your favorite chocoholic has a birthday or some other special occasion I recommend making these!
Recipe:
"Better Than Sex" Chocolate Cupcake
Makes 15-16 cupcakes
Edited to add: some people rave about this recipe, yet some have issues with them deflating. I can't figure out what the issue is, so I'm on the hunt for the ultimate chocolate cupcake recipe to replace this one. 
1/2 C butter, room temperature
1 1/4 C sugar
2 large eggs, room temperature
3/4 C flour
1/2 t baking powder
1/4 t baking soda
1/4 t salt
1/2 C unsweetened cocoa powder
1/2 C milk
1 t vanilla
Preheat oven to 350°F.
In a mixing bowl, beat butter until softened and smooth. Add sugar and beat for a few minutes, until light and fluffy. Add eggs one at a time, beating after each until well combined.
In a small bowl, combine flour, baking powder, baking soda, salt and cocoa powder. In a separate small bowl, combine milk and vanilla.
Add about 1/3 of dry ingredients to butter and sugar and mix until combined. Add about 1/2 of wet ingredients to mixture and mix until combined. Continue alternating dry and wet, mixing in between (finish with the remaining dry ingredients).
Fill cupcake tins about 1/2 full (don't overfill – you only need 1/2) and bake for around 20-25 minutes, until a toothpick inserted in center comes out clean. Also don't worry – these will come out flat, but that's perfect for smoothing on a layer of ganache.
Dark Chocolate Ganache
3.5 oz of dark chocolate
1/3 C heavy cream
Break chocolate into small pieces and place in small glass bowl. Heat cream in a small saucepan until it just starts to boil. Pour over chocolate and whisk until all the the chocolate is melted. Spread a thin layer over the cupcakes while the ganache is still warm.
White Chocolate Drizzle
Melt chocolate in microwave or on the stove, stirring frequently. Pour into a plastic sandwich bag or pastry bag. Cut a very small hole in the tip of the bag and slowly pour over harden ganache – get creative with it!