FAGE Total and the the Foodbuzz Featured Publisher program invited a selection of bloggers to create blog posts regarding how Greek cuisine and FAGE Total Yogurt represent the Greek concept of "good living" and contribute to a positive, healthy life. One of the posts will be chosen for an amazing trip to Greece – and you can enter, too! See the end of this post to find out how you can win a trip.
For more than a thousand years, the Greeks have had a tradition of "good living," which combines good food and fine taste to create a healthy and happy life. I can relate – I strive to live my life in a similar fashion, although I never actually labeled my lifestyle until now.
FAGE Total is a great representation of this concept. Greek yogurt is strained much more than regular yogurt, so you end up with unbelievably creamy and thick yogurt. It's decadent, yet still healthy, as it's low in calories, extremely high in protein and has live active cultures. Plus, FAGE Total goes the extra mile to really reach my standard of good food by using 100% natural ingredients (with no added sweeteners, thickeners or preservatives and no powdered milk, powdered cream or powdered protein).
To me, good food and fine taste doesn't have to mean fancy or expensive. Rather, I think that eating fresh, whole foods will lead you to a healthy, positive life. The ultimate way of seeking out good food is your local farmer's market. I'm lucky enough to live in Northern California, where we have year-round markets filled with local produce and meats. By buying local, you get food at its freshest, when it's in season and picked when it's ripe. When ingredients are at their best, the food you make with them will taste even better.
To explore the Greek idea of good living, I visited my farmer's market in search of ingredients to make a Greek inspired meal.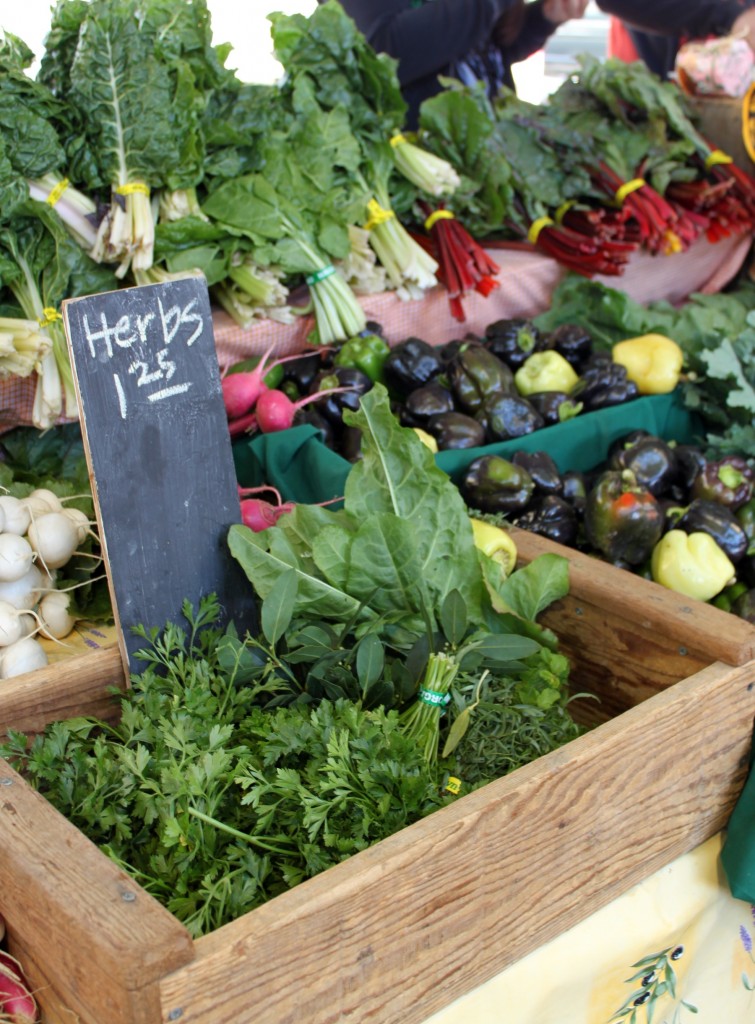 Despite the fact that it was mid-November when these photos were taken, there were still some summer fruits (I got some strawberries and tomatoes) and vegetables (eggplants among others). (Like I said, I'm lucky here in Northern California!) I got almost all the ingredients I needed for a Greek salad, eggplant and tomato entree, and strawberry mint Greek yogurt pops. To fill in the gaps on my shopping list, I went to my local food co-op and got the remaining ingredients, also mainly from local farms.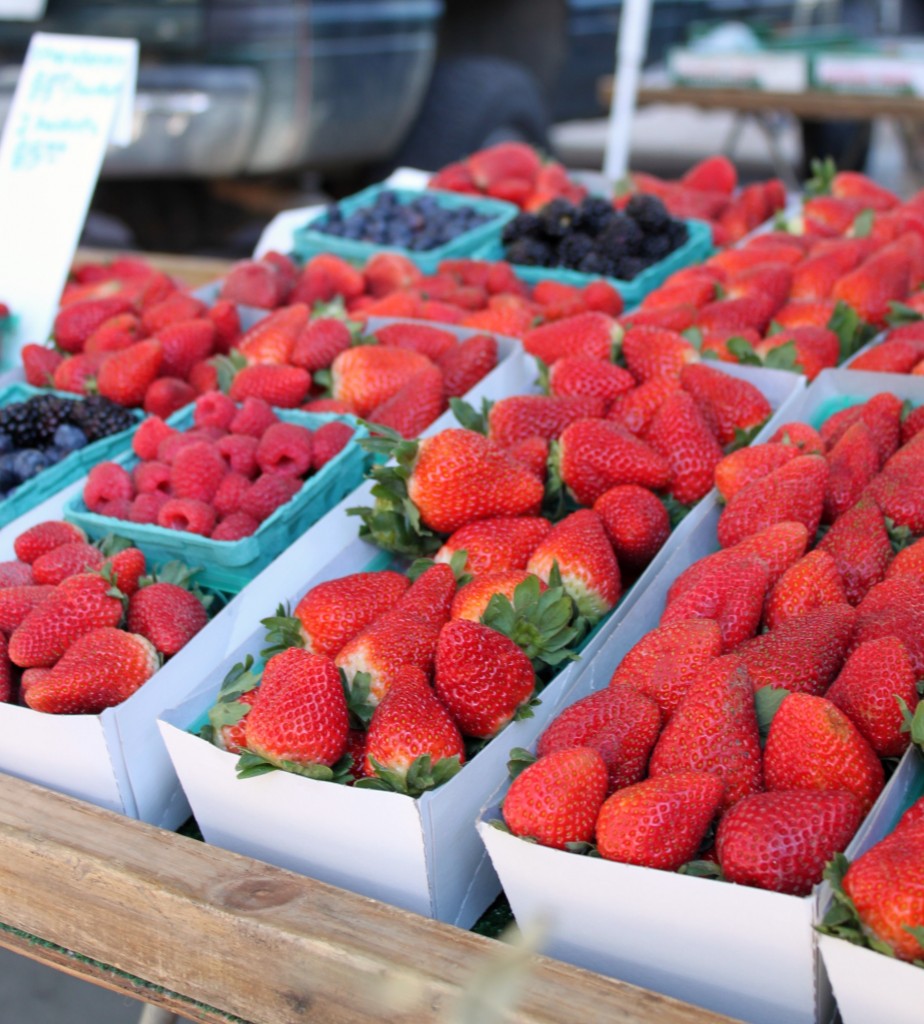 The first thing that I noticed was that, without intentionally planning it, the Greek inspired meal that I created was completely vegetarian and chock-full of fresh vegetables and fruits. No wonder a recent study linked the Greek diet to living a longer life. The next thing I noticed was how delicious everything was -with fresh flavors, vibrant colors, different textures- if this isn't good living, I don't know what is!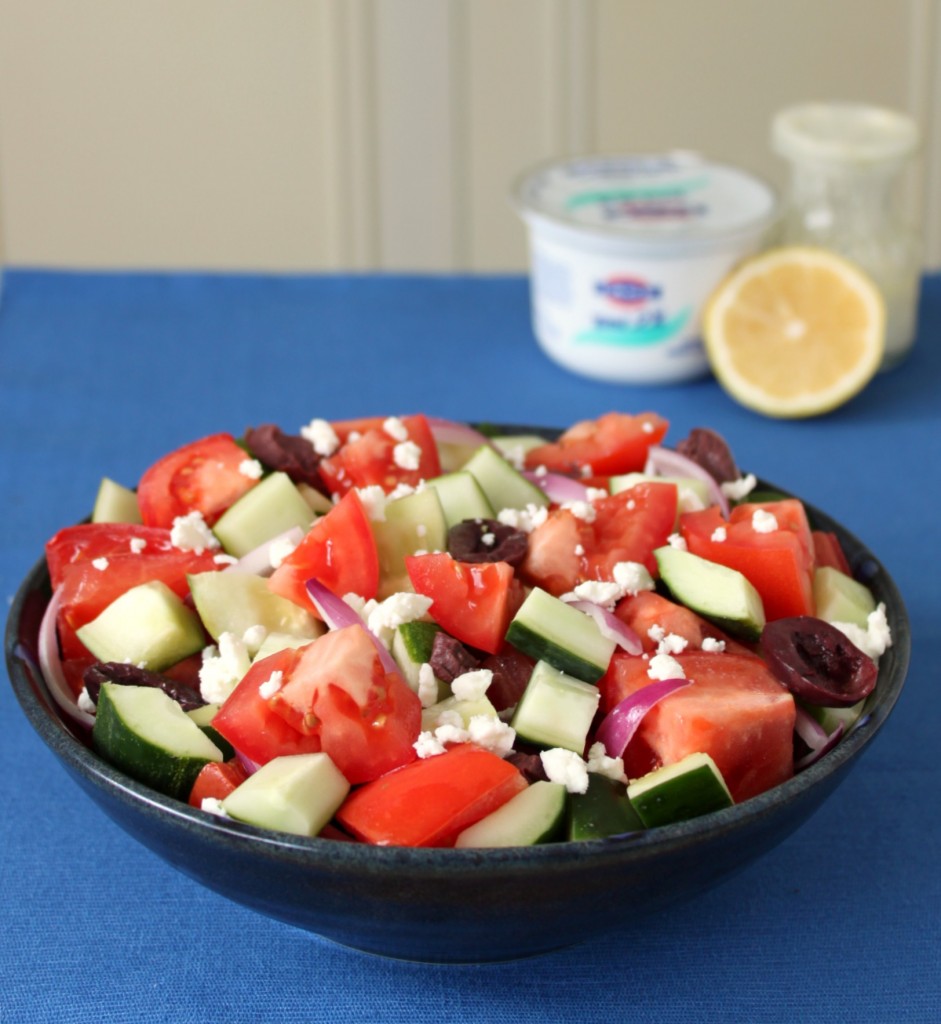 First course: a Greek salad with cucumbers, tomatoes, red onion, Kalamata olives and feta cheese. I love that this salad doesn't have greens in it and is instead full of big pieces of fresh produce. The olives and cheese sprinkled on top provide a nice hint of saltiness and another layer of flavor.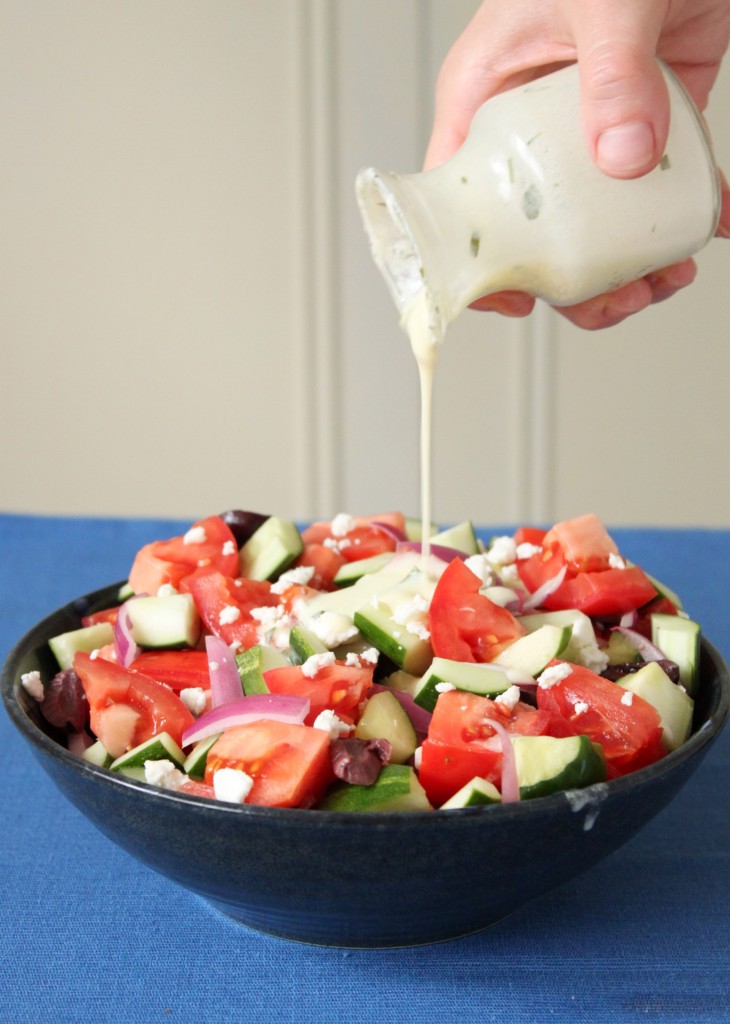 For the dressing, I used plain FAGE Total as a base. I wanted to integrate it into the meal, since I've never actually cooked with it before. I love Greek yogurt, but I've always just eaten it out of the container as a snack or for lunch. I created an easy lemon yogurt dressing with plain FAGE Total 2%. It's very creamy, with notes of lemon, garlic and sweetness from a touch of honey. It's pretty versatile as well – I tried it on a simple green salad, and it went great with that too.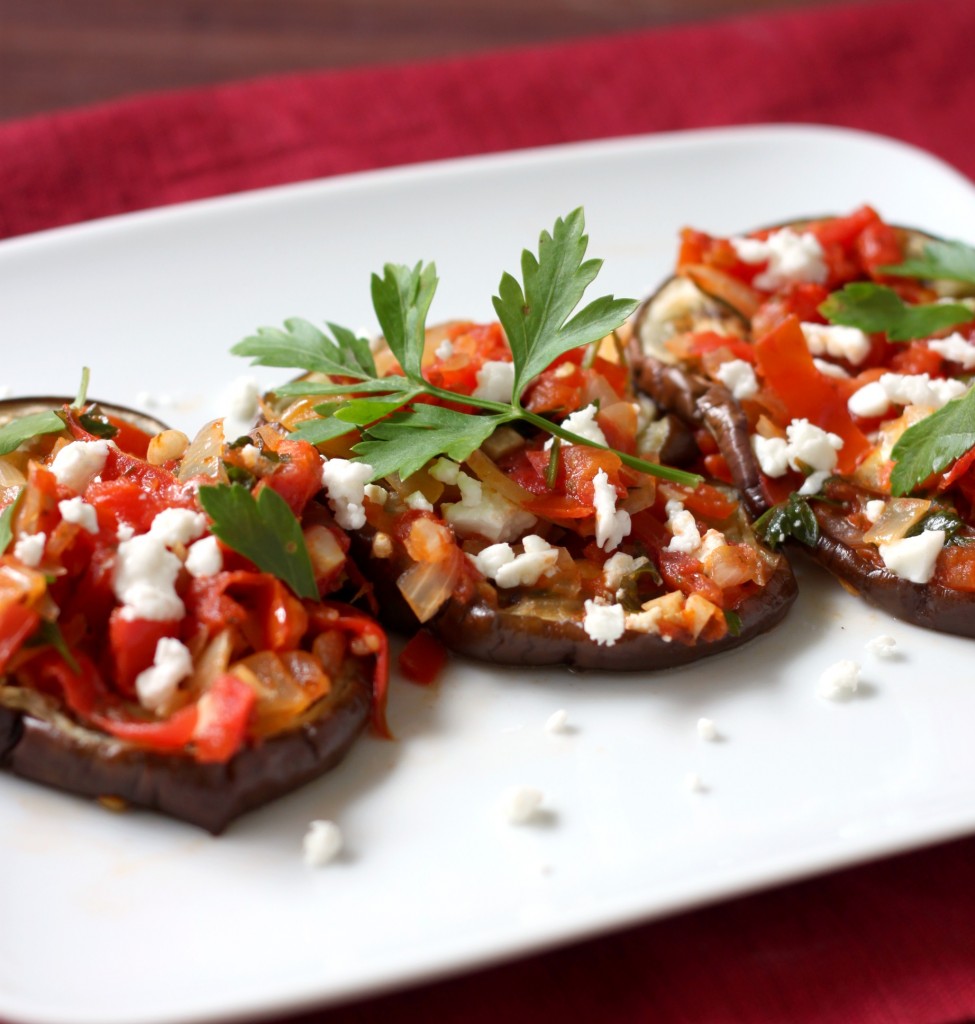 Second course: roasted eggplants with tomato and feta cheese. This is a wonderful lighter version of eggplant Parmesan. By roasting the eggplants and adding just a sprinkle of feta cheese, this dish is much healthier and lets the flavor of the eggplants and tomato sauce be the highlight. You could serve this as an entree or as a side dish.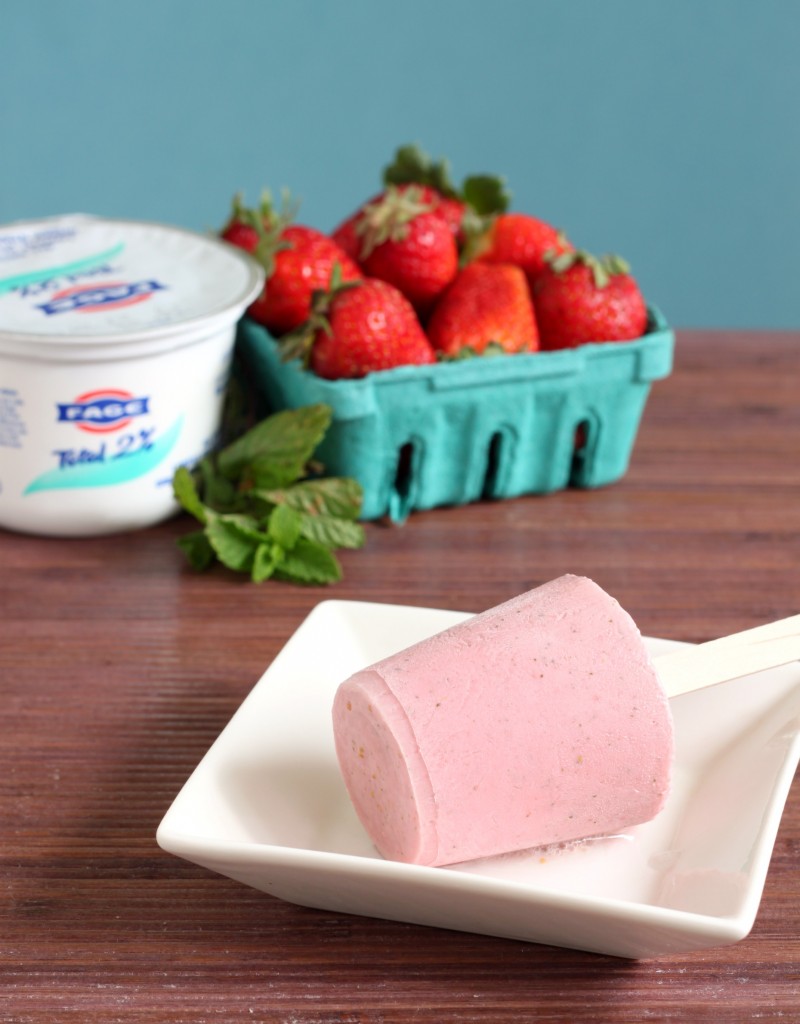 Third course: strawberry mint Greek yogurt popsicle. This is basically a smoothie poured into a popsicle mold. You could use frozen strawberries if they're not in season or substitute your favorite fruit. Plain FAGE Total 2% makes the pops really creamy and much more decadent than a normal fruit popsicle. Instead, they're more like ice cream, but a lot healthier.
After my Greek inspired meal, I feel more inspired than ever to keep pursuing good living. Good food is one of my favorite things in life and recently I've been trying harder to incorporate more vegetables into my diet. I love that Greek cuisine uses so much fresh produce and wonderful flavors, which in my mind naturally leads to both a healthy and happy life, the objective of good living. I've dreamed of visiting Greece for years and would love to experience real Greek cuisine and the tradition of good living in person. Wish me luck and go enter yourself – see the link after the recipes below!
How do you bring good living to your life?
Recipes:
Greek Salad with Lemon Yogurt Dressing

Serves 4-5
4 Roma tomatoes, cut into wedges
1 cucumber, seeded and cut into thick half-moons
1/4 cup pitted kalamata olives, halved
1/4 cup red onion, diced
1/4 cup crumbled feta cheese (about 2 ounces)
1/4 cup plain FAGE Total 2%
1/2 T fresh lemon juice
2 T olive oil
1/8 t garlic, minced
1 t parsley, chopped
1 1/2 t honey
salt and pepper to taste
Combine everything from tomatoes to feta in a large bowl.
In a small bowl, combine everything from FAGE Total to salt and pepper. Vigorously whisk until everything is thoroughly combined. Add more honey, salt or pepper to taste.
Pour dressing over salad and toss. (You can make ahead of time, but wait to dress the salad until just before serving.)
Roasted Eggplant with Tomatoes and Feta
Serves 2-3 as an entree or 4-6 as a side dish
2 lbs. eggplant, sliced
4 T olive oil, divided
1 large onion, chopped
2 cloves garlic, minced
3 large tomatoes, chopped (or 1 15-oz. can diced tomatoes)
1/4 cup fresh parsley, chopped
1 t dried oregano
salt and freshly ground black pepper to taste
4 oz. feta cheese, crumbled
Place eggplant slices in a colander and generously salt. Leave over sink for an hour, then rinse salt and pat dry.
Preheat oven to 400°F. Arrange prepared eggplant into a single layer on a baking sheet that is lightly greased. Brush slices with olive oil and roast until fork tender and golden brown, around 15-20 minutes.
While the eggplant is roasted, prepare the tomato topping. Over medium high heat, add olive oil and onion to a large saucepan. Cook until translucent (around 5 minutes), then add garlic and saute until fragrant (around a minute). Add tomatoes, spices, salt and pepper and lower heat to medium low. Simmer uncovered for around 20 minutes, stirring occasionally.
Lower oven to 350°F. Top eggplant slices with tomato mixture and feta cheese. Bake for 10 minutes, until cheese is melted and slices are heated through.
Strawberry Mint Greek Yogurt Popsicles
Makes 4 3-oz. pops
1 cup strawberries
1 cup plain FAGE Total 2%
A handful of mint leaves
Honey to taste (I used a tablespoon, but it will depend on the sweetness of your berries)
1 tablespoon fresh lemon juice (optional)
Place all ingredients in blender or food processor and process until everything is combined and you reach the consistency of a smoothie.
Pour into popsicle molds (I used small dixie cups with wooden popsicle sticks – that way you can just peel the cups off afterward).
Freeze for several hours until frozen all the way through. Store in freezer until you're ready to eat them.
As a selected blogger, I have been entered for the chance to win a trip to Greece courtesy of FAGE. You too can enter to win one of three trips to Greece by entering the FAGE Plain Extraordinary Greek Getaway here.