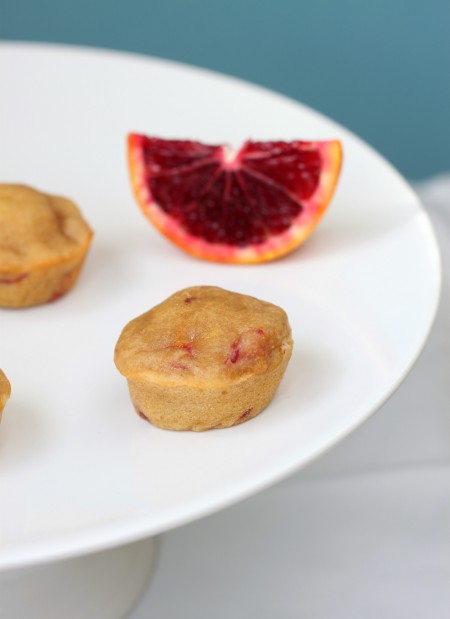 I'm not sure how many of you know this, but one of my day jobs is teaching two year olds at a university lab school. A lab school is a school where college students studying child development or education complete a practicum and also where research occurs. Part of what that means is I get a lot of college students in my classroom to help out, which makes it easier to do fun projects like cooking.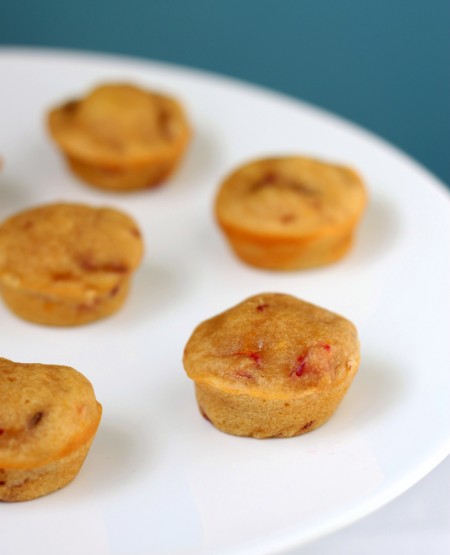 My class has been particularly enamored with citrus this winter. We have a basket of lemons and other citrus in the classroom, and almost every day I'm handed a lemon and asked to "open it?" Surprisingly, almost every toddler has tasted a lemon. I saw a lot of funny sour faces but many of the children were still willing to taste more. We moved on to tasting oranges, grapefruits, and one giant pommelo. Then I found blood oranges for $1 a pound, which was too good a deal to pass up. I brought them into school and they were a bit hit – every child tried a slice and most asked for more.
I thought I'd tie together the class interest in citrus with my love of baking and put together a baking project. A couple of years ago, I made some blood orange muffins with candied blood orange slices. This time, I made the recipe a bit healthier by losing the candied fruit and switching out the all-purpose flour for white whole wheat flour, which has the same health benefits of whole wheat flour without tasting "healthy."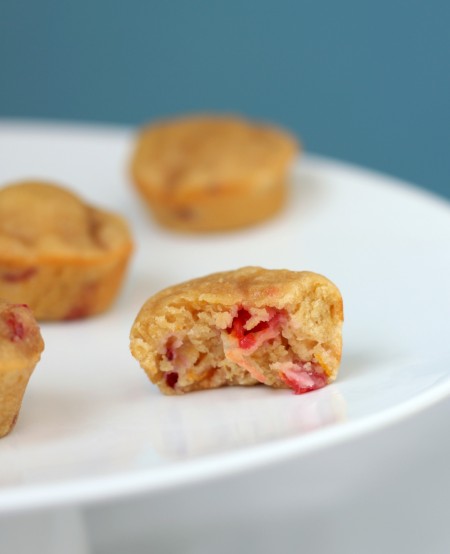 I pre-made a batch of mini muffins at home, so I could do a swap-out akin to a TV cooking show after we prepared the batter. Then I carefully prepped as much as possible, so all the toddlers had to do was break eggs, dump in pre-measured flour, pour in other ingredients, and stir to mix.
The project was a great success! The toddlers were able to make most of the batter with a little adult help, and everyone tried the muffins. Despite having whole wheat flour, these muffins are extremely moist. They have orange juice, zest and chunks of orange in them, so they definitely have a good orange flavor. If you can't find blood oranges, substitute regular oranges instead for a similar result.
We made waffles last week (which even more popular than these muffins) and today we're making mini pizzas. Do you ever cook with children? What's your favorite thing to make?
Recipe:
Whole Wheat Blood Orange Muffins

Adapted from Blood Orange Muffins
Yields: ~40 mini muffins or 15 regular muffins
3 blood oranges
3/4 C sugar
~ 1/3 C yogurt
3 eggs
1 3/4 C white whole wheat flour
1 1/2 t baking powder
1/4 t baking soda
1/4 t salt
2/3 C extra virgin olive oil
Preheat oven to 350°. Grease or line a mini muffin pan with paper liners.
Zest 2 of the oranges and whisk the zest with the sugar. In another bowl, juice 1 orange and add yogurt until you have 2/3 C total (I had about 1/3 C of juice). Add the juice and yogurt to the bowl of sugar and zest, whisking together. Then whisk the eggs into the mixture.
Combine flour, baking powder, baking soda, and salt. Slowly add the dry ingredients to the wet, whisking out lumps as you go. Slowly mix in the olive oil.
Supreme the remaining 2 oranges; slice off the skin, pith and membranes. It's easiest to cut off both ends, so the orange will sit flat on your cutting board, and slice off the skin and pith, following the curves of the fruit. Then, following the lines of the membranes, slice the fruit and place it in a bowl. Break it up the slices into smaller pieces and add to the batter.
Fill muffin tin cups about 3/4 full with batter. Cook 12-15 minutes or until a toothpick inserted in the middle of a muffin comes out clean. Let the muffins cool, then top with a candied orange slice before serving.