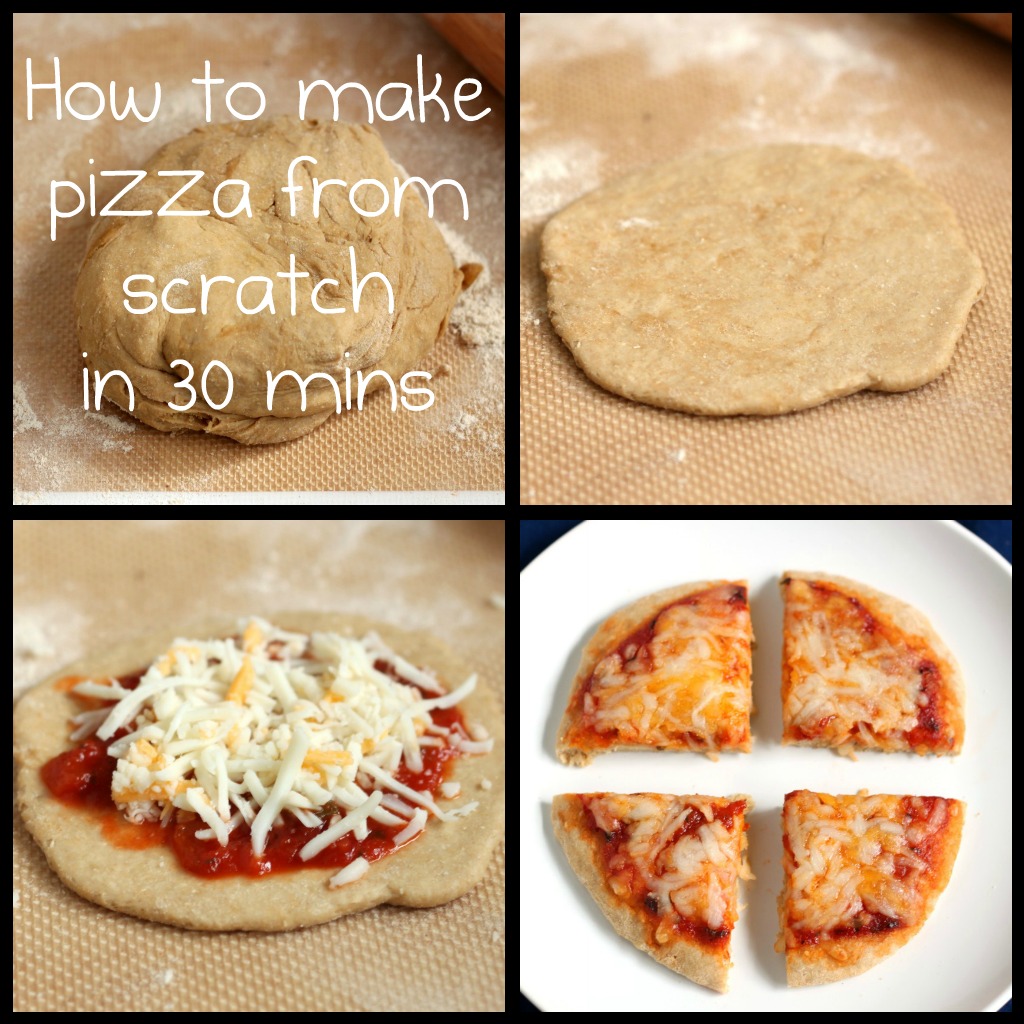 I have a new obsession: white whole wheat flour. I've used in doughnuts, muffins, waffles and now pizza dough to add some whole grains, without compromising the taste as much as regular whole wheat flour.
In my post earlier this week about mini blood orange muffins, I mentioned that I'd be making mini pizzas with my class of two year olds next. Last year I made a quick, easy pizza dough for a local parenting magazine. I thought I had blogged about it but apparently I never did. So here it is for you guys – and it couldn't be easier or faster. All you need is quick rising yeast, plus of course flour and a few other basic ingredients.
Here is how you do it: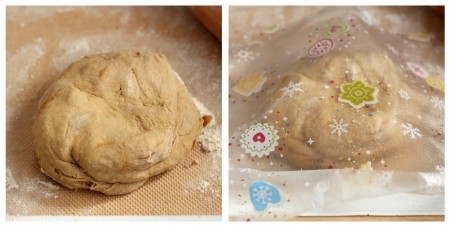 1. Mix together the dough and knead for a minute. Cover with saran wrap and let rise for 10-20 minutes.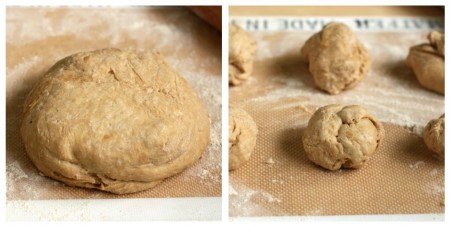 2. Uncover and break into 6 equal pieces to make mini pizzas (or leave as is if you want 1 bigger pizza).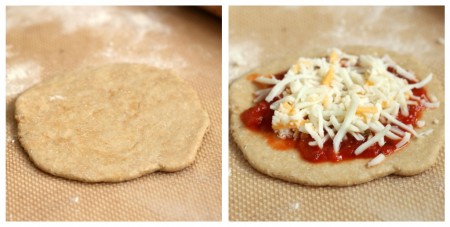 3. Roll the dough to 1/8″ thickness and top with sauce, cheese and toppings (I kept them plain for the picky toddlers). Bake minis for 8 minutes, a large for 15 minutes.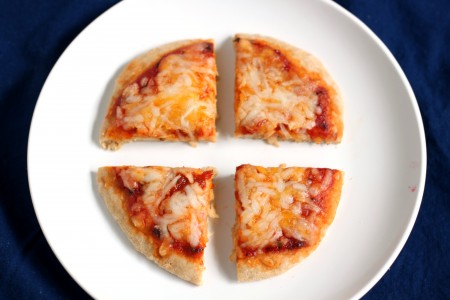 Done! I cut them into toddler sized pieces and we all (adults especially) enjoyed the snack. This recipe is perfect when you don't have a ton of time but still want to make dinner from scratch. Throw together the dough, check your email while it rises, then roll it out, add toppings and bake. Dinner (or lunch) is ready before you know it!
Recipe:
Quick Pizza Dough
Yields: 1 15-inch pizza or 6 6-inch mini pizzas
Prep time: 5 minutes (active) plus 10-20 minutes (inactive)
Cook time: 8-15 minutes

1 cup whole wheat flour*
1 cup unbleached all purpose flour*
2 ¼ teaspoons quick rising yeast (1 packet)
1 teaspoon salt
½ teaspoon sugar
¾ cup hot water (120-130°F)
1 tablespoon extra virgin olive oil
Your favorite tomato sauce
Shredded mozzarella
Your favorite toppings
Preheat oven to 450°F. Place all dry ingredients in a large bowl and stir to combine. Pour in hot water and olive oil, stirring to incorporate. Mix with spoon and/or hands until you have a ball of slightly sticky dough (add more warm water if too dry or more flour if too sticky and wet, 1 tablespoon at a time).
Place dough on a lightly floured surface and knead for a minute. Lightly spray a sheet of plastic wrap with non-stick cooking spray. Lay plastic wrap, sprayed side down, on top of dough. Let sit 10-20 minutes to rise, and then roll dough to 1/8 inch thickness.
Set dough onto an inverted baking sheet or pizza stone that is lightly floured. Top with sauce, shredded cheese and your choice of toppings. Bake a large pizza for 12-15 minutes or mini pizzas for 8 minutes (until bottom of crust is golden brown and crisp).
*I've also tried this with the 2 cups of regular all-purpose flour or 1 cup all-purpose and 1 cup whole wheat flour, with good results.