Hi Everyone! My name is Steph and I blog over at Steph's Bite by Bite. I'm obsessed with all things sweet, love being in the kitchen, can't stop lacing up my running shoes, I WILL NOT pass up a pair of patterned pantyhose, and love rocking the french braid. When Stephanie asked if I wanted to join her Chocolate Chip Cookie round up, I could not resist.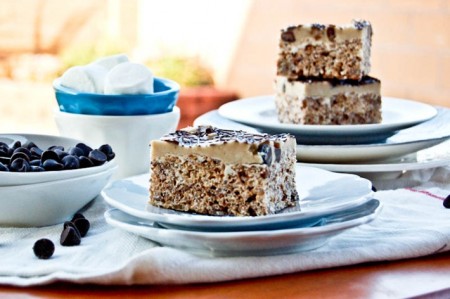 Although I put a HUGE spin on the American cookie classic. Hope you don't mind!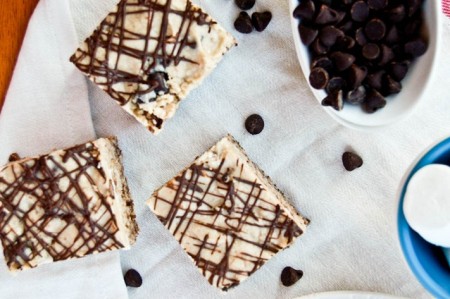 I left the cookie in it's early stage as a dough, and spread it over rice krispie treats.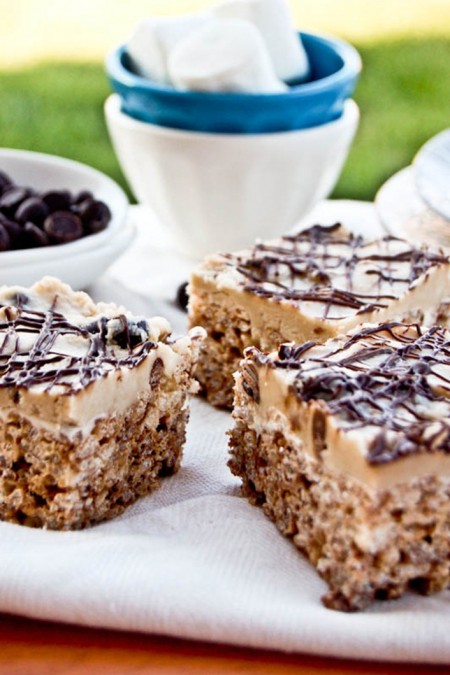 Totally ca-razy right?!! I know. But I promise you will not miss the chewy, chocolaty cookie that you are used to!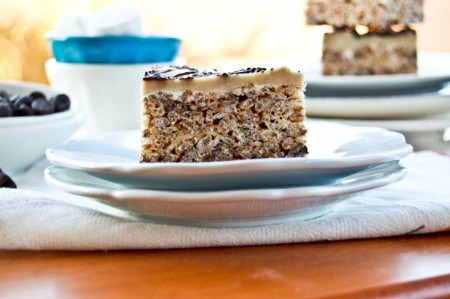 These are so fun! They're so portable! They're so perfect for any summer party. Or as a late midnight snack (which is usually the way I end up eating them). 
Don't be afraid! These come together in seconds, and I promise they will become your new obsession!
Recipe:
Cookie Dough Rice Krispie Treats 
makes a whole tray of delectable squares
3 tablespoons unsalted butter
1 16oz bag marshmallows
6 cups rice krispie cereal (I used gluten free)
1/2 cup chocolate chips
1/2 cup unsalted butter
1/3 cup brown sugar
1 teaspoon vanilla
2 tablespoons flour
1 1/4 cups powdered sugar
1/4 teaspoon salt
2 tablespoons milk
1/2 cup chocolate chips
Line a 9×13 baking dish with foil and spray with cooking spray, set aside.
In a heavy bottom pot, melt 3 tablespoons butter over medium heat. Add in the marshmallows and stir until marshmallows are completely melted. While marshmallows are melting pour rice krispie treats and 1/2 cup chocolate chips in to a large bowl and toss to combine. When marshmallows are completely melted pour it over the top of the cereal mixture and mix with a spatula until cereal is completely coated in marshmallow. Dump cereal in to baking dish and spread out evenly with a spatula that's been sprayed with cooking spray. I like to push down on my cereal with the back of my spatula to really pack it in and make a firm square.
Set rice krispie treats aside while you make the cookie dough.
In a medium pot melt 1/2 cup butter over medium heat. When completely melted add in the brown sugar, whisking until sugar is dissolved, then allow mixture to bubble and cook for a minute or two. Turn the heat off and add in the vanilla. Let this mixture sit for 20 minutes to cool off.
Once cool, add in the remaining ingredients, whisking to combine. If the mixture is too thick add another little splash of milk. Spread the cookie dough over the top of the rice krispie treats and pop in the fridge for 20 minutes to set up.
Remove from fridge, cut in to squares, and prepare to eat the whole tray in two minutes flat.
For an extra jazz effect you can melt 1/4 cup of chocolate chips in the microwave for one minute, then use a fork to drizzle melted chocolate over top!
Recipe adapted from How Sweet It Is
Click here to learn more about the CCC Challenge and how you can participate!