Edited 8/15: The Chocolate Chip Cookie Challenge Link-up is now live! See the (and submit your) best chocolate chip cookie recipes here.
Is there anything better than a warm chocolate chip cookie filled with gooey, melted chocolate? Add in a tall glass of cold milk and I'm a happy camper. Even though the chocolate chip cookie is such a classic dessert, there are a million variations on the recipe and I've never found the perfect version.
I've been planning a series of guests posts this summer from some of my favorite bloggers, so I challenged each of them to share their favorite chocolate chip cookie recipe with us. Each of their recipes is totally different. One is gluten-free, one involves a cupcake, one has brown butter – and the list goes on. I couldn't stop thinking that this was only a small sample of the potential CCC recipes.
That's where YOU come in. We want you to join us for the Chocolate Chip Cookie Challenge!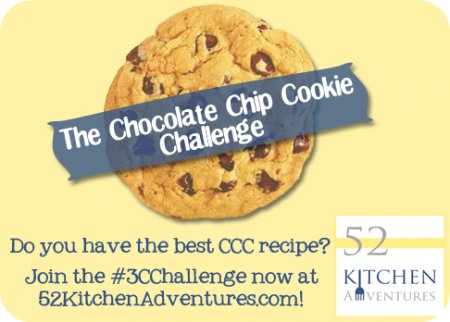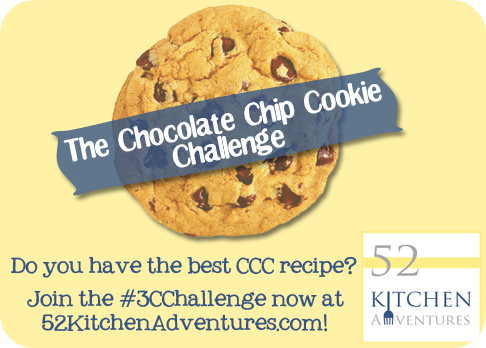 Graphic by Lauren Razzano
Post your favorite CCC recipe on your blog* anytime between now and August 15th. Include this image and link it to this post. (If you've already posted your favorite recipe, that's ok too – just add the image to it.) On August 15th, visit 52 Kitchen Adventures for the #3CChallenge link-up! You will submit your link and we can all visit each other's posts to find the best CCC recipes out there.
Please include the hashtag #3CChallenge in your tweets and pins so we can all follow along! I'll also create a board on Pinterest for all the recipes.
Will you join our challenge?! I can't wait to see what everyone comes up with!
*If you don't have a blog, you could post it to my Facebook page and then link to that. Or email me and we'll come up with something that works for you!