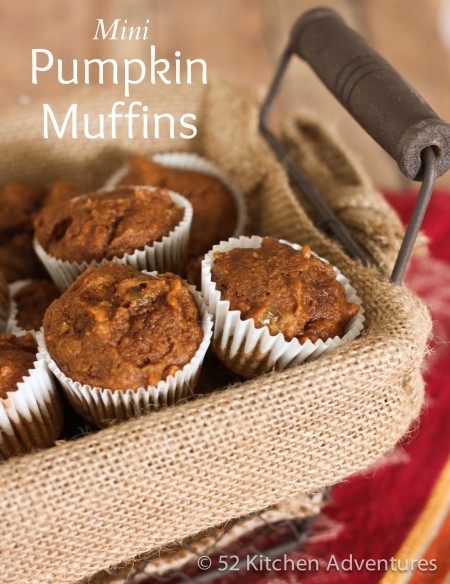 As I mentioned in my last post about pumpkin doughnuts, I'm deep into fall baking, which has all been pumpkin-related so far. After my friends and I ate all of those pumpkin doughnuts in a matter of a few hours, I was left with nothing to share with our family that was visiting the next day. I wasn't going to give up an opportunity to bake for other people (less for me to eat, hooray!), so I got out another can of pumpkin and just kept right on baking.
I made pumpkin oatmeal cookies too (look for those in a couple of days) but these muffins were my personal favorite. These are moist, soft, and full of pumpkin and fall spice flavors. I added some golden raisins, which I thought was a nice touch, although my 4-year-old niece disagreed. (Note to self: add chocolate chips instead next time she comes over.)
I made these muffins as minis, which are the perfect size for a little snack, and also gave us tons to relish over several days.
P.S. If you're looking for more pumpkin, apple, and salted caramel recipes, click on the image below to see my fall recipe collection:
Ingredients
2 1/4 cups white whole wheat flour

or

all purpose flour
2 1/2 teaspoons pumpkin pie spice
1/2 teaspoon ground ginger
1 1/2 teaspoons baking soda
1/4 teaspoon salt
1 cup golden raisins
1 cup packed brown sugar
1 cup canned pumpkin puree (not pumpkin pie)
1/3 cup buttermilk
1/3 cup canola oil
1/4 cup molasses
1 teaspoon vanilla extract
2 large eggs
Instructions
Preheat oven to 350°F. Line a mini muffin tin with paper liners.
In a large bowl, stir together flour, pumpkin pie spice, ginger, baking soda, and salt. Add raisins and make a well in the center.
In a medium bowl, combine brown sugar, pumpkin, buttermilk, oil, molasses, vanilla, and eggs. Whisk together until combined.
Pour wet ingredients into the well in the dry ingredients bowl. Mix until everything is just combined. Fill each muffin liner until 3/4 full with batter.
Bake for 12 minutes until a toothpick inserted in the center comes out clean.
Notes
http://www.52kitchenadventures.com/2012/09/25/mini-pumpkin-muffins/