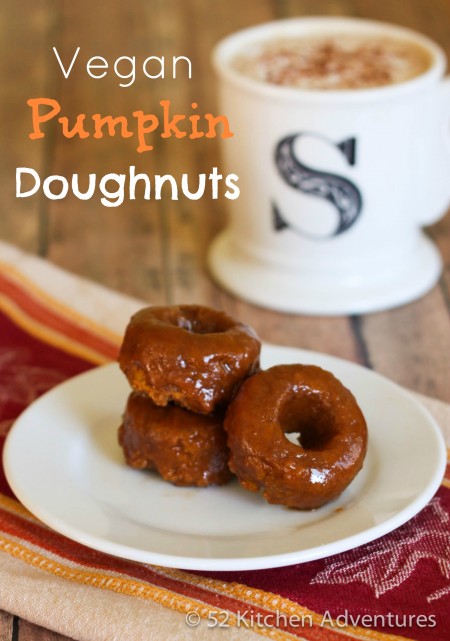 Pumpkin, pumpkin, pumpkin. I opened two cans of it last weekend and baked my little heart out.
See, I had two sets of visitors; some dear friends on Saturday and some family on Sunday. I knew that both groups loved pumpkin flavored things, so I thought I'd bake up some doughnuts after surveying my Facebook fans (thanks to Jenny Hernandez Citino for the idea!).
I naïvely thought that these baked doughnuts would last more than 1 day, but my friends and I inhaled them in 1 morning. So, what's a baker to do? Bake 2 more pumpkin things of course! But that's a story for another day…
Back to the topic at hand: doughnuts. I had to make them vegan to accomodate an egg and dairy allergy, but you really couldn't tell they didn't have eggs or butter in them. If you don't care about omitting eggs, there's a note in the recipe where you can use them in place of mashed banana. I haven't actually tried this yet so I can't vouch for it (hmm, this is a good excuse to make more doughnuts…).
The great thing about these doughnuts, similar to the baked chocolate doughnuts I made earlier this year, is that they're really not that unhealthy. Especially when compared to fried doughnuts, but it's not just because they're baked. You can use white whole wheat flour, which doesn't compromise the taste but does add whole grains and fiber. Plus, there are no refined sugars in the doughnuts themselves (the glaze is another story).
All in all, without the glaze, each mini doughnut (30 to a batch) is roughly 60 calories, with 2 grams of fat, 1 each of protein and fiber, and only 4 of sugar. Regular sized doughnuts (12 to a batch) have around 150 calories, with 6 grams of fat, 3 each of protein and fiber, and 9 of sugar.
I love it when you can bake something that tastes great without being insanely bad for you!
I added some additional pumpkin to the glaze because I felt like the doughnuts weren't quite pumpkin-y enough on their own and also because I didn't have any maple syrup extract (which seems to be key in making a good maple frosting or glaze).
Get ready for some more pumpkin goodness coming at you next week!
Ingredients
1 cup powdered sugar
2 Tablespoons of your preferred milk (I used almond)
1 1/2 teaspoons ground cinnamon (or pumpkin pie spice)
5 teaspoons pumpkin puree
Instructions
Whisk together all the ingredients until they are thoroughly combined.
If needed, add more milk to thin the glaze, or more powdered sugar to thicken it.
Drizzle over doughnuts (or dip them in for a solid layer of glaze).
http://www.52kitchenadventures.com/2012/09/20/vegan-pumpkin-doughnuts/