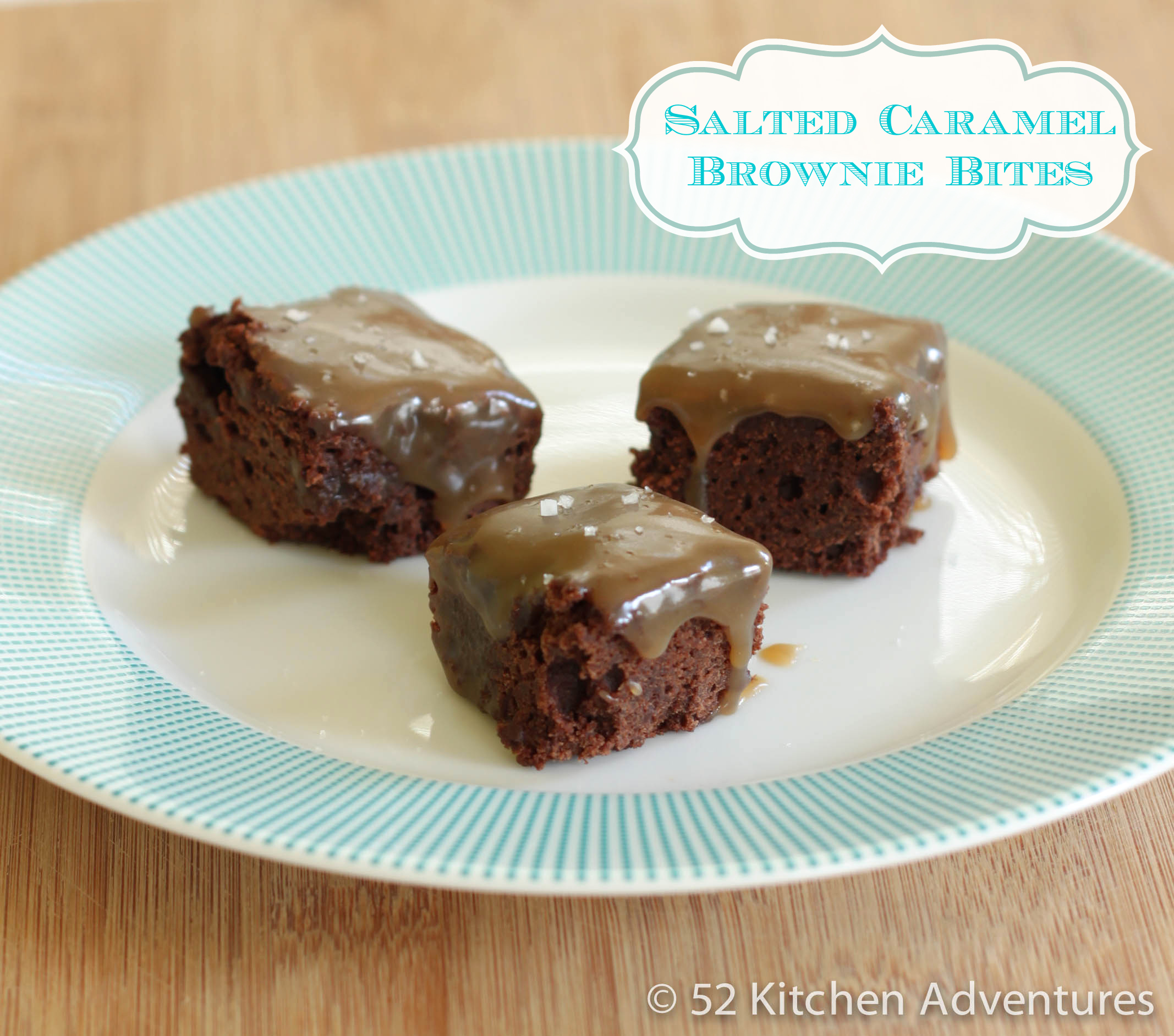 Last week I shared this incredibly easy 7 minute salted caramel and you know I couldn't just let that sit around in my fridge for long. I made some brownies and covered them in this decadent sauce, with a nice sprinkle of fleur de sel on top to really bring out the salty and sweet combo. The brownies are extra rich when topped with caramel, so I cut them into small, bite sized pieces. Of course, you can't really eat just one 😉
I brought these into a meeting and they were a definite hit. I feel like anything becomes great when coated with salted caramel, but these brownies are good on their own too – they're moist and chewy. Together with the creamy caramel, it's like heaven in each bite!
Salted Caramel Brownie Bites
Ingredients
Brownies

5 ounces semisweet or bittersweet chocolate, chopped
1/2 cup (1 stick) unsalted butter, cut into pieces
2 tablespoons unsweetened cocoa powder
1 cup sugar
1 teaspoon pure vanilla extract
3 large eggs
3/4 cup all-purpose flour
1/4 teaspoon salt

Easy Salted Caramel

4 tablespoons unsalted butter
1 cup brown sugar, packed
1/2 cup heavy whipping cream
1/2 teaspoon kosher salt
1 tablespoon pure vanilla extract
Instructions
Prepare the brownies

: Preheat oven to 350° F and coat a 8″x8″ pan with nonstick spray.
In a large heat proof bowl, melt chocolate and butter together by microwaving in 20 seconds intervals, stirring in between until smooth (alternatively, you can place bowl over a pan of simmering water and stir until smooth).
Add cocoa powder and sugar to melted chocolate mixture, stirring until incorporated.
Stir in vanilla. Add eggs, one at a time, stirring in between until each is fully incorporated.
Add flour and salt, then stir until just combined.
Pour batter into prepared pan and spread until evenly distributed. Bake for around 30 minutes, until toothpick inserted in the center comes out with a few moist clumps clinging to it.
Remove from oven and let cool.

Prepare the salted caramel

: In a medium saucepan over medium heat, whisk together butter, brown sugar, heavy whipping cream, and salt.
Bring to a boil and reduce heat. Simmer for 6 minutes, whisking occasionally.
Whisk in vanilla (be careful, it will bubble up) and cook 1 more minute.
Remove from heat and place in fridge to cool.
Pour over cooled brownies, then sprinkle with fleur de sel or flaky sea salt.
Refrigerate for a few hours or overnight, until caramel has completely cooled and thickened. Store in fridge until ready to serve.
http://www.52kitchenadventures.com/2013/01/23/salted-caramel-brownie-bites/
More recipes you'll love: