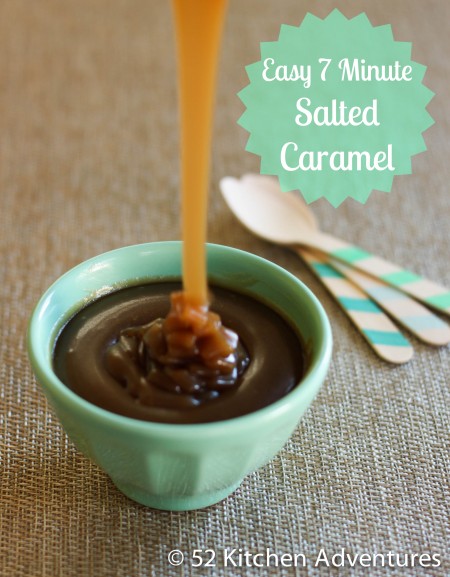 Some things in life just seem unnecessarily complicated. Take wedding planning, for instance – we've created this huge industry that charges exorbitant prices for what should just be a joyous celebration with your loved ones. And there are so many details to think of! Pinterest and blogging has certainly made weddings (as well as crafting, cooking, and a slew of other things) more complicated. There's more pressure to do things in a cute, perfect-looking way.
But I'm not really here to complain about wedding planning stuff. I'm actually here to tell you I discovered this awesome, un-complicated way to make caramel that doesn't involve a candy thermometer and is practically impossible to ruin. I can't tell you how many times I've ruined a batch of caramel, by stirring too much or heating it up too quickly, or a myriad of other issues. When I was creating a salted caramel mocha cheesecake for a Crock Pot contest, I needed to find an easier version of salted caramel sauce. I came across a seemingly too easy version of caramel over at Pioneer Woman, and was shocked to find that not only did it work, but it tasted just like a regular, complicated caramel sauce!
I tweaked her recipe a bit and came up with this delightful 7 minute salted caramel sauce. You basically boil all the ingredients for 7 minutes-it really couldn't be any easier! I made some delicious brownies with this stuff, so stay tuned for that recipe soon.
Here's how you do it: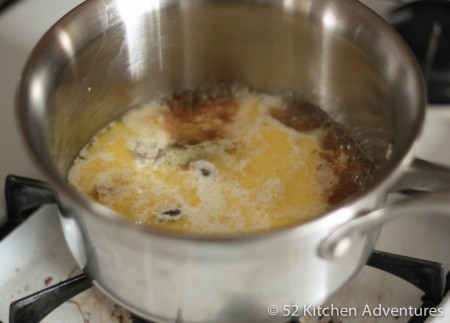 1. Place butter, brown sugar, heavy cream, and salt into a saucepan over medium heat.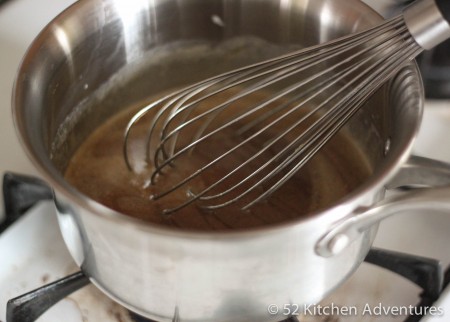 2. Whisk until everything is combined.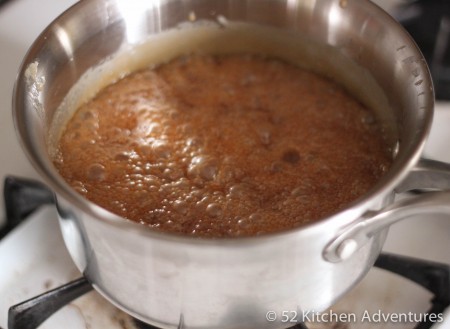 3. Bring to a boil, then reduce heat and simmer for 6 minutes, whisking occasionally.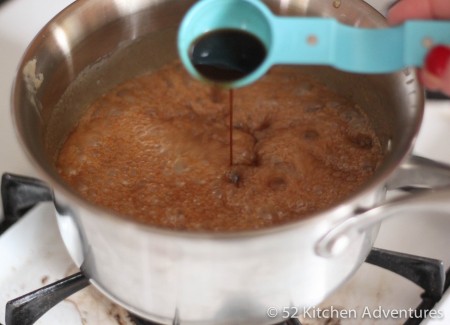 4. After 6 minutes, add vanilla (be careful, it will bubble up). Whisk together and cook for 1 more minute. Remove from heat and let cool.
Easy 7 Minute Salted Caramel Sauce
Ingredients
4 tablespoons unsalted butter
1 cup brown sugar, packed
1/2 cup heavy whipping cream
1/2 teaspoon kosher salt
1 tablespoon pure vanilla extract
Instructions
In a medium saucepan over medium heat, whisk together butter, brown sugar, heavy whipping cream, and salt.
Bring to a boil and reduce heat. Simmer for 6 minutes, whisking occasionally.
Whisk in vanilla (be careful, it will bubble up) and cook 1 more minute.
Pour caramel into a jar, then refrigerate until cold.
Store in refrigerator. To serve, microwave briefly until sauce is pourable.
http://www.52kitchenadventures.com/2013/01/17/easy-7-minute-salted-caramel/