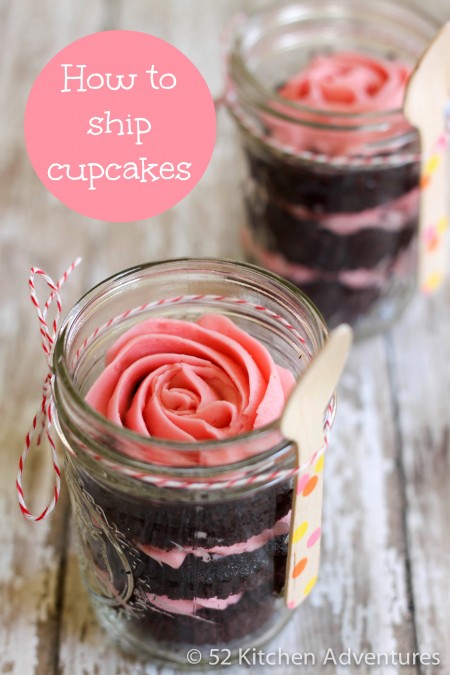 If you have someone special in your life who lives far away, I know just what you should send them for Valentine's Day: a cupcake! I've always wanted to mail my cupcakes but I wasn't sure how to. It's hard enough just to transport them across town without smashing the frosting. Instead, I always sent cookies, which are so simple to send to anyone. But this time, I really wanted to mail something a little more special out and I suddenly remembered seeing cupcakes in jars somewhere and *BAM* the idea hit me. Why didn't I think of this before?!
You can actually bake cake directly in a glass jar, but I baked my cupcakes in a regular pan then sliced them in half and layered them in jars with frosting. I think it looks prettier this way, plus who can argue with getting a little extra frosting?
In a small 4 ounce jelly jar (see below), you can either use 2 cupcake halves or 1 full cupcake with just regular frosting on top. In a taller 8 ounce jar (see above), you can use 3 cupcake halves layered with frosting to fill it up. I'm sending a couple of each to one family; large for the adults, small for the kids.
See how easy it is: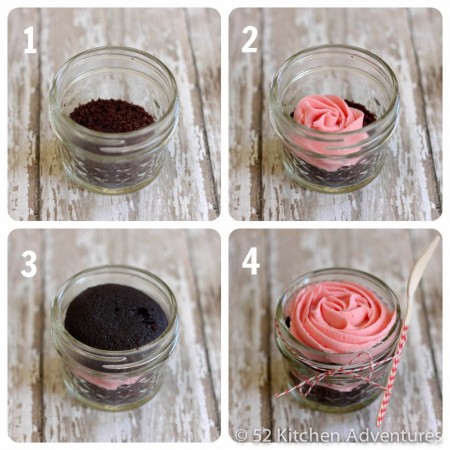 1. Bake a cupcake and slice it in half. Place 1 half at the bottom of the jar.
2. Pipe some frosting on top.
3. Add cupcake half.
4. Pipe more frosting on top. (With a taller jar, you would repeat steps 3 & 4 one more time.) Add twine and tie disposable spoon to jar (I used some cute mini spoons from Sucre Shop).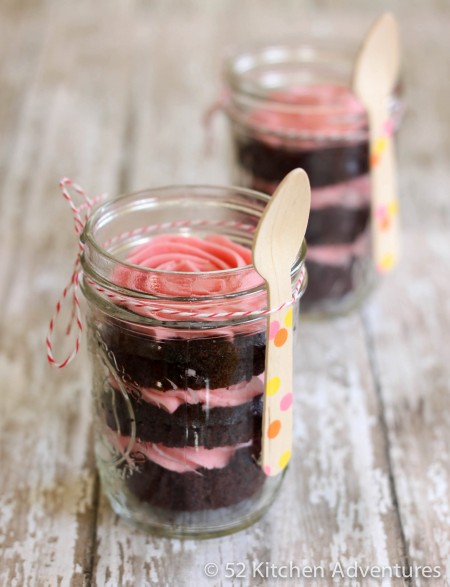 Voilà! You get a generous portion of cupcake and frosting that looks beautiful. I love using the small ice cream spoons from Sucre Shop, because they come in tons of colors and designs, are the perfect size, and are lightweight and disposable.
To ship the cupcakes, I topped the jars with lids, wrapped each one in bubble wrap and carefully packed them into a box with some festive tissue paper.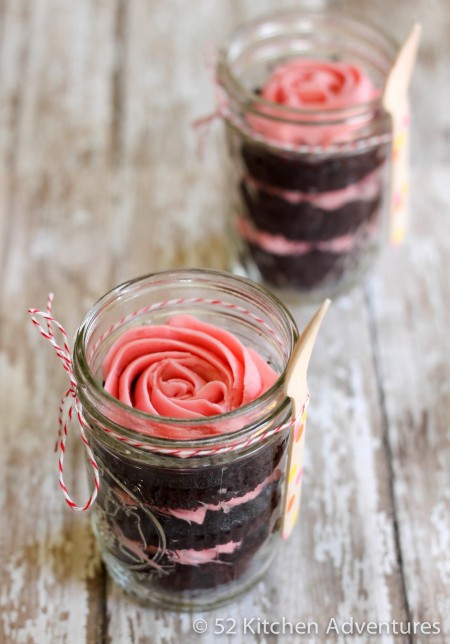 Are you baking anything special for Valentine's Day this year?