All photos below (except the cupcake photos) are from my awesome wedding photographer, Kim J. Martin Photography.
Guys, today is a special day. Today marks the anniversary of the birth of one of my oldest and bestest friends, Annie:
Annie is one of those fun people that's like a big kid at heart. She is full of joy and passion, especially for her favorite things (to name a few: Christmas, sports, unicorns, pandas, and her Pillow Pet). If you're trying to picture her, this charming creature is her self-proclaimed spirit animal. In other words, she is adorable and a ton of fun to be around.
This shot of us right after I put on my wedding dress is quintessential Annie:
So. Excited.
Can't you see why I love her? Besides being so fun and joyous, she is hands down one of the most thoughtful people I know. She is exceptionally good at snail mail, and I'm not just talking about sending birthday and Christmas cards. She definitely sends cards for each holiday, but also for every little special occasion, even ones you wouldn't think of, like one a month before our wedding and one to welcome us home from our honeymoon. Who does that?! I swear she must have some super secret calendar chock full of each important date and event in her friends' lives. She definitely knows how to make the people in her life feel special and loved.
I've been lucky enough to know Annie since 8th grade, when we bonded in science class. We've been friends for over 15 years, spent countless hours talking on the phone, texting, and chatting online on AIM and G-chat. Although we've had our bumps in the road, as teenage girls do over boys, we've reconnected and stayed together for a reason. So when I got engaged, I knew I'd ask her to be my maid of honor. What I didn't expect was her to offer to not only stand by me but to offer to officiate the ceremony.
I'm so glad we took her up on her generous offer! She created a personal, meaningful ceremony for us, all about our relationship's foundation in friendship. We really couldn't have asked for a better wedding ceremony and it made it so extra-special to have her be the one to make us husband and wife. Needless to say, I am so thankful to have Annie in my life! She is such an incredible friend and person.
And even though I'd rather share photos of us taken by a professional photographer in full hair and makeup, I had to dig up at least 1 random old photo. Here we are when we traveled to Seattle together many years ago. We ran across a convenience store with smaller-than-normal versions of snack foods, which of course meant we had to take a selfie with some. Duh.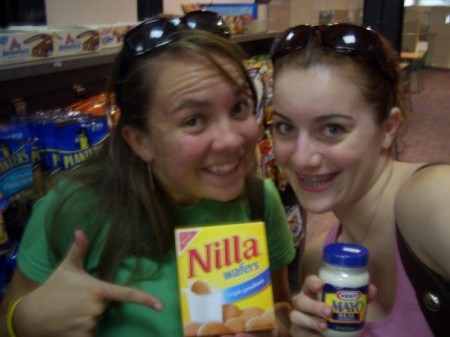 Cinnamon filling swirled into cupcake batter and poof! Cinnamon roll cupcakes. Buttery frosting tops these off perfectly.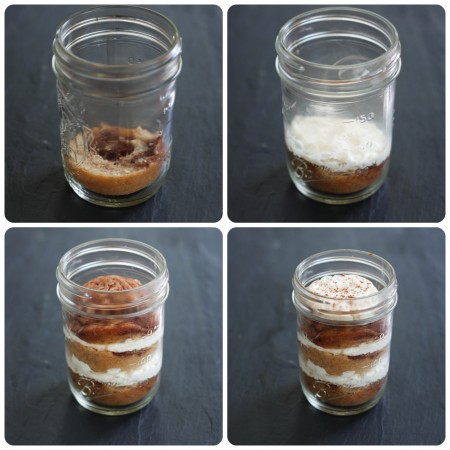 To get them ready for their journey, I sliced each one in half, and then layered them with frosting in a Mason jar, topping it all off with a light sprinkle of cinnamon. Get more info on how to ship cupcakes here.
Happy birthday, Reverend Annie! Wishing you a year full of happiness and love!